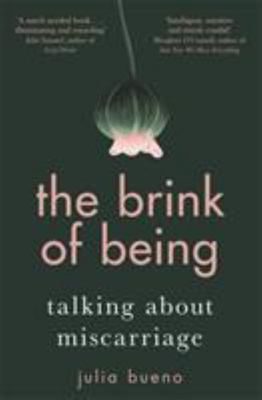 $38.00
NZD
Category: Miscarriage
A compassionate, informative, and intimate resource for anyone struggling with--or seeking to better understand--miscarriage   Approximately one in four pregnancies ends in miscarriage. However, it is by and large still considered taboo: rarely talked about, under-researched, and often misunderstood. We know very little about why women actually miscarry; doctors and other medical professions are often ill-equipped to provide appropriate support, knowledge, and care to women who are undergoing or have undergone a miscarriage; and friends and loved ones often find themselves unsure of what to say, sometimes unwittingly reacting in ways that can make a grieving woman feel worse. As a society, we have not done enough to understand or make room for the grief of women--and their partners--who have lost an unborn child, and, unlike with the loss of a spouse, parent, or other family member, there are no established rituals for how to mourn.   In The Brink of Being, psychotherapist Julia Bueno draws on a broad range of women's stories--including her own--as well as historical and scientific research to craft a comprehensive book that breaks the silence around miscarriage. With candor, warmth, and empathy, she guides the reader through the range of women's experiences that miscarriage can bring, exploring how it has affected women and their loved ones throughout history, and highlighting again and again the ways in which our society fails to effectively discuss and treat this profoundly important aspect of women's fertility. The result is an eye-opening, galvanizing look at our society's shortcomings, and an urgent and moving exploration of the psychological, emotional, medical, and cultural aspects of this too-often-hidden human experience. ...Show more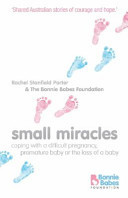 $30.00
NZD
Category: Miscarriage
Small Miracles is a landmark Australian self-help book offering practical counselling and inspiring consolation for anyone coping with the loss of a baby through miscarriage, stillbirth or prematurity and related issues such as infertility. Based on the grief counselling and support services offered by the Bonnie Babes Foundation for over 15 years, Small Miracles contains the very moving stories of Australians (including author Rachel Stanfield-Porter), who have experienced the traumatic loss of baby and how they coped with this very private tragedy, rebuilt their lives and restored their hopes. We have a word, orphan, to describe someone who has lost their parents; but there s no word for parents who have lost their child. There is only grief. It is an unnamed, unspoken tragedy that touches all families in some way. The fact is that one in every four Australian pregnancies ends in a loss. The human reality of this shocking statistic, is that 50,000 babies die every year. Even more perplexing is the fact that this figure hasn t changed in Australia for the last 60 years. Advances in medical technology to significantly reduce this figure are as much as a priority as the need to address our collective emotional response to the loss of a baby. It is still not talked about much, or enough, even among friends and family. The loss of a baby through miscarriage, stillbirth and prematurity is a subject so often swept under the carpet in that reserved, stoic way that we have. Each person reacts differently. Men try to get on with things like work, and women hold their feelings deep and close. Sometimes it s the other way around. Friends don t know what to say, or how to react. The line between immense heartbreak and the greatest possible joy is so thin. What do you say and how do you, and your family, remember, cope and recover -- and find the courage to try again for another baby or accept it is not to be. These untold stories of these parents and the little Aussie babies that do survive traumatic pregnancies and prematurity are the real small miracles that provide the most wonderful tales of love and purpose imaginable. Here are some of those Small Miracles -- compelling, uplifting, sad and intensely human, Best of all, they are stories of healing and hope. ...Show more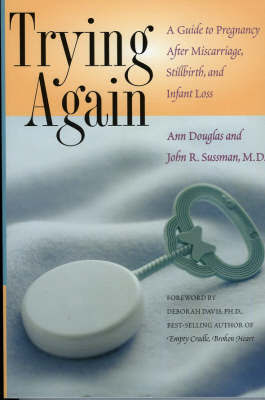 $35.00
NZD
Category: Miscarriage
A guide to pregnancy after suffering the loss of an infant, miscarriage, or stillbirth. Issues discussed include: the facts about pregnancy loss and neonatal death; how to determine if you're ready for another pregnancy; common fertility myths; support after you've decided to tell people you're pregnant again; and prenatal testing risks and benefits. The book offers a helping hand to women coping with their loss and at the same time contemplating future pregnancies. It also offers insights into "high-risk" pregnancies, understanding each trimester's common concerns, anticipating labour, dealing with a subsequent loss, deciding whether to try again, and honouring the baby you lost while loving the baby in your arms. ...Show more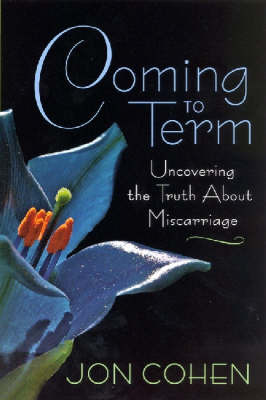 $49.99
NZD
Category: Miscarriage
After his wife lost four pregnancies, Jon Cohen set out to gather the most comprehensive and accurate information on miscarriage - a topic shrouded in myth, hype, and uncertainty. The result of his mission is a uniquely revealing and inspirational book for every woman who has lost at least one pregnancy - and for her partner, family, and close friends. Approaching the topic from a reporter's perspective, Cohen takes us on an intriguing journey into the laboratories and clinics of researchers at the front, weaving together their cutting-edge findings with intimate portraits of a dozen families who have had difficulty bringing a baby to term. Couples who seek medical help for miscarriage often encounter conflicting information about the causes of pregnancy loss and ways to prevent it. Cohen's investigation synthesizes the latest scientific findings and unearths some surprising facts. We learn, for example, that nearly seven out of ten women who have had three or more miscarriages can still carry a child to term without medical intervention. ...Show more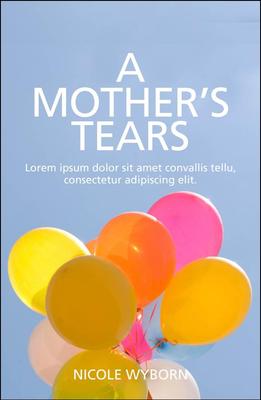 $30.00
NZD
Category: Miscarriage
The tragic story of midwife Nicole Wyborn and her partner Kane, who lost their second child to stillbirth. The story is intensely emotional; the couple sink to the depths of despair in their struggle to come to terms with their loss.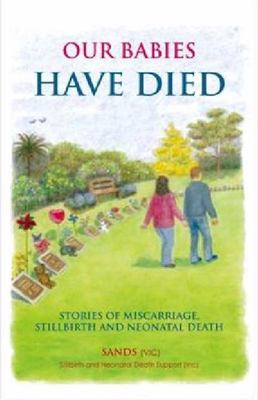 $33.00
NZD
Category: Miscarriage
This book is written by bereaved parents sharing their own stories for the benefit of others going through the grief of losing a child. Parents are helped by telling their stories to others and confirm that experiences they endure after the death of their child are often common amongst other bereaved pa rents. SANDS (Vic) has been supporting Australian parents since the early 1980's providing 24-hour access to individual telephone support and monthly group support throughout a network of local community groups. SANDS organisations throughout Australia and internationally have developed the same model of self-help care providing not only direct support and resources but also advocacy for better care of parents - including community and professional education, and hospital and legislative change which impacts on parents after the death of a baby ...Show more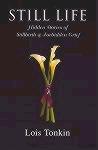 $23.00
NZD
Category: Miscarriage
Still Life: Hidden Stories of Stillbirth and Forbidden Grief  is a collection of poignant stories told by older women whose babies were stillborn some thirty or more years ago, when people believed that grieving mothers would cope best if they did not see or touch their babies who had died. Often the ba by was whisked away and buried in an unmarked grave, and parents were advised to forget their child and have another one.   In the years since their baby's birth and death these mothers loved them and remembered them, often in secret. The stories highlight their sadness, confusion, love, anger and spirited rebellion as they recall their baby's birth and death, and the ways their lives have been changed as a result. Reading these women's stories has been a comfort for many older women whose babies died in this way, as well as for younger women whose experience of stillbirth is very different, although still painful. ...Show more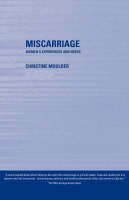 $45.00
NZD
Category: Miscarriage
Approximately one in four pregnancies ends in miscarriage but for each woman the experience is unique. This sympathetic and helpful book explores the many different ways in which women physically experience miscarriage and emotionally react to it. Drawing on the experiences of over 350 women, it will he lp every woman who has miscarried make sense of her loss and find her own way of coping with the confusion that frequently follows. Many aspects of miscarriage are covered including difficult issues that are often avoided: the nature of the loss: tissue, embryo, foetus or baby?; guilt about an earlier abortion; explaining miscarriage to other children; the effect of miscarriage on a relationship; returning to work after miscarriage; coping with repeated miscarriages. Miscarriage also provides a unique set of guidelines to good practice for professionals, based on what women say they find helpful. Professionals who want to evaluate their own practice or develop the service they offer will find this an invaluable book. "Essential Reading for any woman who has miscarried - and everyone, partners and health professionals alike, who wants to help her." - The Miscarriage Association ...Show more
$30.00
NZD
Category: Miscarriage
The loss of a baby, however it occurs, can be heartbreaking and painful and leave parents in need of support as they grieve. While awareness about baby loss is increasing, the suffering and sadness, isolation and loneliness parents feel is often invisible and it can be hard for them to reach out, and fo r those around them to know how best to support them. Why Baby Loss Matters explores what happens when families experience baby loss or the end of a pregnancy, drawing on the first-hand experiences of parents who have navigated life and the fourth trimester without their baby, and the vital work of charities and services which offer support. By examining different approaches to coping with the loss of a baby and keeping memories alive, the book offers insight into the ways that families have found the support and peace that they need to continue living after saying goodbye. ...Show more

$45.00
NZD
Category: Miscarriage
This work describes the tragic and bewildering experience of losing a baby through miscarriage, stillbirth and neonatal death. The book is based on the experiences of many hundreds of bereaved parents and is illustrated with stories and quotes taken from letters parents have written to the UK Stillbirth and Neonatal Death Society (SANDS). "This sensitive, informative book offers a lifeline to bereaved paretns and their families and is essential reading for every professional who comes into contact with parents after the death of their baby." - SANDS ...Show more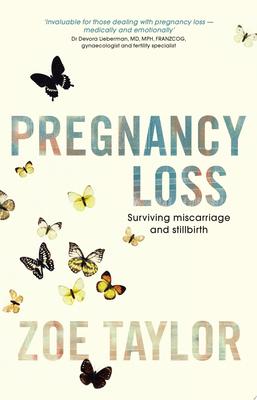 $38.00
NZD
Category: Miscarriage
When a pregnancy fails, grieving parents often wonder why no one mentioned it could happen. Yet one in every four women will experience a misscarriage or stillbirth. Here Zoe shines a light on every aspect of this topic.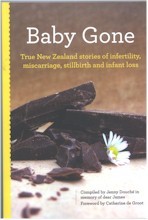 $30.00
NZD
Category: Miscarriage
It is commonly estimated that one in six couples are unable to conceive, one in four pregnancies end in miscarriage, and 600 babies are stillborn or die soon after birth each year. The experience can be the most traumatic thing that couples ever go through. It is also very lonely and isolating. Many are desperate to read other people's local and recent stories in order to gain comfort, however there are very few New Zealand stories available in published form. Baby Gone contains 45 true stories, written from the heart by those affected. The stories give moving accounts about the conception and pregnancy experiences, but perhaps most importantly, they talk of the emotional roller-coaster that is life after loss. The stories will help readers see that they are not alone in their feelings, and that they are not going crazy. ...Show more
Items per page:
1 - 12 of 12