$38.00
NZD
Category: For Sufferers
Bingeing, purging, excessive dieting, and relentless exercising are all destructive behaviors common among young women with eating disorders. The activities in this book help teenage girls understand how their eating behaviors developed, recognize the relationship between their emotions and their eating , and learn to see their bodies in a positive light. ...Show more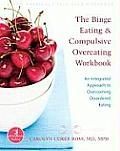 $55.00
NZD
Category: For Sufferers
The Binge Eating and Compulsive Overeating Workbook offers a comprehensive recovery program for people with binge eating disorder and other overeating disorders. Readers will learn to use proven complementary and alternative medicine therapies to develop a healthy relationship to food and eating.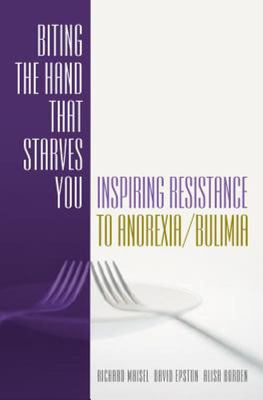 $70.00
NZD
Category: For Sufferers
This important book immediately draws the reader into the world of those struggling with anorexia/bulimia (a/b), whose stories, poems, and first-person accounts expose the 'voice' of these deadly problems. The authors' decade-and-a-half collaboration with 'insiders' has yielded fresh answers to these l ife and death questions: How does a/b seduce and terrorize girls and women? Why is a/b successful in encouraging girls and women to unwittingly embrace their would-be murderer? How can such a murderer be exposed and thwarted? Biting the Hand that Starves You details a unique way of thinking and speaking about anorexia/bulimia. By having conversations with insiders in which the problem is viewed as an external influence rather than a part of the person, these therapists show how to bring the tactics of a/b into the open, expose its deceptions, break its spell, and encourage defiance of its tyrannical rule. These innovations enable insiders, professionals, and loved ones to unite against anorexia/bulimia rather than allowing a/b to pit a professional or loved one against an insider, and the insider against herself. Coercion is sidestepped in favor of practices that are collaborative, accountable and spirit-nurturing. The groundbreaking discoveries outlined in this book will provide new options, inspiration and hope, not only for those who suffer at anorexia's hands, but also for their loved ones and healthcare professionals. The first section of the book illuminates the means by which anorexia/bulimia insinuates itself into the lives of women and confines them to its prison. The second section focuses on how therapists and other helpers assist them to break the spell of a/b, creating possibilities for resisting and defying it. The third section of the book details a two-pronged strategy for reclaiming one's life from a/b. One method involves unmasking a/b by directly engaging with it through critique. The other method involves disengaging from anorexia in order fashion an 'anti-a/b' lifestyle guided by their own values and passions, even while they fear forsaking the promises of anorexia. Finally, the last section of the book addresses ways in which parents and other loved ones can 'team up' with insiders to fight against these lethal problems. This section includes a first-person account of a mother and father's harrowing but ultimately triumphant effort to free their daughter from anorexia's prison. Biting the Hand that Starves You draws to an unprecedented degree on the anti-anorexic/bulimic knowledge of 'insider' clients/collaborators to provide fresh insights into the workings of a/b and the means to overcome it. The knowledge of these authors and their insider collaborators, who speak poignantly and passionately on their own behalf, is sure to benefit all those affected by a/b. ...Show more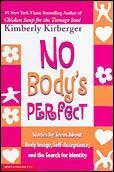 $21.00
NZD
Category: For Sufferers
A collection of stories, essays, and poetry written by both teenage girls and adult women who are dealing with body-image issues. The text looks at the idea of self- and body acceptance at a time when "thin is in". Many of the selections were written by survivors of eating disorders. These stories in pa rticular give readers a sense of light at the end of the tunnel. Many problems in girls' lives stem from a lack of self-esteem and self-love: eating disorders, depression, and more. Through powerful stories and poems from real teens, and gentle, wise guidance from the author, this book strives to help girls learn to accept, love, and appreciate themselves -- body and soul. ...Show more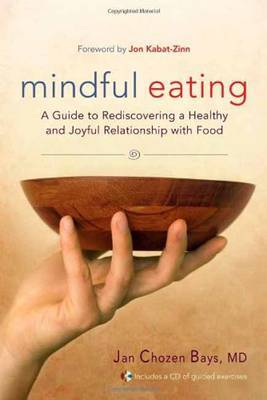 $45.00
NZD
Category: For Sufferers
Here is an accessible and encouraging exploration of how and why to apply the Zen art of mindfulness to transform our 'issues' with food. Whether we are overweight or suffer from an eating disorder, learning to eat mindfully can liberate us from the suffering we experience with food. Practiced for centu ries in the Zen tradition, mindful eating is an approach that involves bringing one's full attention to the process of eating - becoming fully present to the tastes, smells, thoughts, and feelings that arise during a meal. Preliminary research funded by the American National Institutes of Health indicates that mindfulness is effective in treating eating disorders.Dr. Bays, a physician and Zen teacher, offers a wonderfully clear presentation of what mindfulness is and how it can help us create a healthier relationship with food. In "Mindful Eating" she shows us how to rediscover the simple act of eating, thereby gaining control of our eating problems from the inside out. Along the way, she reviews the relevant research, offers medical information, and presents numerous practical exercises drawn from her workshops. Through mindful eating, we not only overcome our issues with food, but we can reawaken our sense of pleasure and satisfaction. This book shows us how. ...Show more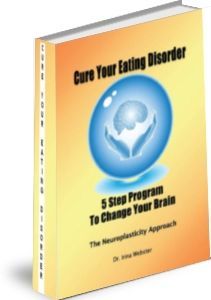 $40.00
NZD
Category: For Sufferers
This book is a proven method to escape the eating disorder nightmare. In her work treating eating disorders sufferers, Dr Irina Webster made a unique discovery: by directing the person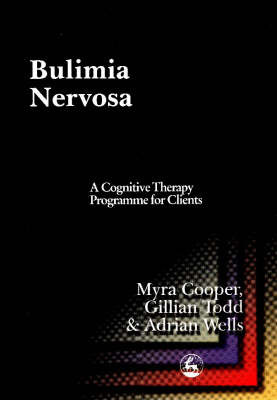 $63.00
NZD
Category: For Clinicians
This manual is written for professionals working with people suffering with bulimia nervosa and for sufferers themselves. It provides a framework for understanding what maintains the disorder and why it has developed. In addition, there is a step-by-step programme to aid recovery. The authors draw on de velopments in cognitive theory and on innovation and cognitive th erapy treatment strategies. They focus on the link between thinking and behaviour, and give guidance on learning how to identify and change negative thoughts, underlying assumptions and core self beliefs. Factual information is presented alongside a programme of work sheets, self-assessment questionnaries and case examples from the authors' professional experience. ...Show more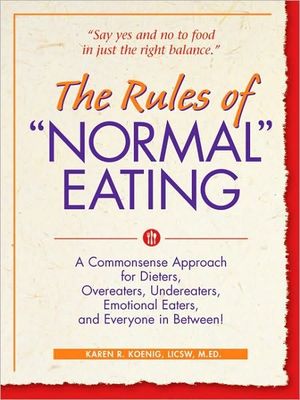 $37.00
NZD
Category: For Sufferers
Everyone who has struggled with food--whether they're an overeater, undereater, or somewhere in between-- would like to know how to eat "normally." This commonsense approach combines cognitive-behavioural techniques and mindfulness to get pleasure and satisfaction from eating. Filled with humour, compas sion, insight, and practical wisdom. An ideal self-help book for chronic dieters, individuals recovering from eating disorders, and anyone who is not comfortable with food. This book is unlike any other published by Gurze Books, but it is should appeal to all of our readers. ...Show more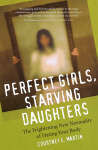 $37.00
NZD
Category: For Sufferers
Based on extensive research and in-depth interviews with women from various socio-economic backgrounds, "Perfect Girls, Starving Daughters" lays bare a stark new world culture of eating disorders, food and body issues that affect virtually all of today's women. Though eating disorders first came to be r ecognised about 25 years ago, Martin's book shows how the issues surrounding body image have only become more complex, more dangerous and more difficult to treat: we now live in a world where over half of young women between the ages of 18 and 25 would prefer to be run over by a car than be fat, and the single group of teenagers most likely to consider a suicide attempt are girls who worry they are overweight. The current 'epidemic' of obesity is simply the flip side of the same coin. Drawing from interviews with sufferers, psychologists, nutritionists, and other experts, Courtney Martin's book reveals a whole new generation of 'perfect girls' who have been conditioned from a young age to over-achieve, self-sacrifice, and hate their own bodies - this, despite being raised by a generation of mothers well-versed in the lessons of feminism. ...Show more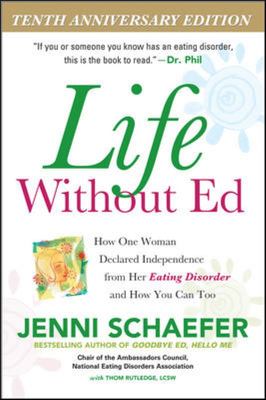 $35.00
NZD
Category: For Sufferers
This book provides a unique new approach to treating eating disorders. Eight million women in the United States suffer from anorexia nervosa and/or bulimia. For these women, the road to recovery is a rocky one. Many succumb to their eating disorders. "Life Without Ed" offers hope to all those who suffer from these often deadly disorders. For years, author Jennifer Schaefer lived with both anorexia and bulimia. She credits her successful recovery to the technique she learned from her psychologist, Thom Rutledge. This groundbreaking book illustrates Rutledge's technique. As in the author's case, readers are encouraged to think of an eating disorder as if it were a distinct being with a personality of its own. Further, they are encouraged to treat the disorder as a relationship rather than as a condition. Schaefer named her eating disorder Ed; her recovery involved "breaking up" with Ed. She shares the points of view of both patient and therapist in this approach to treatment; helps people see the disease as a relationship from which they can distance themselves; and techniques to defeat negative thoughts that plague eating disorder patients. ...Show more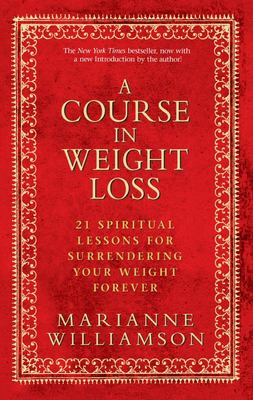 $26.00
NZD
Category: Diets & Food
For so many people, whether your addiction is to a substance or merely to a certain way of thinking or acting, a profound humbling occurs when you realise that your problem is bigger than you are. The terror of realising, even dimly, that you have no control over a self-destructive pattern of behaviour– that as much as you would want to, you simply cannot stop – can mark a crucial turning point in your life. At that point, you go in one of two directions: either way, way down, or way, way up. . . . This book is for you if you know in your heart that you are an addict, and that you are powerless before your addictive behaviour. As the title promises, Marianne Williamson looks at weight loss from a spiritual perspective, bringing you 21 lessons that can be done separately or in conjunction with any other serious spiritual path. These 21 lessons are completely separate from anything related to diet or exercise – they will retrain your consciousness in the area of weight in order to break the cycle of overeating, dieting and shame that rules so many lives. Finally, Marianne has brought you what you've been waiting for: help to heal your addiction once and for all! ...Show more
$50.00
NZD
Category: Diets & Food | Series: A\New Harbinger Self-Help Workbook Ser.
Do you use food to comfort yourself during stressful times? The Intuitive Eating Workbook offers a comprehensive, evidence-based program to help you develop a healthy relationship with food, pay attention to cues of hunger and satisfaction, and cultivate a profound connection with your mind and body. H ave you tried fad diet after fad diet, only to gain weight back? Maybe you've tried the protein diet only to move on to vegetables only? Raw almonds and coconut water every forty-five minutes instead of big meals? Or perhaps you've tried counting calories, but the numbers on the scale still don't add up. If you are ready to throw in your hat and give up on dieting for good, take heart. You can enjoy food again--you just need to pay attention to your body's natural hunger cues. Based on the authors' best-selling book, Intuitive Eating, this workbook can show you how. The Intuitive Eating Workbook offers a new way of looking at food and mealtime by showing you how to recognize your body's natural hunger signals. Structured around the ten principles of intuitive eating, the mindful approach in this workbook encourages you to abandon unhealthy weight control behaviors, develop positive body image, and--most importantly--stop feeling distressed around food You were born with all the wisdom you need for eating intuitively. This book will help you reconnect with that wisdom and ultimately change your life--one meal at a time. ...Show more