$37.00
NZD
Category: Growing Older | Series: The Female Brain
The XX Brain is the first book to explain how hormonal changes makes a woman's brain especially vulnerable to Alzheimer's, and shows how this risk and also other forms of dementia can be reduced by preventive medicine and lifestyle modifications designed specifically for women.
$35.00
NZD
Category: Growing Older
In this paradigm-shifting book from acclaimed Harvard Medical School doctor and one of TIME magazine's 100 most influential people on earth, Dr. David Sinclair reveals that everything we think we know about ageing is wrong, and shares the surprising, scientifically-proven methods that can help readers l ive younger, longer. For decades, the medical community has looked to a variety of reasons for why we age, and the consensus is that no one dies of old age; they die of age-related diseases. That's because ageing is not a disease - it is inevitable.But what if everything you think you know about ageing is wrong?What if ageing is a disease? And that disease is curable.In THE EVOLUTION OF AGEING, Dr. David Sinclair, one of the world's foremost authorities on genetics and ageing, argues just that. He has dedicated his life's work to chasing more than a longer lifespan - he wants to enable people to live longer, healthier, and disease-free well into our hundreds. In this book, he reveals a bold new theory of ageing, one that pinpoints a root cause of ageing that lies in an ancient genetic survival circuit. This genetic trick - a circuit designed to halt reproduction in order to repair damage to the genome -has enabled earth's early microcosms to survive and evolve into more advanced organisms. But this same survival circuit is the reason we age: as genetic damage accumulates over our lifespans from UV rays, environmental toxins, and unhealthy diets, our genome is overwhelmed, causing gray hair, wrinkles, achy joints, heart issues, dementia, and, ultimately, death.But genes aren't our destiny; we have more control over them than we've been taught to believe. We can't change our DNA, but we can harness the power of the epigenome to realise the true potential of our genes. Drawing on his cutting-edge findings at the forefront of medical research, Dr. Sinclair will provide a scientifically-proven roadmap to reverse the genetic clock by activating our vitality genes, so we can live younger longer. Readers will discover how a few simple lifestyle changes - like intermittent fasting, avoiding too much animal protein, limiting sugar, avoiding x-rays, exercising with the right intensity, and even trying cold therapy - can activate our vitality genes. Dr. Sinclair ends the book with a look to the near future, exploring what the world might look like - and what will need to change - when we are all living well to 120 or more.Dr. Sinclair takes what we have long accepted as the limits of human potential and mortality and turns them into choices. THE EVOLUTION OF AGEING is destined to be the biggest book on genes, biology, and longevity of this decade. ...Show more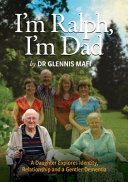 $24.00
NZD
Category: Growing Older
Ralph Wood was diagnosed with dementia, and over the ensuing years his daughter, a medical doctor, along with other close family members, walked that journey beside him. Through poems, drawings and brief comments, I'm Ralph, I'm Dad lovingly tells the story. Though this is a personal account, it is a jo urney that others face, and in the telling you may just find that dementia is not quite as bad as many of us fear. Along with the struggles there can be gentleness, humour, hope, surprises - and even joy. Containing practical and poetic insights, this book can be a companion to you as you follow that pathway with the one you love. ...Show more
$40.00
NZD
Category: Growing Older
Dementia is a little understood and currently incurable illness, but much can be done to maximise the quality of life for people with the condition. "Contented Dementia" - by clinical psychologist and bestselling author Oliver James - outlines a groundbreaking and practical method for managing dementia that will allow both sufferer and carer to maintain the highest possible quality of life, throughout every stage of the illness. A person with dementia will experience random and increasingly frequent memory blanks relating to recent events.Feelings, however, remain intact, as do memories of past events and both can be used in a special way to substitute for more recent information that has been lost. The SPECAL method (Specialized Early Care for Alzheimer's) outlined in this book works by creating links between past memories and the routine activities of daily life in the present. Drawing on real-life examples and user-friendly tried-and-tested methods, "Contented Dementia" provides essential information and guidance for carers, relatives and professionals. ...Show more
$25.00
NZD
Category: Biography & Memoir
How do you build a life when all that you know is changing?How do you conceive of love when you can no longer recognise those who mean the most to you? A phenomenal memoir - the first of its kind - Somebody I Used to Know is both a heart-rending tribute to the woman Wendy Mitchell once was, and a brave affirmation of the woman dementia has seen her become. ...Show more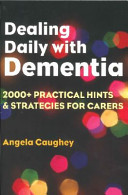 $40.00
NZD
Category: Growing Older
Many books have been written about dementia, usually dealing with the symptoms and the medical side of the condition. But here is a thoroughly practical book for carers and families, written by someone with first-hand experience of caring for a person with dementia over many years. Drawing on real-life situations, this book brings together a wealth of information not easily found elsewhere. It provides solutions to a vast range of situations the carer is likely to encounter -- from organising legal and financial affairs, to ways of coping with the symptoms of dementia, such as aggression, hallucinations, incontinence and decreasing mental powers. It also contains thousands of hints for dealing with dementia on a daily basis, including adapting the home environment; showering, dressing, eating and drinking; keeping the mind stimulated; and communicating well with family, friends and professionals, as well as with each other. The personal stories throughout the book are inspiring, sobering and at times amusing. This book is full of the wisdom and insights of experienced carers, and has much to offer anyone new to this role. ...Show more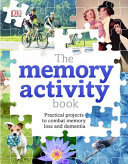 $40.00
NZD
Category: Growing Older
Combat and manage the symptoms of dementia and Alzheimer's disease, from memory loss to disorientation with this practical activity book. From physical activities to crafts and puzzles, The Memory Activity Bookprovides those with memory loss and their carers with ideas, tools and guidance. There are tw o sections for each activity- one that a person with dementia or memory loss themselves can safely engage and interact with; and another for relatives, friends, and carers, which includes added guidance and information on possible reactions and intended benefits. Whether you or someone in your life are challenged by this increasingly prevalent condition,The Memory Activity Book is a valuable resource designed to stimulate the mind. ...Show more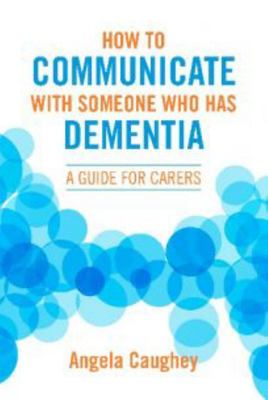 $35.00
NZD
Category: Growing Older
This easy-to-read, practical book will help anyone caring for someone with dementia communicate more easily with them. It shows carers how to express their messages effectively and helps them interpret what the person with dementia is trying to convey. A useful overview of the main types of dementia des cribes how they affect communication.  When carers and the people they care for engage in good communication, frustrations and stress are minimised. Good communication enables carers to manage most challenges in a positive and respectful way. The book provides practical strategies that are easy to implement when dealing with some commonly encountered problems drawn from real-life experience. It explains what works, what doesn't, and why. It also shows how to use language effectively, how to implement critical listening skills, and how to interpret body language.  The result is a book that will provide enormous benefits to the carer and to the person with dementia.  How to Communicate with Someone Who Has Dementia is endorsed by the Neurological Foundation of New Zealand. ...Show more
$35.00
NZD
Category: Growing Older
'The octogenarian professor who holds the secret of eternal youth' (The Times) 84-year old physician, research scientist and champion cyclist, Dr Norman Lazarus, wants us to take control of our own futures... In his first book, The Lazarus Method for Ageing Well and Wisely, Norman will inspire readers to embrace the coming years with equal measures of optimism and determination; celebrating the good news of his research - that staying active is scientifically proven to keep the body young and healthy and stave off age-related diseases. His lifestyle blueprint will show us that the positive changes we can make now are both simple and easily actionable, but have the power to help us reap the rewards in later life and enjoy an independent and productive old age. Written with wit and rigour, this is part how-to / part manifesto drawing on Dr Lazarus' many years in medicine, on the stories of patients and on his own experience and research - to show us that ageing is not a disease, unless we let it become so. ...Show more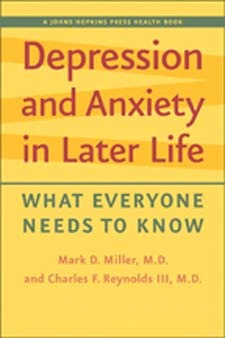 $45.00
NZD
Category: Growing Older | Series: A Johns Hopkins Press Health Book
Physical problems and emotional stresses, such as bereavement, health conditions, pain, concerns about the future, side effects of medications, and the accumulated effects of lifestyle choices, may lead to depression or anxiety in older people. However, as Drs. Mark D. Miller and Charles F. Reynolds III know, these mental disorders are not a natural or an inevitable part of aging. In "Depression and Anxiety in Later Life", these psychiatrists show how depression and anxiety can be avoided or minimized by adapting to changing circumstances while controlling risk factors and getting help when it's needed. This reassuring book balances discussions of the causes, symptoms, and treatments of mental illness with descriptions of successful adaptive aging. Case studies illustrate the less obvious depression symptoms of irritability, disorganization, and social withdrawal. Readers will find information about memory loss, pain, sleep, nutrition, and end-of-life issues particularly helpful. Aging can be challenging, but it doesn't always lead to depression or anxiety. "Depression and Anxiety in Later Life" will help older people, their family members, and caregivers make positive changes to take control of their own individual situations. ...Show more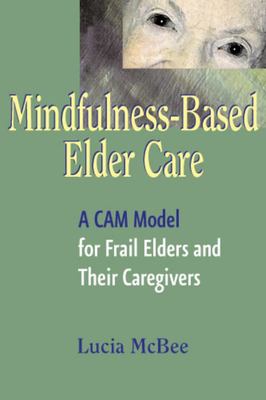 $98.00
NZD
Category: Growing Older | Series: Springer Ser.
She shares with us her gold - the conception, trial and error implementation, and initial scientific investigation of a new, educationally-oriented treatment approach that she has named mindfulness-based elder care (MBEC)." -from the Foreword by Saki Santorelli, EdD, MA, Associate Professor of Medicine, Executive Director, Center for Mindfulness in Medicine, Health Care, and Society University of Massachusetts Medical School Drawing on years of experience as a geriatric social worker and mindfulness-based stress reduction practitioner, the author has taken Jon Kabat-Zinn's Mindfulness-Based Stress Reduction program and adapted it to the particular needs of elders, their families, and professional caregivers. Mindfulness practices focus on abilities, rather than disabilities, in order to provide paths to the inner strengths and resources that we all possess. McBee's Mindfulness-Based Elder Care conveys the benefits of mindfulness through meditation, gentle yoga, massage, aromatherapy, humor, and other creative therapies to this special population. She provides clear, concise instructions for her program, as well as a wealth of anecdotal and experiential exercises, to help readers at all levels of experience. Hers is the first book to fully explore the value of mindfulness models for frail elders and their caregivers. Features of this groundbreaking volume include: Valuable tips for establishing programs to address each population's specific needs and restrictions Designed for short classes or 8-week courses Detailed experiential exercises for the reader Replete with case studies Clear, easy-to-follow instructions for elders and caregivers at all levels This innovative book is suitable for use with a variety of populations such as nursing home residents with physical and cognitive challenges, community-dwelling elders, direct-care staff, and non-professional caregivers. ...Show more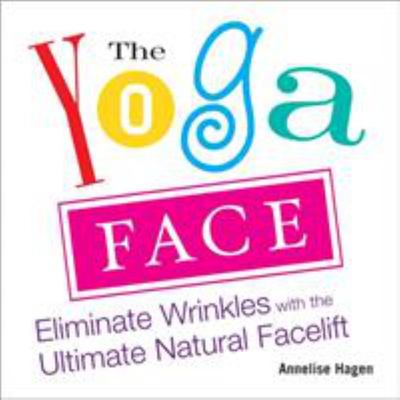 $35.00
NZD
Category: Growing Older
View our feature on Annelise Hagen's The Yoga Face. To keep their faces looking younger, women today try everything from invasive procedures such as plastic surgery and Botox to expensive cosmeceuticals. The Yoga Face is a new and completely natural alternative anti-aging regimen that women can do anyti me and anywhere-and in just minutes. The exercises, developed by yoga expert and instructor Annelise Hagen, are based on a simple principle: The muscles of the face are no different from the muscles of the rest of the body. If you don't exercise the muscles below the neck, they become weak and flabby, and the same thing will happen to your face with age. Just as yoga routines work the muscles in the body, the stretches and movements in The Yoga Face tighten and tone the face muscles-and combat wrinkles. "Working out" with fun facial exercises such as the Louis Armstrong "Satchmo," the Marilyn Monroe "kiss," and the "Lion Face," readers will notice changes quickly; and over time, the results are dramatic. Illustrated with more than seventy-five instructive photos throughout, The Yoga Face offers an easy, safe, and effective solution to help women turn back the clock and have beautiful, young-looking skin. ...Show more