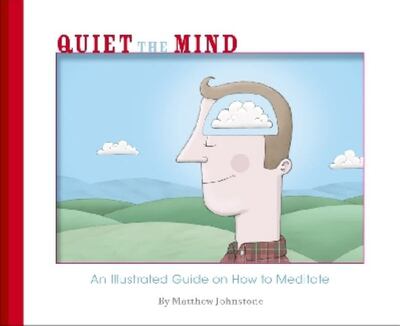 $25.00
NZD
Category: Depression, Anxiety & Stress
Modern society has made sitting still a near impossible task with its constant mantra of being connected. Our brains never get a break and the result can be increased stress, anxiety, insomnia and, if left unchecked, even depression. But there is something you can do - nothing! Matthew Johnstone's new b ook, a follow-up to his bestselling "Black Dog" series, is a simple, accessible, step-by-step guide on how to meditate. Stripping back the mystical concepts that often put meditation in the too-hard basket for many of us, Johnstone's book utilises his trademark stunning illustrations to make meditation as easy as sitting down and focusing on the breath. This beautiful guide will help you find the space and peace for a relaxing meditation practice every day. ...Show more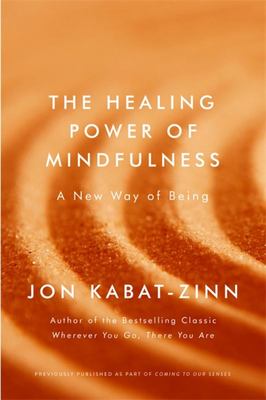 $38.00
NZD
Category: Mindfulness
Discover how mindfulness can help you with healing. More than twenty years ago, Jon Kabat-Zinn showed us the value of cultivating greater awareness in everyday life with his now-classic introduction to mindfulness, Wherever You Go, There You Are. Now, in The Healing Power of Mindfulness, he shares a co rnucopia of specific examples as to how the cultivation of mindfulness can reshape your relationship with your own body and mind--explaining what we're learning about neuroplasticity and the brain, how meditation can affect our biology and our health, and what mindfulness can teach us about coming to terms with all sorts of life challenges, including our own mortality, so we can make the most of the moments that we have. Originally published in 2005 as part of a larger book titled Coming to Our Senses, The Healing Power of Mindfulness features a new foreword by the author and timely updates throughout the text. If you are interested in learning more about how mindfulness as a way of being can help us to heal, physically and emotionally, look no further than this deeply personal and also "deeply optimistic book, grounded in good science and filled with practical recommendations for moving in the right direction" (Andrew Weil, MD), from one of the pioneers of the worldwide mindfulness movement. ...Show more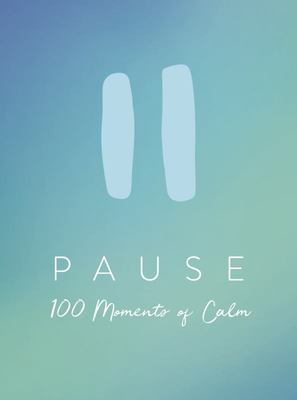 $20.00
NZD
Category: Mindfulness
I breathe in calm. I breathe out calm. Modern life can be fast-paced and stressful, so we all need a way to press 'pause' from time to time. With simple mindfulness techniques, self-care ideas and easy ways to relax, this little book will be your pocket guide to finding moments of peace, reflection and calm in every day. SELLING POINTS: * Finding moments of calm in an increasingly hectic world has become an important part of everyday life. This little book will help you to capture serenity and calm. * Similar titles include How to Be Calm (ISBN: 9781849537971) and How to Be Mindful (ISBN: 9781849538978). ...Show more
$19.00
NZD
Category: Mindfulness | Series: Mindfulness Ser.
The realities of the modern-day workplace can include stress, pressure and apathy, but with a thoughtful approach and an openness to change, anyone can transform their work experience. In Mindfulness at Work, expert mediator and counsellor Maria Arpa shares her professional and personal insights into wa ys we can all create positive change at work ways to cut conflict, find contentment and develop an environment where harmony and clarity rule. Learn how to use her meditation practices and mediation tools to enrich your daily life and thrive and flourish, whatever your working circumstances. ...Show more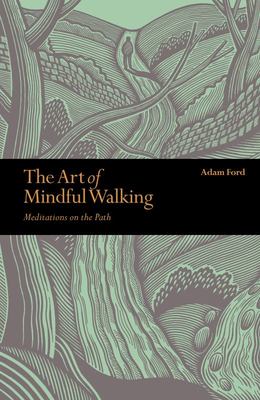 $15.00
NZD
Category: Mindfulness
Mindfulness is a technique of focused awareness that has its roots in Buddhism. It makes the present moment vividly tangible, heightens the senses, and increases our ability to think clearly and make positive life choices. The Art of Mindful Walking uses the concept of mindfulness to explore the acti vity of walking as an exercise for both body and mind. As an Anglican priest and former Priest-in-Ordinary to the Queen, a lecturer in Buddhism, and a devoted walker, Adam Ford is an inspiring guide with a refreshingly eclectic viewpoint. Contemplating the concept of purposeful walking, he applies the notion of mindfulness to walks ranging from a simple journey to work to a personal odyssey in the Australian outback. Exploring the idea of the walk as both medium and metaphor, and considering ideas of pilgrimage alongside the notion of the walk in literature, he draws on his personal experience of both spirituality and walking. Most of us have enjoyed moments of magic on a walk, from a simple feeling of wellbeing to a sense of awe at a special view. This book celebrates and enhances those moments: both for the hardened hiker and those who like to contemplate past walks from the comfort of their armchair.  ...Show more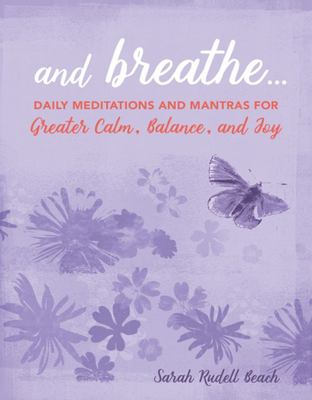 $20.00
NZD
Category: Mindfulness
This invaluable book of daily meditations and mantras will improve the wellbeing of anyone who wants to achieve a calmer, more stress-free, and joyful life.   When life is so fast-paced and there are countless demands on us, it can become impossible to find time for ourselves. And Breathe... offers si mple ways to stop, take a breath, and become present. From starting the day with self-care intentions to ending it with stillness and love, the meditations, mantras, and exercises will help you to cultivate greater awareness, presence, and calm so that every day, however busy, has some mindful moments that will benefit you both physically and emotionally. You will learn to pay more attention to the good rather than having a default of negativity, meet difficult moments with acceptance and curiosity rather than railing against them, and become more mindful and less judgmental of loved ones for better relationships. By experimenting with the techniques that suit you best, you will cultivate a more mindful way of being that can be sustained throughout your life. ...Show more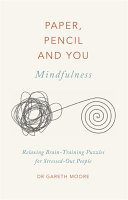 $25.00
NZD
Category: Mindfulness | Series: Paper, Pencil and You Ser.
Tune into a moment of mindfulness with over 100 pencil-ready puzzles. Paper, Pencil and You: Mindfulness presents over 100 puzzles designed to encourage mindfulness in a busy, stressed-out world. From simple word searches and labyrinths to challenging logic problems and visual conundrums, each puzzle h elps to keep the brain sharp, while providing a mindful moment free from distractions and worries. The puzzles in this book encourage you to develop mindfulness skills to help relieve the stresses of modern-day living. Each one is designed to channel your mind away from distractions and to focus on the here and now. Work your way through puzzles that include drawing fences, finding hidden words, matching shadows and linking shapes to improve your awareness, instinct and creativity. So, sharpen that pencil, turn over the page and tap into mindfulness. ...Show more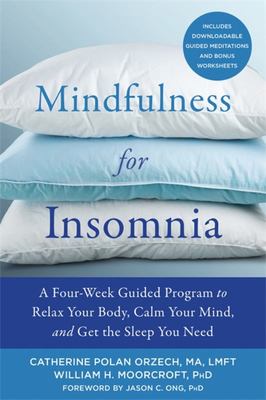 Mindfulness for Insomnia
by Catherine Polan Orzech; William H. Moorcroft; Jason C. Ong (Foreword by)
$40.00
NZD
Category: Mindfulness
Break the cycle of anxious thinking and rumination that keeps you up at night. With this much-needed guide, you'll learn to quiet your mind, relax your body, feel less tense, and finally get the sleep you need. Sleep plays a crucial role in our waking lives. While we sleep, our bodies are recharging wit h energy, damaged tissue is repaired, and our memories are stored. When we don't get enough sleep, we are tired, less positive, less motivated, less focused, and more likely to feel depressed. We may even experience more intense cravings for high-fat, sugar-rich foods. And yet, despite the myriad advantages of getting a good night's sleep, countless people suffer from chronic insomnia. If you're one of them, this book can help. In this evidence-based guide, a trained mindfulness expert teams up with a behavioral sleep specialist to offer evidence-based meditations and an innovative four-week protocol to address the emotional stresses and anxieties that lie at the root of sleep issues. You'll learn practices grounded in mindfulness-based stress reduction (MBSR), mindful self-compassion (MSC), and guided mindfulness and acceptance for insomnia (GMATI) to alleviate the mental, emotional, and physical suffering caused by insomnia. You'll also learn to identify both internal and external factors that may be compromising your sleep, and develop a plan to address these issues. There is nothing we can do to make ourselves fall asleep. In many ways, this is why insomnia can be so maddening. But what we can do is help create the conditions necessary for healthy slumber. The mindfulness tools in this book will help you do exactly that. ...Show more
$38.00
NZD
Category: Mindfulness
In the midst of a global mental health crisis, millions of people have turned to mindfulness. But does it actually work? In a world-first experiment, journalist Shannon Harvey recruited a team of scientists to put mindful meditation to the test. But what began as a year-long self-experiment soon became a life-changing experience. Overwhelmed with insomnia and an incurable autoimmune disease, Shannon Harvey needed to make a change. But while the award-winning health journalist found plenty of recommendations on diet, sleep and exercise, when she looked for the equivalent of a 30-minute workout for her mental wellbeing, there was nothing. Also worried for the future mental health of her kids, who were growing up amidst critical levels of stress, anxiety, depression and addiction, Shannon enlisted a team of scientists to put meditation to the test. Could learning to quiet our busy minds be the simple solution the world so desperately needs? During her year of living mindfully Shannon is poked, prodded, scanned and screened. After a 30,000 kilometre journey from Australia to the bright lights of Manhattan and the dusty refugee camps of the Middle East - interviewing the world's leading mindfulness experts along the way - what begins as a quest for answers transforms into a life-changing experience. From the director of the internationally acclaimed documentary of the same name, MY YEAR OF LIVING MINDFULLY is filled with compelling stories, groundbreaking science, and unexpected insights that go to the heart of what it means to be human in the twenty-first century. ...Show more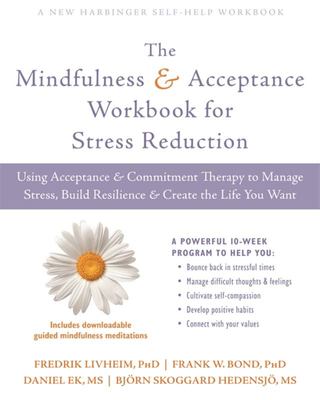 $55.00
NZD
Category: Mindfulness | Series: Mindfulness and Acceptance Practica Ser.
Everyone experiences stress. From the moment we wake Up in the morning to the moment we settle into bed at night, out days are packed with challenges-some big and some small-that can lead to stress. Unfortunately, you can't escape life's daily challenges. But you can reassess what is really important to you, and. even change the way you respond to difficult events. Written by internationally renowned acceptance and commitment therapy (Act) experts, this evidence-based workbook will show you how. The Mindfulness and Acceptance Workbook for Stress Reduction offers a powerful nine-week program for stress management drawing on the principles or Act and mindfulness. You'll find practical tools to help you deal with difficult emotions, cultivate self-compassion, and reinforce healthy coping habits. You'll also discover how to build resilience and set important goals for yourself that can even help to minimize the challenges you face. Finally you'll learn to be more aware of how you deal wide difficult situations in the moment, so stress doesn't build up and suddenly take otter your life. Book jacket. ...Show more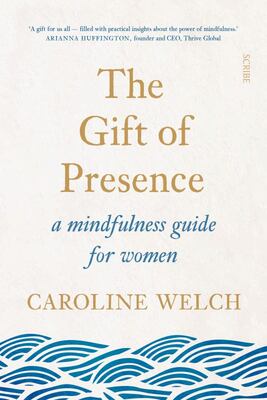 $38.00
NZD
Category: Mindfulness
A practical, user-friendly guide for women seeking focus and calm in the midst of life's storms. Overwhelmed by the demands of family, work, and multiple responsibilities, many women find themselves feeling scattered and distracted. In this eye-opening book, co-founder and CEO of the Mindsight Institut e, Caroline Welch, takes readers on a mindfulness journey to help them de-stress and cultivate inner peace. According to Welch, you do not need countless hours sitting in silence to be more present in your life -- the key is to practice mindfulness wherever you are and whenever you can. The Gift of Presenceguides readers in developing four innate abilities we all possess that will allow us to become more resilient and centred in our lives -- even when life is throwing all that it has at us: Presence:the ability to remain firmly in the present moment -- to be fully aware of what's happening as it's happening. Purpose:the personal meaning that gets us going and gives direction to our lives. Pivoting:an openness to change that allows you to switch direction if that is what is needed. Pacing:the awareness that it is impossible to do everything we want or need to do all at once; the ability to take it life one step at a time. This life-changing book reveals that you already hold in your hands the keys to a more harmonious life -- you simply need to look within. ...Show more
$28.00
NZD
Category: Mindfulness
THE NEW YORK TIMES BESTSELLER FROM THE AUTHOR OF 10% HAPPIER   Too busy to meditate? Can't turn off your brain? Curious about mindfulness but more comfortable in the gym? This book is for you.   You'll also get access to guided audio meditations on the 10% Happier app, to jumpstart your practice fro m day one.   ABC News anchor Dan Harris used to think that meditation was for people who collect crystals, play Ultimate Frisbee, and use the word "namaste" without irony. After he had a panic attack on live television, he went on a strange and circuitous journey that ultimately led him to become one of meditation's most vocal public proponents.   Harris found that meditation made him more focused and less yanked around by his emotions. According to his wife, it also made him less annoying. Science suggests that the practice can lower your blood pressure, mitigate depression and anxiety, and literally rewire key parts of the brain. So what's holding you back?   In Meditation for Fidgety Skeptics, Harris and Jeff Warren, a masterful teacher and "Meditation MacGyver," embark on a gonzo cross-country quest to tackle the myths, misconceptions, and self-deceptions that keep people from meditating. It is filled with game-changing and deeply practical meditation instructions--all of which are also available (for free) on the 10% Happier app. This book is a trip worth taking.   Praise for Meditation for Fidgety Skeptics   "If you're intrigued by meditation but don't know how to begin--or you've benefited from meditation in the past but need help to get started again--Dan Harris has written the book for you. Well researched, practical, and crammed with expert advice, it's also an irreverent, hilarious page-turner."--Gretchen Rubin, author of The Happiness Project   "The ABC News anchor, a 'defender of worrying' who once had an anxiety attack on air, offers a hilarious and stirring account of his two-steps-forward-one-step-back campaign to sort 'useless rumination' from 'constructive anguish' via mindfulness, along with invaluable suggestions for following in his footsteps."--O: The Oprah Magazine ...Show more