$43.00
NZD
Category: For Carers
Tens of thousands of parents have turned to this compassionate guide for support and practical advice grounded in cutting-edge scientific knowledge. Top experts James Lock and Daniel Le Grange explain what you need to know about eating disorders, which treatments work, and why it is absolutely essential to play an active role in your teen's recovery--even though parents have often been told to take a back seat. Learn how to monitor your teen's eating and exercise, manage mealtimes, end weight-related power struggles, and partner successfully with health care providers. When families work together to get the most out of treatment and prevent relapse, eating disorders can be beat. This book is your essential roadmap. Featuring the latest research, resources, and diagnostic information, the second edition has been expanded to cover binge-eating disorder. ...Show more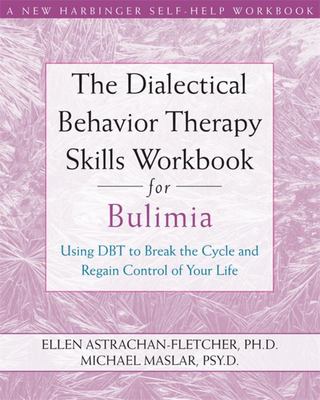 $48.00
NZD
Category: For Clinicians | Series: Dialectical Behavior Therapy Ser.
At the root of bulimia is a need to feel in control. While purging is a strategy for controlling weight, bingeing is an attempt to calm depression, stress, shame, and even boredom. The Dialectical Behavior Therapy Skills Workbook for Bulimia offers new and healthy ways to overcome the distressing feelin gs and negative body-image beliefs that keep you trapped in this cycle. In this powerful program used by therapists, you'll learn four key skill sets-mindfulness, distress tolerance, emotion regulation, and interpersonal effectiveness-and begin using them right away to manage bulimic urges. The book includes worksheets and exercises designed to help you take charge of your emotions and end your dependence on bulimia. You'll also learn how to stay motivated and committed to ending bulimia instead of reverting to old behaviors. Used together, the skills presented in this workbook will help you begin to cope with uncomfortable feelings in healthy ways, empower you to feel good about nourishing your body, and finally gain true control over your life. ...Show more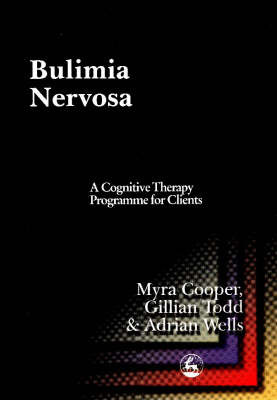 $63.00
NZD
Category: For Clinicians
This manual is written for professionals working with people suffering with bulimia nervosa and for sufferers themselves. It provides a framework for understanding what maintains the disorder and why it has developed. In addition, there is a step-by-step programme to aid recovery. The authors draw on de velopments in cognitive theory and on innovation and cognitive th erapy treatment strategies. They focus on the link between thinking and behaviour, and give guidance on learning how to identify and change negative thoughts, underlying assumptions and core self beliefs. Factual information is presented alongside a programme of work sheets, self-assessment questionnaries and case examples from the authors' professional experience. ...Show more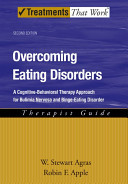 $78.00
NZD
Category: For Clinicians | Series: Treatments That Work Ser.
The Overcoming Eating Disorders, Second Edition program addresses the cognitive-behavioral treatment of Bulimia Nervosa and Binge Eating Disorder. CBT has been proven the most effective treatment for helping patients improve their eating habits and overcome their disorder. The treatment described is div ided into three overlapping phases: behavior change, identifying binge triggers, and relapse prevention. The main focus of the program is the normalization of eating. Patients use self-monitoring forms to track their eating habits on a daily basis while they work toward establishing a pattern of 3 meals and 2 snacks per day eaten at regular intervals. Once a regular pattern of eating has been established, patients move on to recognizing and eliminating their triggers for binging and purging. CBT techniques like problem-solving and cognitive restructuring help patients deal with negative mood states, faulty interpersonal interactions, and errors in thinking. The final phase of treatment consists of a review of the positive changes that have occurred during treatment, as well as a discussion of any residual problems and ways to handle setbacks or lapses. ...Show more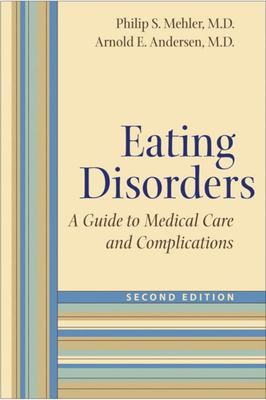 $73.00
NZD
Category: For Clinicians
Eating disorders present diagnostic and treatment challenges to clinicians. While such disorders need both medical and psychological treatment, patients may be too medically ill for a thorough psychiatric evaluation and may be misunderstood by many primary care physicians. In this revised and update d edition of Eating Disorders, Philip S. Mehler and Arnold E. Andersen provide a hands-on, user-friendly, and comprehensive guide for both primary care doctors and mental health professionals. Mehler and Andersen identify common medical complications that patients with eating disorders face and answer questions about how to treat them. They also cover such serious complications as osteoporosis, cardiac arrhythmia, electrolyte abnormalities, immune compromise, and gastrointestinal sequelae. Incorporating pertinent case studies, medical background on the complication, suggestions for diagnosis and treatment, and a list of selected references, chapters cover important topics, including team treatment and nutritional rehabilitation. The authors address special areas of concern, such as athletes who have eating disorders and the pharmacologic treatment of obesity. ...Show more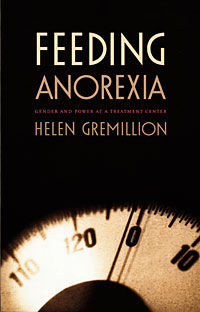 $40.00
NZD
Category: For Clinicians
Feeding Anorexia challenges prevailing assumptions regarding the notorious difficulty of curing anorexia nervosa. Through a vivid chronicle of treatments at a state-of-the-art hospital program, Helen Gremillion reveals how the therapies participate unwittingly in culturally dominant ideals of gender , individualism, physical fitness, and family life that have contributed to the dramatic increase in the incidence of anorexia since the 1970s. She describes how strategies including the meticulous measurement of patients' progress in terms of body weight and calories consumed ultimately feed the problem, not only reinforcing ideas about the regulation of women's bodies, but also fostering in many girls and women greater expertise in the formidable constellation of skills anorexia requires. At the same time, Gremillion shows how contradictions and struggles in treatment can help open up spaces for change. Feeding Anorexia is based on fourteen months of ethnographic research in a small inpatient unit located in a major teaching and research hospital. Gremillion attended group, family, and individual therapy sessions and medical staff meetings; ate meals with patients; and took part in outings and recreational activities. She also conducted over one hundred interviews-with patients, parents, staff, and clinicians. Among the issues she explores are the relationship between calorie-counting and the management of consumer desire; why the "typical" anorexic patient is middle-class and white; the extent to which power differentials among clinicians, staff, and patients model "anorexic families;" and the potential of narrative therapy to constructively reframe some of the problematic assumptions underlying more mainstream treatments. ...Show more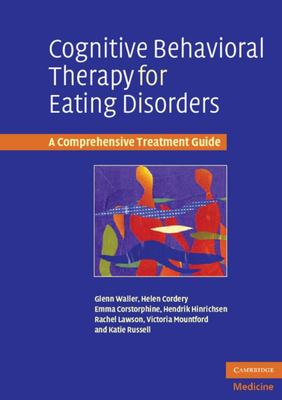 $140.00
NZD
Category: For Clinicians
This book describes the application of cognitive behavioural principles to patients with a wide range of eating disorders - it covers those with straightforward problems and those with more complex conditions or co-morbid states. The book takes a highly pragmatic view. It is based on the published evid ence, but stresses the importance of individualized, principle-based clinical work. It describes the techniques within the widest clinical context, for use across the age range and from referral to discharge. Throughout the text, the links between theory and practice are highlighted in order to stress the importance of the flexible application of skills to each new situation. Case studies and sample dialogs are employed to demonstrate the principles in action and the book concludes with a set of useful handouts for patients and other tools. This book will be essential reading for all those working with eating-disordered patients including psychologists, psychiatrists, nurses, counsellors, dieticians, and occupational therapists. ...Show more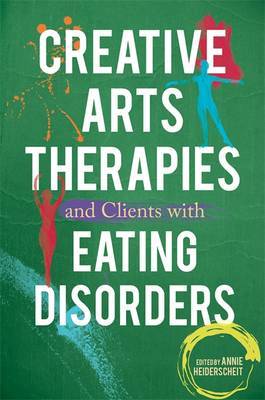 $72.00
NZD
Category: For Clinicians
Drawing on the expertise of leading creative arts therapists from around the world, this book provides a comprehensive examination of the role of the creative arts in the treatment of clients with eating disorders (EDs). The book explores how art, dance and movement, drama, music, and poetry therapies h ave fostered insights, growth, and recovery for patients across ED diagnoses (anorexia nervosa, bulimia nervosa, binge eating disorder and compulsive overeating disorder), and comorbid diagnoses. It illustrates how each creative arts modality is implemented in the ED treatment process and covers a variety of treatment levels (residential, inpatient, intensive outpatient and outpatient). Each chapter is enriched with case illustrations to provide a greater depth of understanding of how the methods are used in clinical practice. This book is an incomparable overview of the value and diverse uses of the creative arts in the treatment of EDs, and it will be of interest to all arts therapists, psychodrama therapists, family therapists, as well as students of these disciplines. ...Show more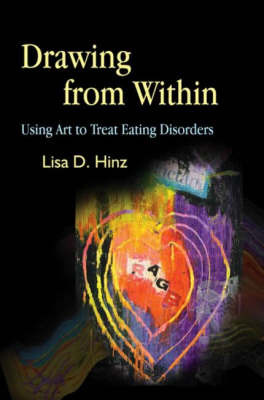 $52.50
NZD
Category: For Clinicians
Drawing from Within is an introductory guide for those wanting to explore the use of art with clients with eating disorders. Art therapy is a particularly effective therapeutic intervention for this group, as it allows them to express uncomfortable thoughts and feelings through artistic media rather than having to explain them verbally. Lisa D. Hinz outlines the areas around which the therapist can design effective treatment programmes, covering family influences, body image, self-acceptance, problem solving and spirituality. Each area is discussed in a separate chapter and is accompanied by suggestions for exercises, with advice on materials to use and how to implement them. Case examples show how a therapy programme can be tailored to the individual client and photographs of client artwork illustrate the text throughout. Practical and accessible to practitioners at all levels of experience, this book gives new hope to therapists and other mental health professionals who want to explore the potential of using art with clients with eating disorders. ...Show more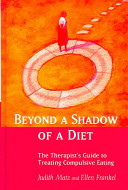 $85.00
NZD
Category: For Clinicians
As we come to understand that it is a combination of genetic, cultural, and behavioral factors that influence both the body shape and body image of an individual, we also see that not all therapists are well equipped to deal with the multitude of issues that can arise when self-esteem intersects with he alth and social expectations. Beyond a Shadow of a Diet is the first comprehensive look at the dynamics and treatment of compulsive eating within the context of both extrinsic and internal expectations of body image. This book synthesizes a theoretical framework with case studies, research, and practical strategies in order to provide the therapist with a new paradigm for the effective treatment of compulsive eating. The authors provide the reader with the necessary tools, while encouraging the practitioners themselves to reexamine their own assumptions regarding body size and food. This uniquely powerful book presents a method of solving, rather than controlling, compulsive eating, enabling both therapist and client to become more fully aware of our complex relationships with food, our bodies, ourselves, and each other. ...Show more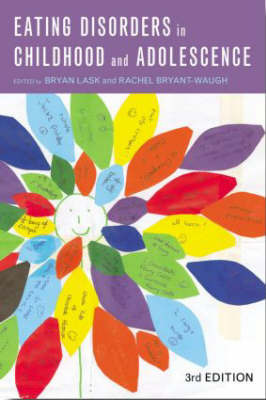 $80.00
NZD
Category: For Clinicians
In the third edition of this accessible and comprehensive book, Bryan Lask and Rachel Bryant-Waugh build on the research and expertise of the previous two editions. First published in 1993, this was the earliest book of its kind to explore eating disorders in people under 15, a population that is very d istinct from those in their late teens and adulthood. The contributors' experience and knowledge has increased greatly in the past 15 years. This fully revised edition offers a distillation of current information in the younger population, and contains brand new chapters on areas of research and practice such as: eating disorders and the brain nutrition and refeeding motivational approaches. "Eating Disorders in Childhood and Adolescence" offers the reader knowledge, perception and understanding of this fascinating but challenging patient group. It has both a clinical and research focus and will be an essential text for a wide range of professionals, as well as being readable for parents of children suffering from eating disorders. ...Show more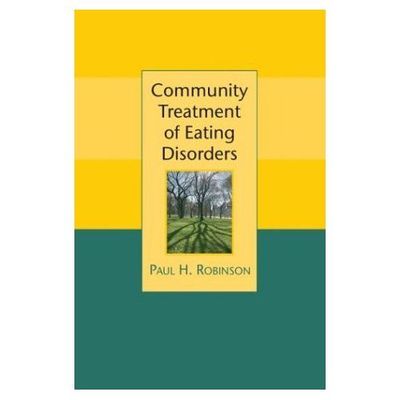 $93.00
NZD
Category: For Clinicians
The book is intended as a practical guide to setting up, staffing and running eating disorders services. The guidance and advice given is based on the experience of the eating disorder service at the Royal Free, which does not have specialised beds, but which is nevertheless considered to offer one of t he best services in the UK. Each element of the service will be considered from referral, inpatient and outpatient treatment, service evaluation and multi disciplinary teamworking. The book also discusses innovative approaches in treatment, including an evaluation of Email Bulimia Therapy. It ties in with NICE guidelines, which highlight the need for local services for treating eating disorders. It offers practical guidance on setting up a community model of treatment and on working within a multi disciplinary team. It is based on the Royal Free experience; their Eating Disorders Service has twice been a finalist in the Hospital Doctor Team of the Year awards. Contents: About the Author.Acknowledgements.Introduction.Chapter 1: Establishing a Home-oriented Service.Chapter 2: Staff.Chapter 3: Initial Outpatient Assessment.Chapter 4: Physical Assessment and Monitoring.Chapter 5: Psychological Interventions.Chapter 6: Day Care.Chapter 7: Liaison and Outreach.Chapter 8: Inpatient Care.Chapter 9: Rehabilitation: Dealing with SEED.Chapter 10: Technical and Academic Aspects.References.Index. ...Show more