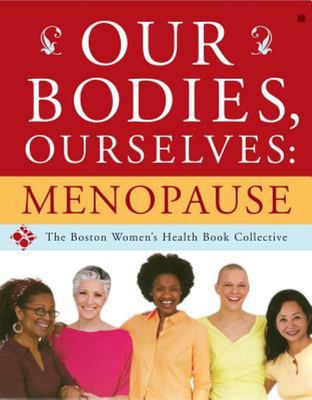 $35.00
NZD
Category: Menopause/Midlife
A handbook based on the best-selling women's health-care reference, tailored to the specific needs of menopausal readers, places an emphasis on self-care and prevention strategies, in a guide that covers such topics as emotional well-being, birth control, and hormone replacement therapy.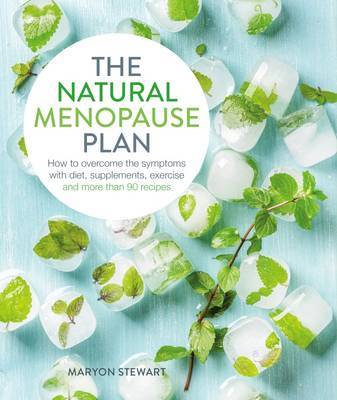 $31.00
NZD
Category: Menopause/Midlife
The effects of menopause can be utterly debilitating for women, ravaging their physical, mental and emotional health and often their careers and relationships too. But conventional therapies come with side effects that sometimes seem nearly as bad.Bestselling author Maryon Stewart shows how you can alle viate the symptoms of menopause - naturally and effectively; through diet, supplements, herbal remedies, exercise and relaxation.The Natural Menopause Plan includes more than 90 delicious recipes. All are easy to make and brimming with vital nutrients, such as calcium, magnesium and essential fatty acids. Many are especially designed to include naturally occurring estrogens (phytoestrogens); a safe and effective alternative to HRT. You'll find delicious smoothies, pancakes and muesli recipes for breakfast. Lunch and dinner choices include fresh salads, soups, risotto, bakes, curries, stir-fries and more, with plenty of options for special diets. Desserts and snacks offer choices like cheesecake, fruit salads, cakes, bars and breads. Each is specially designed to alleviate menopausal symptoms in a healthful, lasting way.Complete with authoritative nutritional information, this is the ultimate guide to combating the effects of menopause the natural way. ...Show more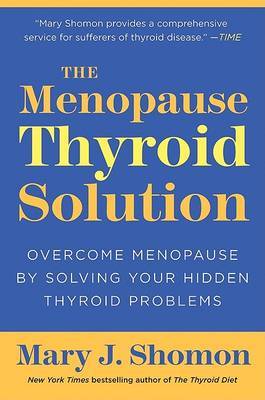 $32.00
NZD
Category: Menopause/Midlife
In her newest book, Mary Shomon takes readers on a quest to understand the profound influence the thyroid has on a woman's hormonal health in the perimenopause and menopause years, and discusses how undiagnosed thyroid problems may be the real culprit behind what many assume are peri/menopausal symptoms . Many women assume they're suffering from perimenopause or menopause and embark on a wild goose chase of hormone replacement, go soy crazy, start smearing themselves with yam and progesterone creams, or end up taking all sorts of herbs, from black cohosh to chasteberry. But, when the real culprit is a thyroid problem, these approaches simply don't work. And by age 60, it's estimated that as many as half of women have an underactive thyroid. A drop in reproductive hormones frequently triggers a thyroid slowdown - a 'thyropause' - that causes misleading symptoms like fatigue, weight gain, and depression. ...Show more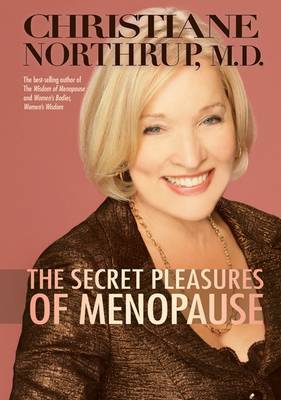 $29.00
NZD
Category: Menopause/Midlife
Delivers the message that can help perimenopausal and menopausal women over the world understand that at menopause, life has just begun.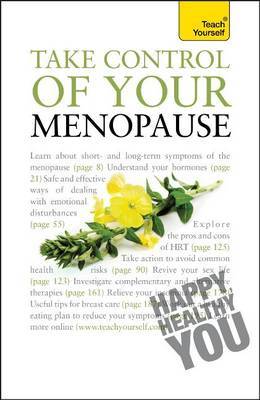 $30.00
NZD
Category: Menopause/Midlife | Series: Teach Yourself - General
A practical, friendly and positive guide for women, featuring plenty of self-help measures and offering an up-to-date guide to what therapies you should or shouldn't take to alleviate symptoms, and with plenty of lifestyle guidance and emotional support. Take Control of Your Menopause will give you a clear and steady path through the maze of conflicting information, offering a comprehensive guide to the years immediately before, during and after the menopause and treating it not as a disease but as another stage in your life. It will explain what exactly is happening in your body, and help you understand the physical, mental and emotional impacts, signs and symptoms of these changes. It will offer you support as you face the end of your fertile years, realistic advice for contraceptive choices, and insight into your sexuality at this stage. You will receive the latest guidance on what treatment you should and shouldn't seek for any difficult symptoms (from traditional medicine and natural alternatives alike) and practical tips on lifestyle choices such as fitness, nutrition, and mind and mood, in this comprehensive and supportive guide to making the period both during and after the menopause as satisfying and fulfilled as possible. Offers the very latest advice on both complementary and traditional therapies, including natural therapy and HRT; Gives you not only advice on coping with symptoms, but how to prevent them; Explains clearly exactly how your body is changing; Plenty of practical suggestions for nutrition, fitness and coping with emotional ups and downs; One of the few really objective guides that just tells you what you need to know; Written by an experienced health writer who'll explain all the issues in the clearest manner possible so you can make a choice that works for you. ...Show more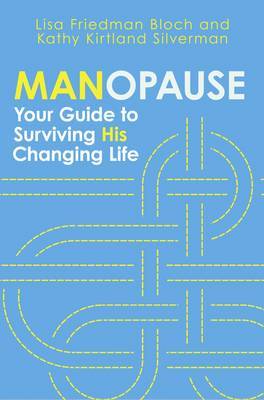 $26.00
NZD
Category: Menopause/Midlife
There are countless books about menopause on the market. We've all accepted that women change at midlife. However, there is another much ignored change that affects hundreds of millions of women across the globe: manopause - the changes that all men go through starting at about age 40. In this groundbre aking book, Lisa Friedman Bloch and Kathy Kirtland Silverman look at men's changes from a new and uplifting perspective. Aimed at women, "Manopause" explores how biological and psychological factors collide with the societal pressures men face, and provides advice on how women can help themselves and their men move through and enjoy this sometimes challenging phase. Laying out the commonly accepted rules of what it means to 'be a man' - rules like 'Your worth is only as great as your power, money and status,' 'Push down your emotions,' and 'Always be aggressive and strong' - the authors explore how men strive to live up to these expectations, and how shouldering this burden becomes harder at midlife. Both physical changes and emotional realizations play in to men's fear that they are losing their grip. And yet, as the authors explain, it is these very changes that can open the door to a far richer and more fulfilling life. With a goal of creating greater understanding and compassion for the subject of manopause, Bloch and Silverman solidly ground readers with information about men's changes before guiding them through a practical discussion of how to handle the outward effects they experience. They address emotional reactions, behavioural issues, hormone loss, sex and intimacy, and family and work relationships with an eye to how all can be immeasurably improved. By bringing this topic more into the public eye, they hope to help women and men everywhere learn to better alleviate the confusion, misunderstanding and discontent of manopause. ...Show more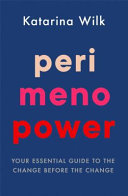 $38.00
NZD
Category: Menopause/Midlife
We hear a lot these days about the menopause, but there may be up to fifteen years of hormonal changes in a woman's body before she reaches the point where her periods stop. These years can be turbulent both emotionally and physically - with panic attacks, insomnia, acne, hot flashes, weight gain and lo w moods. It's not uncommon for women to feel like they've gone crazy. But you're not insane, you're just perimenopausal. As our hormones fluctuate from our mid-thirties, so do the needs of our bodies. With the right lifestyle and dietary changes, and some medical help if needed, you can turn the perimenopause into a powerful life transition towards a stronger, healthier and happier you. Katarina Wilk's frank, friendly and unbiased guide is the essential companion to finding your perimenopower. ...Show more
$37.00
NZD
Category: Menopause/Midlife
A handbook for understanding, embracing and (even) enjoying the rite of passage that is peri-menopause and menopause; outlines the experience, the medical science, treatment options and home remedies; written by a practicing GP and media doctor who has just turned 50 herself.  
$27.00
NZD
Category: Biography & Memoir
 'Women need solitude in order to find again the true essence of themselves.' First published in 1955 and an instant bestseller, Gift from the Sea is a classic, wise book for women about how to flourish in life, how to balance life, work, motherhood; about finding space to think and breathe. Holidayi ng by the sea, and taking inspiration from the shells she finds on the seashore, Anne Morrow Lindbergh meditates on youth and age, love and marriage, peace, solitude and contentment. Her insights - into aspects of the modern world that threaten to overwhelm us, the complications of technology, the ever multiplying commitments that take us from our families - are as relevant today as they ever were, perhaps even more so. By recording her thoughts during a brief escape from everyday demands, Anne Morrow Lindbergh helps readers find a space for contemplation and creativity within their own lives. ...Show more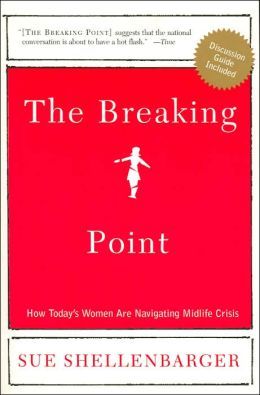 $37.00
NZD
Category: Menopause/Midlife
From the cover of Time to Desperate Housewives, the phenomenon of women in midlife experiencing a period of tumultuous personal upheaval--a breaking point--has reached a peak in our culture. Today, more than 15 million baby boomer women report having a midlife crisis compared to 14 million men. In The B reaking Point, Wall Street Journal columnist Sue Shellenbarger looks beyond the numbers to discover the root of all this angst and examine the ways, both successful and not, that women are navigating this crucial transition period. Drawing on original research data and interviews with more than fifty women, The Breaking Point uses real-life stories to illustrate the different archetypes and modes the course of reinvention follows. The book also shows women how to avoid the pitfalls of a midlife meltdown--ruined relationships and jettisoned careers--and instead transform this turbulent time into a period of personal growth that will enrich the rest of their lives. Once every decade or so a book comes along that defines the collective experience of an entire generation. Provocative, insightful, and resonant, The Breaking Point is just such a book. ...Show more

$35.00
NZD
Category: Menopause/Midlife
Most women between the ages of 30 and 50 have some form of premenopause syndrome. This nonprescription hormone balance programme provides an effective and healthful alternative to potentially dangerous conventional treatment options, such as synthetic hormones. This book shows how to use natural progest erone to alleviate premenopausal symptoms, from fibroids to breast cysts to loss of libido to weight gain and fatigue - without synthetic hormones with their attendant side-effects and risks. ...Show more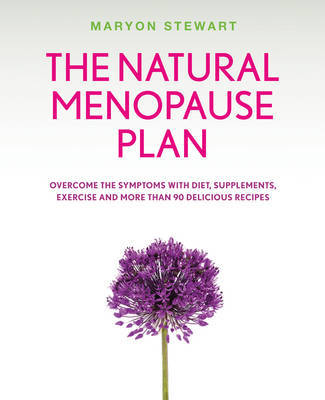 $35.00
NZD
Category: Menopause/Midlife
Proven to be one of the most effective treatment plans - this is the ultimate guide to combating the effects of the menopause the natural way