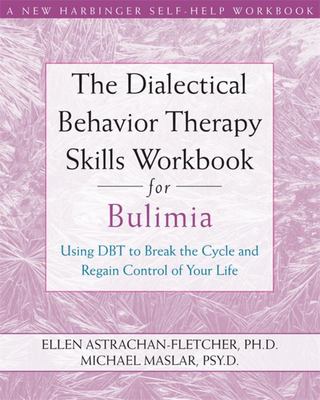 $48.00
NZD
Category: For Clinicians | Series: Dialectical Behavior Therapy Ser.
At the root of bulimia is a need to feel in control. While purging is a strategy for controlling weight, bingeing is an attempt to calm depression, stress, shame, and even boredom. The Dialectical Behavior Therapy Skills Workbook for Bulimia offers new and healthy ways to overcome the distressing feelin gs and negative body-image beliefs that keep you trapped in this cycle. In this powerful program used by therapists, you'll learn four key skill sets-mindfulness, distress tolerance, emotion regulation, and interpersonal effectiveness-and begin using them right away to manage bulimic urges. The book includes worksheets and exercises designed to help you take charge of your emotions and end your dependence on bulimia. You'll also learn how to stay motivated and committed to ending bulimia instead of reverting to old behaviors. Used together, the skills presented in this workbook will help you begin to cope with uncomfortable feelings in healthy ways, empower you to feel good about nourishing your body, and finally gain true control over your life. ...Show more
$145.00
NZD
Category: Dialectical Behaviour Therapy
From Marsha M. Linehan--the developer of dialectical behavior therapy (DBT)--this comprehensive resource provides vital tools for implementing DBT skills training. The teaching notes and reproducible handouts and worksheets used for over two decades by hundreds of thousands of practitioners have been s ignificantly revised and expanded to reflect important research and clinical advances. The book gives complete instructions for orienting individuals with a wide range of problems to DBT and teaching them mindfulness, interpersonal effectiveness, emotion regulation, and distress tolerance skills. Handouts and worksheets are not included in the book; purchasers get access to a Web page where they can download and print all the handouts and worksheets discussed in a convenient size.  New to This Edition Handouts and worksheets (available online and in the companion volume) have been completely revised and dozens more added/m-/over 225 in all. Each module has been expanded with additional skills. Multiple alternative worksheets to tailor treatment to each client. More extensive teaching notes, with numerous clinical examples. Curricula for running skills training groups of different durations and with specific populations (such as adolescents and clients with substance use problems). Available separately: DBT Skills Training Handouts and Worksheets, Second Edition. ...Show more
$60.00
NZD
Category: Dialectical Behaviour Therapy
A clear and effective approach to learning evidence-based DBT skills--now in a fully revised and updated second edition. Do you have trouble managing your emotions? First developed by Marsha M. Linehan for treating borderline personality disorder, dialectical behavior therapy (DBT) has proven effective as treatment for a range of other mental health problems, and can greatly improve your ability to handle distress without losing control and acting destructively. However, to make use of these techniques, you need to build skills in four key areas: distress tolerance, mindfulness, emotion regulation, and interpersonal effectiveness. The Dialectical Behavior Therapy Skills Workbook, a collaborative effort from three esteemed authors, offers evidence-based, step-by-step exercises for learning these concepts and putting them to work for real and lasting change. Start by working on the introductory exercises and, after making progress, move on to the advanced-skills chapters. Whether you're a mental health professional or a general reader, you'll benefit from this clear and practical guide to better managing your emotions. This fully revised and updated second edition also includes new chapters on cognitive rehearsal, distress tolerance, and self-compassion. Once you've completed the exercises in this book and are ready to move on to the next level, check out the authors' new book, The New Happiness Workbook. This book has been awarded The Association for Behavioral and Cognitive Therapies Self-Help Seal of Merit -- an award bestowed on outstanding self-help books that are consistent with cognitive behavioral therapy (CBT) principles and that incorporate scientifically tested strategies for overcoming mental health difficulties. Used alone or in conjunction with therapy, our books offer powerful tools readers can use to jump-start changes in their lives.  ...Show more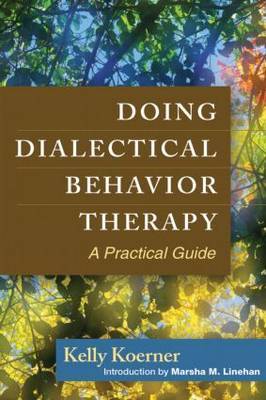 $103.00
NZD
Category: Dialectical Behaviour Therapy | Series: Guides to Individualized Evidence-based Treatment
Filled with vivid clinical vignettes and step-by-step descriptions, this book demonstrates the nuts and bolts of dialectical behavior therapy (DBT). DBT is expressly designed for--and proven effective with--clients with serious, multiple problems and a history of treatment failure. The book provides an accessible introduction to DBT while showing therapists of any orientation how to integrate elements of this evidence-based approach into their work with emotionally dysregulated clients. Experienced DBT clinician and trainer Kelly Koerner clearly explains how to formulate individual cases; prioritize treatment goals; and implement a skillfully orchestrated blend of behavioral change strategies, validation strategies, and dialectical strategies. ...Show more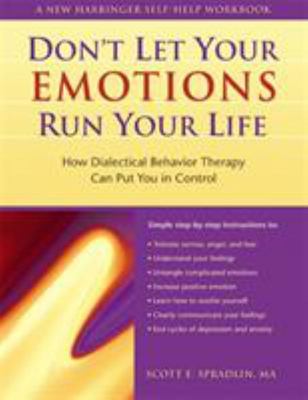 $45.00
NZD
Category: Dialectical Behaviour Therapy | Series: A\New Harbinger Self-Help Workbook Ser.
Many of us know the helpless predicament of losing control of our emotions. We may not be clinically "crazy" but instead "high reactors," experiencing overpowering feelings that knock us off balance, plunge us into depression, make us fly off the handle, or terrify us without warning. We can anticipate, understand, avoid and replace these "high reactions" by applying the methods of Dialectical Behavior Therapy (DBT). DBT is an eclectic mix of cognitive-behavioral techniques, skills training, Zen, and existentialism, that has been honed for the treatment of the highest reactors among us--those with Borderline Personality Disorder. Author Scott Spradlin uses proven DBT techniques, worksheets and assessment exercises, to teach us to pay attention to emotions when they arise, assess our blocks to controlling them, and finally overcome these blocks and eliminate overpowering feelings. We learn what emotional triggers exist in our environments, become less judgmental about ourselves when we do experience a surge, and avoid or reduce the distress that emotions cause us. This workbook ultimately equips us to reduce the impact of painful feelings and increase the effects of positive ones so that we may tolerate life's ongoing stresses and achieve a sense of calm co-existence with our emotions. ...Show more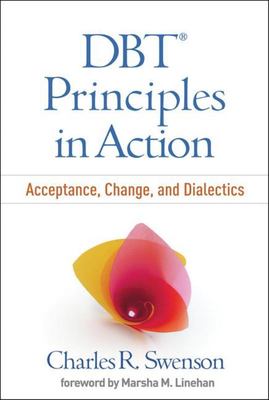 $80.00
NZD
Category: Dialectical Behaviour Therapy
The key to flexible, skillful decision making in dialectical behavior therapy (DBT) lies in understanding the connections between moment-to-moment clinical strategies and core principles. This lucid guide from leading DBT authority Charles R. Swenson offers clinicians a compass for navigating challengin g clinical situations and moving therapy forward--even when change seems impossible. Numerous vivid case examples illustrate DBT in action and show how to use skills and strategies that flow directly from the fundamental paradigms of acceptance, change, and dialectics. Clinicians gain knowledge and confidence for meeting the complex needs of each client while implementing DBT with fidelity. ...Show more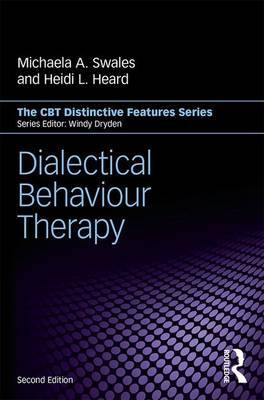 $43.00
NZD
Category: Dialectical Behaviour Therapy | Series: CBT Distinctive Features
Dialectical Behaviour Therapy (DBT) is a psychotherapeutic approach used to treat individuals with complex psychological disorders, particularly chronically suicidal individuals with borderline personality disorder (BPD). The therapy articulates a series of principles that effectively guide clinicians i n responding to problematic behaviours. Treated problems include, among others, attempting suicide, bingeing, purging, using illegal drugs and behaviours that directly impede the treatment. Dialectical Behaviour Therapy: Distinctive Features highlights theoretical and practical features of the treatment using extensive clinical examples to demonstrate how the theory translates into practice. This updated edition reviews recent modifications to the structure of the treatment and considers more recent research evidence for both the biosocial theory underpinning the treatment and treatment efficacy. The book provides a clear overview of a complex treatment, through a unique application of strategies and a discussion of a comprehensive treatment programme that structures the therapeutic journey for the client. The book will be of interest to clinicians wanting to develop their knowledge about the treatment, prior to formal training; post-graduate students in mental health seeking to learn how to conceptualize complex problems; DBT trained clinicians who require a useful precis of the treatment with clinical examples, and clients about to embark upon this treatment. This book provides a clear and structured overview of a complex treatment. It is written for both practising clinicians and students wishing to learn more about DBT and how it differs from the other cognitive behaviour therapies. ...Show more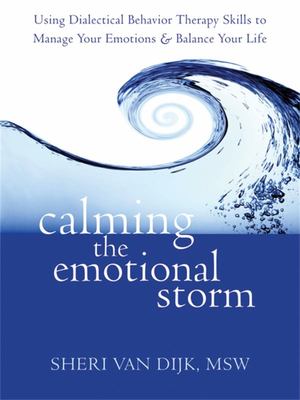 $38.00
NZD
Category: Acceptance & Mindfulness
Dialectical behavior therapy (DBT) is a therapeutic modality that was originally developed for the treatment of borderline personality disorder (BPD). Since the advent of this therapy, millions of people without the disorder have found DBT skills endlessly useful for helping manage out-of-control emotio ns and curbing impulsive behaviors that they just can't stop. "Calming the Emotional Storm" is the first book to offer an accessible, general introduction to these DBT skills for anyone who feels overwhelmed by their emotions or feels that their emotions have led them to experience out-of-control behaviors and personal crises. Readers learn to understand and manage their emotions and begin to choose their actions rather than acting on impulses. They also practice calming their emotions in times of stress by embracing acceptance and fostering positive emotions about themselves. These life-changing skills can save many readers from unnecessary suffering due to the "emotional storm" inside. ...Show more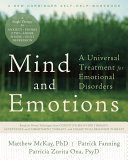 $50.00
NZD
Category: Cognitive Behavioural Therapy | Series: New Harbinger Self-Help Workbook
Mind and Emotions is a revolutionary universal treatment program for all emotional disorders that helps you discover which of the seven problematic coping styles is keeping you trapped in a cycle of emotional pain. Instead of working on difficulties like anxiety, anger, shame, and depression one by one, you ll treat the root of all your emotional suffering at once. Drawing on evidence-based skills from cognitive behavioral therapy, acceptance and commitment therapy, and dialectical behavior therapy, this workbook offers all the techniques you need to manage unwelcome feelings in effective and productive ways. Learn and practice the most effective coping skills  Clarifying and acting on your core values Mindfulness and acceptance Detaching from negative thoughts Self-soothing and relaxation exercises Assertiveness and interpersonal skills Gradually facing your strong emotions ...Show more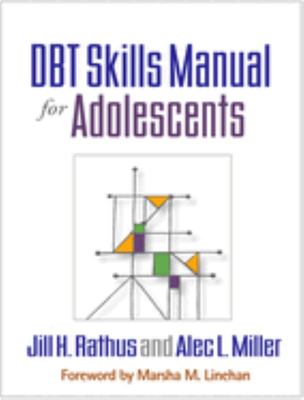 $115.00
NZD
Category: Dialectical Behaviour Therapy
From leading experts who have trained thousands of professionals in dialectical behavior therapy (DBT), this manual provides indispensable tools for treating adolescents with emotional or behavioral problems of any level of severity. Clinicians are guided step by step to teach teens and parents five set s of skills: Mindfulness, Distress Tolerance, Walking the Middle Path (a family-based module developed by the authors specifically for teens), Emotion Regulation, and Interpersonal Effectiveness. Designed for optimal clinical utility, the book features session outlines, teaching notes, discussion points, examples, homework assignments, and 85 reproducible handouts, in a large-size format for easy photocopying. Purchasers also get access to a Web page where they can download and print the reproducible materials. ...Show more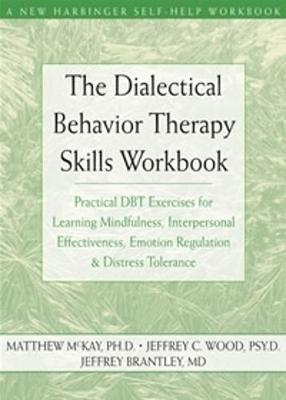 $50.00
NZD
Category: Dialectical Behaviour Therapy
A Clear and Effective Approach to Learning DBT Skills First developed for treating borderline personality disorder, dialectical behavior therapy (DBT) has proven effective as treatment for a range of other mental health problems, especially for those characterized by overwhelming emotions. Research sho ws that DBT can improve your ability to handle distress without losing control and acting destructively. In order to make use of these techniques, you need to build skills in four key areas-distress tolerance, mindfulness, emotion regulation, and interpersonal effectiveness. The Dialectical Behavior Therapy Skills Workbook, a collaborative effort from three esteemed authors, offers straightforward, step-by-step exercises for learning these concepts and putting them to work for real and lasting change. Start by working on the introductory exercises and, after making progress, move on to the advanced-skills chapters. Whether you are a professional or a general reader, whether you use this book to support work done in therapy or as the basis for self-help, you'll benefit from this clear and practical guide to better managing your emotions. ...Show more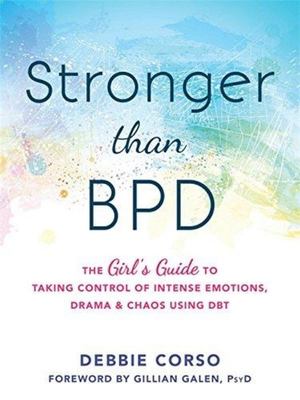 $40.00
NZD
Category: Personality Disorders
You are strong! No matter what anyone says, you can heal the symptoms of borderline personality disorder (BPD). In this unique guide, influential BPD advocate and blogger Debbie Corso offers an easy-to-use primer on dialectical behavior therapy (DBT), as well as powerful peer-to-peer support for managin g your worst BPD symptoms. If you have BPD, you may experience extreme emotional ups and downs. These intense feelings can make navigating everyday life that much more difficult, and as a result, you may have trouble maintaining relationships, seeing yourself clearly, or reaching career goals. You should know that you are not alone, and that BPD isn t your fault. Most importantly, you need to know that you are strong. With the right tools, you can overcome the symptoms of your BPD this book will show you how.Written by a BPD survivor and advocate, Stronger Than BPD offers practical, evidence-based dialectical behavior therapy (DBT) skills to help you manage the intense emotions and negative self-image that can occur with BPD. This easy-to-use guide helps you apply the fundamental components of DBT such as mindfulness, distress tolerance, emotion regulation, and interpersonal effectiveness to everyday situations that can trigger your symptoms. And through personal examples and real-life stories, you ll see how others have put these skills to work in their own lives to get relief. You ll even learn how social media can help you heal!BPD is a part of your life, but it doesn t have to define you. If you are ready to take control of your symptoms using powerful, evidence-based DBT skills, this friendly guide will light the way. ...Show more