$35.00
NZD
Category: Happiness
Popular ideas about happiness are misleading, inaccurate, and are directly contributing to our current epidemic of stress, anxiety and depresssion. And unfortunately, popular psychological approaches are making it even worse. In this controversial, but empowering self-help book, Dr Russ Harries, reveals how millions of people are unwittingly caught in the 'The Happiness Trap', where the more they strive for happiness the more they suffer in the long term. He then provides an effective means to escape through a groundbreaking new approach based on mindfulness skills. Mindfulness is a mental state of awareness, openess, and focus. Mindfulness skills are easy to learn and will rapidly and effectively help you to reduce stress, enhance performance, manage emotions, improve health, increase vitality, and generally change your life for the better. The book provides scientifically proven techniques to: Reduce stress and worry. Rise above fear, doubt and insecurity. Break self-defeating habits. Improve performance and find fulfilment in your work. Build more satisfying relationships. Create a rich, full and meaningful life. ...Show more
$100.00
NZD
Category: ACT Acceptance & Commitment Therapy | Series: The\New Harbinger Made Simple Ser.
Now fully-revised and updated, this second edition of ACT Made Simple includes new information and chapters on self-compassion, flexible perspective taking, working with trauma, and more. Why is it so hard to be happy? Why is life so difficult? Why do humans suffer so much? And what can we realisticall y do about it? No matter how rewarding your job, as a mental health professional, you may sometimes feel helpless in the face of these questions. You are also well aware of the challenges and frustrations that can present during therapy. If you're looking for ways to optimize your client sessions, consider joining the many thousands of therapists and life coaches worldwide who are learning acceptance and commitment therapy (ACT). With a focus on mindfulness, client values, and a commitment to change, ACT is proven-effective in treating depression, anxiety, stress, addictions, eating disorders, schizophrenia, borderline personality disorder (BPD), and myriad other psychological issues. It's also a revolutionary new way to view the human condition--packed full of exciting new tools, techniques, and strategies for promoting profound behavioral change. A practical primer, ideal for ACT newcomers and experienced ACT professionals alike, ACT Made Simple offers clear explanations of the six ACT processes and a set of real-world tips and solutions for rapidly and effectively implementing them in your practice. This book gives you everything you need to start using ACT with your clients for impressive results. Inside, you'll find: scripts, exercises, metaphors, and worksheets to use with your clients; a session-by-session guide to implementing ACT; transcripts from therapy sessions; guidance for creating your own therapeutic techniques and exercises; and practical tips to overcome therapy roadblocks. This book aims to take the complex theory and practice of ACT and make it accessible and enjoyable for therapists and clients. ...Show more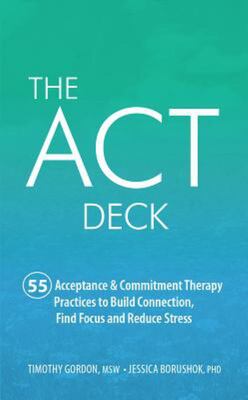 $40.00
NZD
Category: ACT Acceptance & Commitment Therapy
The ACT Deck offers 55 practices based on Acceptance and Commitment Therapy for use in therapy, classrooms or at home. These cards ask tough questions, encourage meaningful action and provide new perspectives to help you let go of negative thoughts and live in the present moment.  Using mindfulness an d acceptance strategies, this highly practical deck can help anyone suffering from:  Stress Anxiety & depression Chronic pain Relationship problems Focus and attention issues Painful memories & feelings ...Show more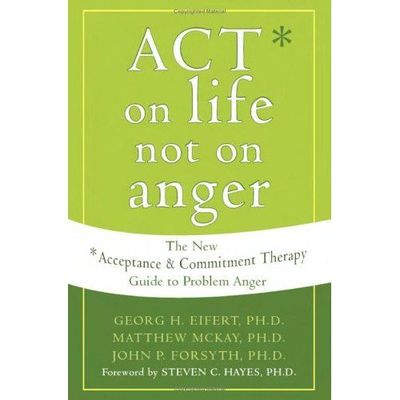 $40.00
NZD
Category: Anger
If you'd tried to control problem anger before with little success, this book offers you a new approach to try. Instead of asking you to struggle even harder with anger, this book helps you to drop the rope in your tug-of-war with anger using a new set of principles and techniques: acceptance and commi tment therapy (ACT). You'll start by learning how to accept your angry feelings as they occur, without struggling to alter or impede them in any way. Then, using techniques based in mindfulness practice, you'll find out how to watch your anger without identifying with it. Value-identification exercises help you decide what matters most to you and then commit to short- and long-term goals that turn these values into reality. In the process, anger simply loses power over your life-in the process, you'll gain the most profound control, accomplished by simply letting go. ...Show more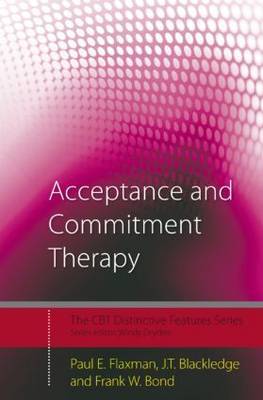 $55.00
NZD
Category: Communication
Do you often lash out at people? Do you let your emotions rule your interactions with others? Do you find it difficult to see things from others' point of view? You are not alone. Despite the fact that we all have to deal with other people our daily lives, many of us have difficulties with interpersonal relationships. Written by psychologist and bestselling author Matthew McKay, The Interpersonal Problems Workbook combines research and evidence-based techniques for strengthening relationships in all areas in life-whether it's at home, at work, with a significant other, a parent, or a child. The skills in this workbook are based in both schema therapy and acceptance and commitment therapy (ACT), and are designed to help you connect and communicate effectively with those around them. ACT has been proven effective in helping people improve their relationships with others. The ACT skills detailed in this book include present moment awareness, diffusion, and flexibility - all of which will help you to improve your relationships with others. In this book you will learn what your schema is, and how to act on your values to communicate and get along with others. If you are ready to stop building walls and start connecting with those around you, this book presents powerful, effective tools for change. ...Show more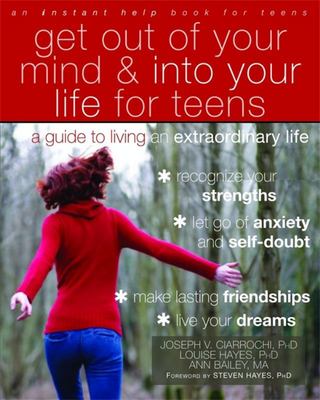 $35.00
NZD
Category: Motivation & Self Esteem | Series: Teen Instant Help
If you could only get past feelings of embarrassment, fear, self-criticism, and self-doubt, how would your life be different? You might take more chances and make more mistakes, but you'd also be able to live more freely and confidently than ever before. Get Out of Your Mind and Into Your Life for Teen s is a workbook that provides you with essential skills for coping with the difficult and sometimes overwhelming emotions that stress you out and cause you pain. The emotions aren't going anywhere, but you can find out how to deal with them. Once you do, you will become a mindful warrior—a strong person who handles tough emotions with grace and dignity—and gain many more friends and accomplishments along the way. Based in proven-effective acceptance and commitment therapy (ACT), this book will arm you with powerful skills to help you use the power of mindfulness in everyday situations, stop finding faults in yourself and start solving your problems, how to be kinder to yourself so you feel confident and have a greater sense of self-worth, and how to identify the values that will help you create the life of your dreams.   ...Show more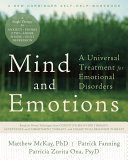 $50.00
NZD
Category: Cognitive Behavioural Therapy | Series: New Harbinger Self-Help Workbook
Mind and Emotions is a revolutionary universal treatment program for all emotional disorders that helps you discover which of the seven problematic coping styles is keeping you trapped in a cycle of emotional pain. Instead of working on difficulties like anxiety, anger, shame, and depression one by one, you ll treat the root of all your emotional suffering at once. Drawing on evidence-based skills from cognitive behavioral therapy, acceptance and commitment therapy, and dialectical behavior therapy, this workbook offers all the techniques you need to manage unwelcome feelings in effective and productive ways. Learn and practice the most effective coping skills  Clarifying and acting on your core values Mindfulness and acceptance Detaching from negative thoughts Self-soothing and relaxation exercises Assertiveness and interpersonal skills Gradually facing your strong emotions ...Show more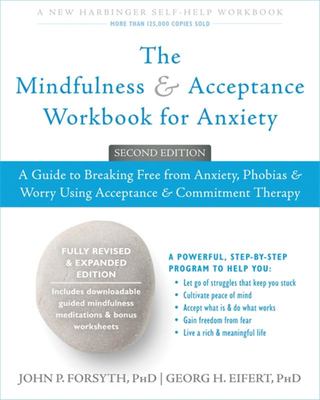 $60.00
NZD
Category: Acceptance & Mindfulness
Is anxiety and fear a problem for you? Have you tried to win the war with your anxious mind and body, only to end up feeling frustrated, powerless, and stuck? If so, you're not alone. But there is a way forward, a path into genuine happiness, and a way back into living the kind of life you so desperatel y want. This workbook will help you get started on this new journey today Now in its second edition, The Mindfulness and Acceptance Workbook for Anxiety offers a new approach to your anxiety, fears, and your life. Within its pages, you'll find a powerful and tested set of tools and strategies to help you gain freedom from fear, trauma, worry, and all the many manifestations of anxiety and fear. The book offers an empowering approach to help you create the kind of life you so desperately want to live. Based on a revolutionary approach to psychological health and wellness called acceptance and commitment therapy (ACT), this fully revised and updated second edition offers compelling new exercises to help you create the conditions for your own genuine happiness and peace of mind. You'll learn how your mind can trap you, keeping you stuck and struggling in anxiety and fear. You'll also discover ways to nurture your capacity for acceptance, mindfulness, kindness, and compassion, and use these qualities to weaken the power of anxiety and fear so that you can gain the space do what truly matters to you. Now is the time. Nobody chooses anxiety. And there is no healthy way to "turn off" anxious thoughts and feelings like a light switch. But you can learn to break free from the shackles of anxiety and fear and take back your life. The purpose of this workbook is to help you do just that. Your life is calling on you to make that choice, and the skills in this workbook can help you make it happen. You can live better, more fully, and more richly with or without anxiety and fear. This book will show you the way. -- Recent studies support for the effectiveness of ACT-based self-help workbooks as a low-cost treatment for people experiencing anxiety. (Ritzert, T., Forsyth, J. P., Berghoff, C. R., Boswell, J., & Eifert, G. H. (2016). Evaluating the effectiveness of ACT for anxiety disorders in a self-help context: Outcomes from a randomized wait-list controlled trial. Behavior Therapy, 47, 431-572.) ...Show more
$55.00
NZD
Category: ACT Acceptance & Commitment Therapy | Series: A\New Harbinger Self-Help Workbook Ser.
Get ready to take a different perspective on your problems and your life--and the way you live it.   Acceptance and commitment therapy (ACT) is a new, scientifically based psychotherapy that takes a fresh look at why we suffer and even what it means to be mentally healthy. What if pain were a normal, unavoidable part of the human condition, but avoiding or trying to control painful experience were the cause of suffering and long-term problems that can devastate your quality of life? The ACT process hinges on this distinction between pain and suffering. As you work through this book, you'll learn to let go of your struggle against pain, assess your values, and then commit to acting in ways that further those values. ACT is not about fighting your pain; it's about developing a willingness to embrace every experience life has to offer. It's not about resisting your emotions; it's about feeling them completely and yet not turning your choices over to them. ACT offers you a path out of suffering by helping you choose to live your life based on what matters to you most. If you're struggling with anxiety, depression, or problem anger, this book can help--clinical trials suggest that ACT is very effective for a whole range of psychological problems. But this is more than a self-help book for a specific complaint--it is a revolutionary approach to living a richer and more rewarding life. Learn why the very nature of human language can cause suffering Escape the trap of avoidance Foster willingness to accept painful experience Practice mindfulness skills to achieve presence in the moment Discover the things you really value most Commit to living a vital, meaningful life This book has been awarded The Association for Behavioral and Cognitive Therapies Self-Help Seal of Merit -- an award bestowed on outstanding self-help books that are consistent with cognitive behavioral therapy (CBT) principles and that incorporate scientifically tested strategies for overcoming mental health difficulties. Used alone or in conjunction with therapy, our books offer powerful tools readers can use to jump-start changes in their lives. ...Show more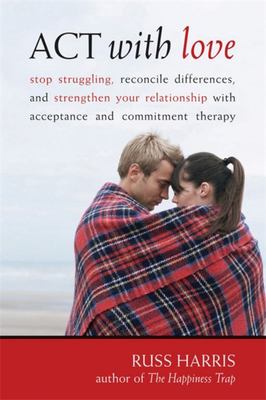 $40.00
NZD
Category: Couples | Series: Professional Ser.
Popular myths about love set us up for a struggle with real life. The inconvenient truth is there's no such thing as a perfect partner, all couples fight, and feelings of love come and go like the weather. But that doesn't mean you can't have a joyful and romantic relationship. Through a simple program based on the revolutionary new mindfulness-based acceptance and commitment therapy (ACT), you can learn to handle painful thoughts and feelings more effectively and engage fully in the process of living and loving together. With your partner or alone, ACT with Love will teach you how to: Let go of conflict, open up, and live fully in the present Use mindfulness to increase intimacy, connection, and understanding Resolve painful conflicts and reconcile long-standing differences Act on your values to build a rich and meaningful relationship ...Show more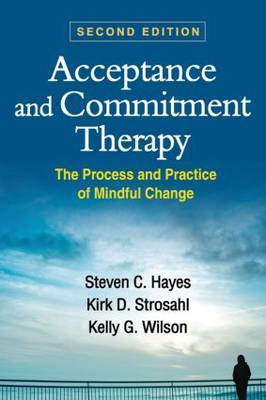 $89.00
NZD
Category: ACT Acceptance & Commitment Therapy
Since the original publication of this seminal work, acceptance and commitment therapy (ACT) has come into its own as a widely practiced approach to helping people change. This book provides the definitive statement of ACT -- from conceptual and empirical foundations to clinical techniques -- written by its originators. ACT is based on the idea that psychological rigidity is a root cause of a wide range of clinical problems. The authors describe effective, innovative ways to cultivate psychological flexibility by detecting and targeting six key processes: defusion, acceptance, attention to the present moment, self-awareness, values, and committed action. Sample therapeutic exercises and patient-therapist dialogues are integrated throughout. New to This Edition: reflects tremendous advances in ACT clinical applications, theory building, and research psychological flexibility is now the central organizing focus expanded coverage of mindfulness, the therapeutic relationship, relational learning, and case formulation restructured to be more clinician friendly and accessible; focuses on the moment-by-moment process of therapy. ...Show more