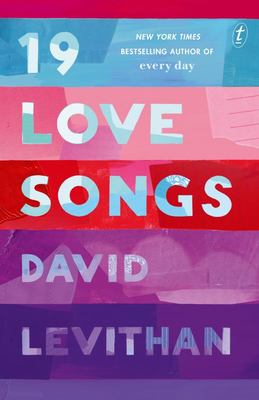 $24.00
NZD
Category: Young Adult
A resentful member of a high school Quiz Bowl team with an unrequited crush. A Valentine's Day in the life of Every Day's protagonist 'A'. A return to the characters of Two Boys Kissing. 19 Love Songs, from New York Times bestselling author David Levithan, delivers all of these stories and more. Born f rom Levithan's tradition of writing a story for his friends each Valentine's Day, this collection brings all of them to his readers for the first time. With fiction, nonfiction, and a story in verse, there's something for every reader here. Witty, romantic, and honest, teens (and adults) will come to this collection not only on Valentine's Day, but all year round.   ...Show more
$25.00
NZD
Category: Young Adult | Series: Heartstopper
Boy meets boy. Boys become friends. Boys fall in love. An LGBTQ+ graphic novel about life, love, and everything that happens in between: this is the second volume of HEARTSTOPPER, for fans of The Art of Being Normal, Holly Bourne and Love, Simon. Nick and Charlie are best friends. Nick knows Charlie's g ay, and Charlie is sure that Nick isn't. But love works in surprising ways, and Nick is discovering all kinds of things about his friends, his family ... and himself. Heartstopper is about friendship, loyalty and mental illness. It encompasses all the small stories of Nick and Charlie's lives that together make up something larger, which speaks to all of us. This is the second volume of Heartstopper, with more to come. ...Show more
$25.00
NZD
Category: Young Adult | Series: Heartstopper
Boy meets boy. Boys become friends. Boys fall in love. An LGBTQ+ graphic novel about life, love, and everything that happens in between - for fans of The Art of Being Normal, Holly Bourne and Love, Simon. Charlie and Nick are at the same school, but they've never met ... until one day when they're made to sit together. They quickly become friends, and soon Charlie is falling hard for Nick, even though he doesn't think he has a chance. But love works in surprising ways, and Nick is more interested in Charlie than either of them realised. Heartstopper is about love, friendship, loyalty and mental illness. It encompasses all the small stories of Nick and Charlie's lives that together make up something larger, which speaks to all of us. This is the first volume of Heartstopper, with more to come. ...Show more
$19.00
NZD
Category: Young Adult
Eighteen-year-old Amir Azadi always knew coming out to his Muslim family would be messy--he just didn't think it would end in an airport interrogation room. But when faced with a failed relationship, bullies, and blackmail, running away to Rome is his only option. Right? Soon, late nights with new frien ds and dates in the Sistine Chapel start to feel like second nature... until his old life comes knocking on his door. Now, Amir has to tell the whole truth and nothing but the truth to a US Customs officer, or risk losing his hard-won freedom. At turns uplifting and devastating, How It All Blew Up is Arvin Ahmadi's most powerful novel yet, a celebration of how life's most painful moments can live alongside the riotous, life-changing joys of discovering who you are. ...Show more
$28.00
NZD
Category: Young Adult
What does it mean to be queer? What does it mean to be human? In this powerful #OwnVoices collection, twelve of Australia's finest queer writers explore the stories of family, friends, lovers and strangers – the connections that form us. Compelling queer short fiction by bestsellers, award winners and newcomers to the #LoveOzYA community including Jax Jacki Brown, Claire G Coleman, Michael Earp, Alison Evans, Erin Gough, Benjamin Law, Omar Sakr, Christos Tsiolkas, Ellen van Neerven, Marlee Jane Ward, Jen Wilde and Nevo Zisin. ...Show more
$17.00
NZD
Category: Young Adult | Series: A\Solitaire Novella Ser.
A short novella based on the beloved characters from the graphic novel Heartstopper and Alice Oseman's debut novel Solitaire, which was praised as 'The Catcher in the Rye for the digital age' by The Times. Absence makes the heart grow fonder, right? CHARLIE: "I have been going out with Nick Nelson for t wo years. He likes rugby, Formula 1, dogs, the Marvel universe, the sound felt-tips make on paper, rain and drawing on shoes. He also likes me." NICK: "Things me and Charlie Spring do together include: Watch films. Sit in the same room on different laptops. Text each other from different rooms. Make out. Make food. Make drinks. Get drunk. Talk. Argue. Laugh. Maybe we're kind of boring. But that's fine with us." Everyone knows that Nick and Charlie are the perfect couple - that they're inseparable. But now Nick is leaving for university, and Charlie will be left behind at Sixth Form. Everyone's asking if they're staying together, which is a stupid question - they're 'Nick and Charlie' for God's sake! But as the time to say goodbye gets inevitably closer, both Nick and Charlie question whether their love is strong enough to survive being apart. Or are they delaying the inevitable? Because everyone knows that first loves rarely last forever... ...Show more
$30.00
NZD
Category: Fiction
Fiercely told, this is a bold and timely coming-of-age story, told in verse about one boy's journey to self-acceptance. Perfect for fans of Sarah Crossan, Poet X and Orangeboy. One boy's journey coming to terms with his identity as a mixed-race gay teen. This is a story about the power of embracing you r uniqueness. Sometimes, we need to take charge, to stand up wearing pink feathers - to show ourselves to the world in bold colour. I masquerade in makeup and feathers and I am applauded. ...Show more
$21.00
NZD
Category: Young Adult | Series: Simon Vs. the Homo Sapiens Agenda
Now a major motion picture: Love, Simon, starring Nick Robinson and Katherine Langford This special edition of Simon vs. the Homo Sapiens Agenda by award-winning author Becky Albertalliincludes new Simon and Blue emails, a behind-the-scenes scrapbook from the Love, Simon movie set, and Becky Albertall i in conversation with fellow authors Adam Silvera and Angie Thomas. Sixteen-year-old and not-so-openly gay Simon Spier prefers to save his drama for the school musical. But when an email falls into the wrong hands, his secret is at risk of being thrust into the spotlight. Now Simon is actually being blackmailed: If he doesn't play wingman for class clown Martin, his sexual identity will become everyone's business. Worse, the privacy of Blue, the pen name of the boy he's been emailing with, will be jeopardized.With some messy dynamics emerging in his once tight-knit group of friends and his email correspondence with Blue growing more flirtatious every day, Simon's junior year has suddenly gotten all kinds of complicated. Now change-averse Simon has to find a way to step out of his comfort zone before he's pushed out-without alienating his friends, compromising himself, or fumbling a shot at happiness with the most confusing, adorable guy he's never met. William C. Morris Award Winner: Best Young Adult Debut of the Year * National Book Award Longlist And don't miss Becky Albertalli's The Upside of Unrequited or Leah on the Offbeat ...Show more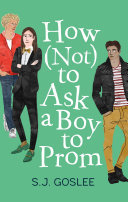 $20.00
NZD
Category: Young Adult
"If you're looking for a novel to fill the To All The Boys I've Loved Before-shaped hole in your heart, this is the book for you." --Camille Perri, author of When Katie Met Cassidy How (Not) to Ask a Boy to Prom is a modern gender-bent young adult rom com from S. J. Goslee. Nolan Grant is sixteen, gay, and very, very single. He's never had a boyfriend, or even been kissed. It's not like Penn Valley is exactly brimming with prospects. Nolan plans to ride out the rest of his junior year drawing narwhals, working at the greenhouse, and avoiding anything that involves an ounce of school spirit. Unfortunately for him, his adoptive big sister has other ideas. Ideas that involve too-tight pants, a baggie full of purple glitter, and worst of all: a Junior-Senior prom ticket. A 2020 YALSA Best Fiction for Young Adults pick ...Show more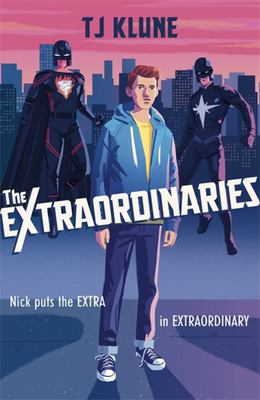 $25.00
NZD
Category: Young Adult | Series: The\Extraordinaries Ser.
In Nova City, there are extraordinary people, capable of feats that defy the imagination. Shadow Star protects the city and manipulates darkness, and Pyro Storm is determined to bring the city to it's knees using his power over fire. And then there's Nick who . . . well, being the most popular fanfictio n writer in the Extraordinaries fandom is a superpower, right? Instead of fighting crime, Nick must contend with a new year at school, a father who doesn't trust him, and a best friend named Seth, who may or may not be the love of Nick's short, uneventful life. It should be enough. But after a chance encounter with Shadow Star, Nova City's mightiest hero (and Nick's biggest crush), Nick sets out to make himself extraordinary. And he'll do it with or without the reluctant help of Seth's help. TJ Klune's YA debut is a queer coming-of-age story about a fanboy with ADHD and the heroes he loves is Rainbow Rowell's Fangirl meets Brandon Sanderson's Steelheart. ...Show more
$35.00
NZD
Category: Young Adult
A lyrical novel about family and friendship from critically acclaimed author Benjamin Alire Saenz. Aristotle is an angry teen with a brother in prison. Dante is a know-it-all who has an unusual way of looking at the world. When the two meet at the swimming pool, they seem to have nothing in common. But as the loners start spending time together, they discover that they share a special friendship--the kind that changes lives and lasts a lifetime. And it is through this friendship that Ari and Dante will learn the most important truths about themselves and the kind of people they want to be. ...Show more
$26.00
NZD
Category: Young Adult
Will Grayson - What if your oldest, wildest, only best friend started writing a musical about your life...and it made you look like a joke? What if the girl you didn't think you were interested in started being interested in you? And who is this other guy called Will Grayson? The other Will Grayson - W hat if you are technically depressed? What if you're in love with someone you've never met? And what's the story with the guy walking around with your name? ...Show more