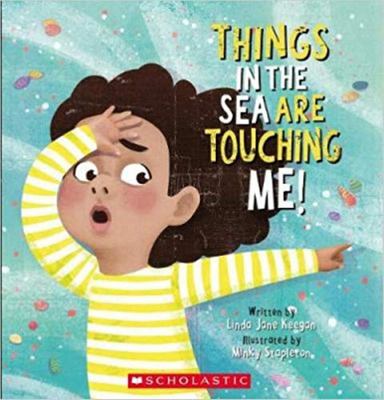 $20.00
NZD
Category: Picture Books
'Some THING in the sea is TOUCHING ME!' You'll squawk, screech, yelp... and laugh out loud at the surprises for all on this funny-sunny family day at the beach.  When a small child goes to the seaside with her Mum and Ma, she is unprepared for 'things' floating in the water. Ma explains what each one is and that it is nothing to be afraid of... then gets a big fright herself when Mum grabs her ankle! ...Show more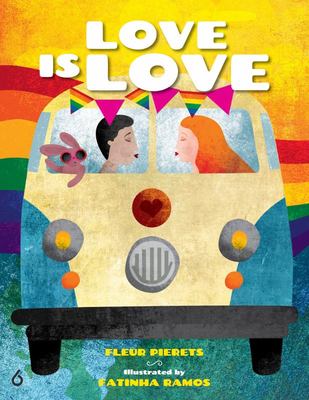 $35.00
NZD
Category: Children's Books | Series: Love Around the World Ser.
The worldwide adventure continues as Fleur and Julian celebrate marriage in 15 more countries that allow same-sex unions, completing the journey they started in Love Around the World (2020 Rainbow Book List). Fleur Pierets and Julian P. Boom are two women in love. They live together, eat together, slee p together, and work together. When Fleur asks Julian to marry her, Julian says "Yes " But in most countries, a man cannot marry a man and a woman cannot marry a woman. There are 195 countries in the world, but they can only get married in 28 of them. They think this is unfair So they decide to get married in all 28 countries that allow same-sex marriage. Inspired by a true story, Love Around the World, was the first in this two-volume children's book series about Julian and Fleur's adventures. In Love Is Love: The Journey Continues, they pick up where they left off, exploring the marriage traditions of fourteen countries: Argentina, Austria, Colombia, Denmark, Ecuador, Germany, Luxembourg, Malta, New Zealand, Norway, South Africa, Sweden, Taiwan, and the United Kingdom. ...Show more
$17.00
NZD
Category: Children's Books | Series: Classic Board Books
The heartwarming true story of two penguins who create a nontraditional family is now available in a sturdy board book edition. At the penguin house at the Central Park Zoo, two penguins named Roy and Silo were a little bit different from the others. But their desire for a family was the same. And with the help of a kindly zookeeper, Roy and Silo got the chance to welcome a baby penguin of their very own. In time for the tenth anniversary of And Tango Makes Three, this Classic Board Book edition is the perfect size for small hands. ...Show more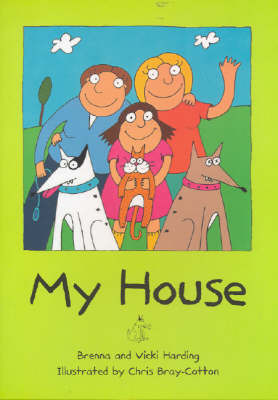 My House
by Brenna Harding
$20.00
NZD
Category: Children's Books
A story about a five-year-old girl, her pets and her home. She has two dogs, a cat, and two mums. A great book for all children, but especially important as an educational tool for same-sex parented families. Ages 5-7.
$19.00
NZD
Category: Children's Books
A rediscovered modern classic for today's generation in an updated, beautifully illustrated edition. Heather's favourite number is two. She has two arms, two legs,and two pets. And she also has two mummies. When Heather goes to school for the first time, someone asks her about her daddy, but Heather doe sn't have a daddy. Then something interesting happens. When Heather and her classmates all draw pictures of their families, not one drawing is the same. It doesn't matter who makes up a family, the teacher says, because "the most important thing about a family is that all the people in it love one another". A delightful and important book for young readers. ...Show more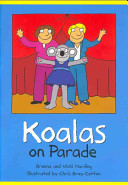 $20.00
NZD
Category: Children's Books
Brenna's two Mums have made her a fabulous koala costume for the school costume parade. Will it be good enough for her to win a prize? This is another in the Learn to Include series that provides opportunities to discuss and understand how families can be different and provide confirmation for children with same sex parents. ...Show more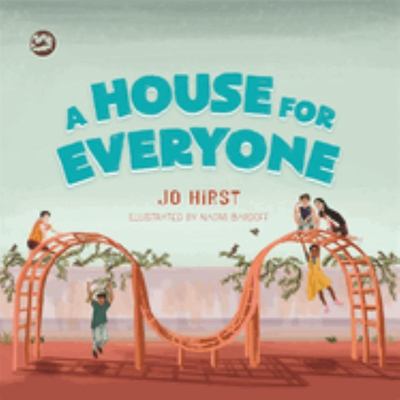 $30.00
NZD
Category: Self-Esteem & Fitting In
At lunchtime, all of Tom's friends gather at school to work together building their house. Each one of them has a special job to do, and each one of them has a different way of expressing their gender identity. Jackson is a boy who likes to wear dresses. Ivy is a girl who likes her hair cut really short . Alex doesn't feel like 'just' a boy, or 'just' a girl. They are all the same, they are all different - but they are all friends. A very simple story that challenges gender stereotypes and shows 4 to 8 year olds that it is OK to be yourself. An engaging story that is more than just an educational tool; this book will assist parents and teachers in giving children the space to explore the full spectrum of gender diversity and will show children the many ways they can express their gender in a truly positive light. ...Show more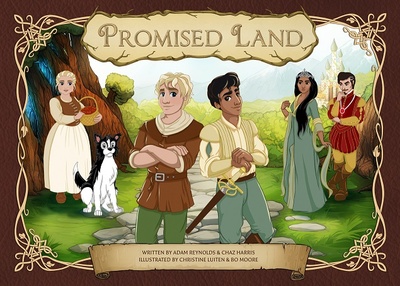 $38.00
NZD
Category: New Zealand
When a young Prince and a farm boy meet in the forest, a growing friendship between them blossoms into love. However, when the Queen re-marries, her sinister new husband seeks control of the enchanted forest and the land the farm boy's family are responsible for protecting. In a Kingdom where all are c onsidered equal regardless of what they look like or who they love, Promised Land is a brand new fairytale about friendship, responsibility, adventure and love.   Promised Land is a beautifully illustrated children's book written by Adam Reynolds & Chaz Harris featuring 32 stunning full colour illustrations by Christine Luiten & Bo Moore sure to delight kids young and old. The authors gained global media attention through a successful Kickstarter campaign to cover the cost of illustrating and printing their first edition. ...Show more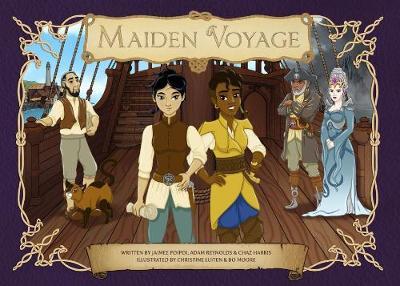 Maiden Voyage (PB)
by Jaimee Poipoi, Adam Reynolds & Chaz Harris
$20.00
NZD
Category: Children's Books
When a fisherman's daughter inherits a map and joins the crew of a courageous female captain, a bond between them soon forms into love. Pursuing them on their high seas adventure is a fierce band of pirates, bewitched by a wicked Queen who is determined to keep her dark secret from surfacing.  A brand n ew tale of discovery about the importance of truth, family and love. Maiden Voyage is the follow-up to the internationally acclaimed LGBTQ themed fairytale Promised Land.  Written by Jaimee Poipoi, Adam Reynolds & Chaz Harris, the book features 32 stunning illustrations by Christine Luiten & Bo Moore. Sure to delight kids young and old.  ...Show more
$28.00
NZD
Category: Sex Education
Every child deserves to see their birth or family story reflected in books about where babies come from, and this is what Making a Baby is all about. All families start in their own special way, and every family is amazing. In this honest, accessible illustrated guide to how babies are made, young read ers can find out exactly what is needed to grow a baby, from introducing the basic building blocks of life such as sperm and eggs, to explaining the different ways that these building blocks can be put together to create a family. Working closely with a leading national LGBT organisation, this inclusive guide to Making a Baby covers sex, sperm and egg donation, IUI, IVF, surrogacy and adoption, as well as explaining how a baby grows in the womb and about different kinds of births. Written in gentle and accessible language that can be shared with younger children or read alone by confident readers, we hope this book and its charming illustrations will provide the stepping stone for every parent to have an open conversation with their child about how babies are made, and their family began. ...Show more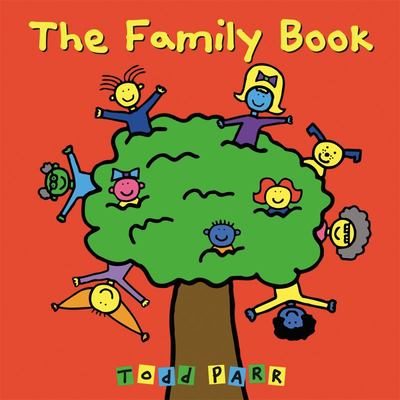 $18.00
NZD
Category: Families
This beloved classic celebrating all kinds of families is a perfect entry into the world of Todd Parr, and is now available as a board book Some families have two moms or two dads. Some families have one parent instead of two.Some families live in a house by themselves. Some families share a house with other families.All families can help each other be strong   The Family Book celebrates families and all the different varieties they come in. Whether they're big or small, look alike or different, have a single parent or two, Todd Parr assures readers that every family is special in its own unique way. ...Show more
$35.00
NZD
Category: Sex Education
Geared to readers from preschool to age eight, What Makes a Baby is a book for every kind of family and every kind of kid. It is a twenty-first century children's picture book about conception, gestation, and birth, which reflects the reality of our modern time by being inclusive of all kinds of kids, adults, and families, regardless of how many people were involved, their orientation, gender and other identity, or family composition. Just as important, the story doesn't gender people or body parts, so most parents and families will find that it leaves room for them to educate their child without having to erase their own experience. Written by sexuality educator Cory Silverberg, and illustrated by award-winning Canadian artist Fiona Smyth, What Makes a Baby is as fun to look at as it is useful to read. ...Show more