$40.00
NZD
Category: Couples
Developed by Dr Sue Johnson over 20 years ago, emotionally focused therapy (EFT) de-escalates conflict, creating a safe emotional connection between partners. In 'Hold Me Tight', Johnson presents her highly effective therapy model to the general public for the first time.
$37.00
NZD
Category: Couples | Series: Sex and Intimacy Ser.
The greatest sexual pleasure and emotional fulfilment in a person's lifetime is possible in the middle and later years, when he or she has developed a mature sense of self and found genuine intimacy with another person. That's the exciting message of this daring and pioneering work, which challenges cou ples to work together on the sexual and emotional blocks that hold them back from total satisfaction with each other. As you open the pages of this book, you'll meet couples who share the same predicaments and obstacles as you and your partner. With humour, compassion, and unusual candour, Dr Schnarch and the couples address the intimate secrets of their marriage, revealing ideas and techniques that are directly applicable to your own relationship. With a new preface by the author for this updated edition, Passionate Marriage is a respectful, erotic, uplifting, and spiritual guide dedicated to making love and intimacy a reality for every couple. It's a book to read and reread often for inspiration and enlightenment. ...Show more
$26.00
NZD
Category: Couples
What really makes a relationship work? How can we stay interested in our partner for ever? How can we be happier in our marriage? Doctors John and Julie Gottman have spent over three decades studying the habits of 3000 couples. Within 10 minutes of meeting a couple, they can predict who will stay happi ly together or who will split up, with 94% accuracy. Based on their findings, they have now created an easy series of eight dates - spanning commitment; trust; conflict; intimacy; sex; fun; work; money; and family values - that will lead to a happier, lasting love life. Eight Dates draws on rigorous scientific and psychological research about how we fall in love using case studies of real-life couples whose relationships have improved after committing time to each other and following the dates. Full of innovative exercises and conversation starters to explore ways to deepen each aspect of the relationship, Eight Dates is an essential resource that makes a relationship fulfilling. ...Show more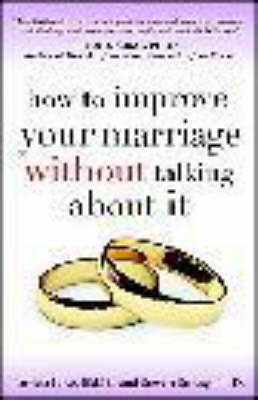 $38.00
NZD
Category: Couples
Men are right. The "relationship talk" does not help. Dr. Patricia Love's and Dr. Steven Stosny's How to Improve Your Marriage Without Talking About It reveals the stunning truth about marital happiness: Love is not about better communication.It's about connection. You'll never get a closer relationship with your man by talking to him like youtalk to one of your girlfriends. Male emotions are like women's sexuality: you can't be too direct too quickly. There are four ways to connect with a man: touch, activity, sex, routines. Men want closer marriages just as much as women do, but not if they has to act like a woman. Talking makes women move closer;it makes men move away. The secret of the silent male is this: his wife supplies the meaning in his life. The stunning truth about love is that talking doesn't help. Have you ever had this conversation with your spouse? Wife: "Honey, we need to talk about us." Husband: "Do we have to?" Drs. Patricia Love and Steven Stosny have studied this all-too-familiar dynamic between men and women and have reached a truly shocking conclusion. Even with the best of intentions, talking about your relationship doesn't bring you together, and it will eventually drive you apart. The reason for this is that underneath most couples' fights, there is a biological difference at work. A woman's vulnerability to fear and anxiety makes her draw closer, while a man's subtle sensitivity to shame makes him pull away in response. This is why so many married couples fall into the archetypal roles of nagging wife/stonewalling husband, and why improving a marriage can't happen through words. How to Improve Your Marriage Without Talking About It teaches couples how to get closer in ways that don't require "trying to turn a man into a woman." Rich in stories of couples who have turned their marriages around, and full of practical advice about the behaviors that make and break marriages, this essential guide will help couples find love beyond words. ...Show more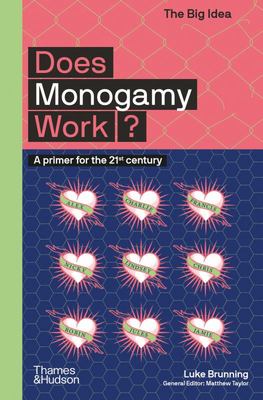 $30.00
NZD
Category: Couples | Series: The\Big Idea Ser.
Even with the current rise in awareness of sexual and intimate diversity, monogamous relationships remain the cultural norm. Most people aspire to it, and the state encourages it, providing legal and financial benefits to married couples; however, statistics show adultery is commonplace, marriage rates are falling, and divorce figures are rising. This entry in the Big Idea series traces the evolution and normalization of the monogamous ideal--questioning whether it is "natural" or not--and surveys the spectrum of alternative relationship models that people are seeking out in a world of internet dating and birth control. It explores the emotional and psychological facets of ethical polyamorous relationships; questions whether these relationships benefit men disproportionately and whether they are compatible with raising children; and assesses the likelihood that diverse forms of multipartner marriages and large friendship networks will become the norm in the future. With over 150 color images and incisive, engaging, and authoritative text, Does Monogamy Work? examines society's attachment to monogamy, evaluates its benefits and limitations, and assesses the merits of polyamorous relationship models in our modern world. ...Show more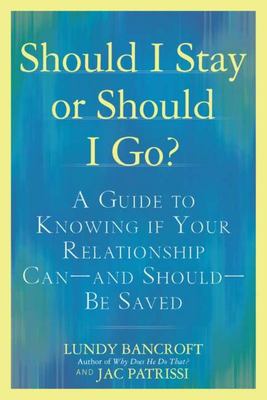 $26.00
NZD
Category: Couples
A guide to making the ultimate relationship decision from the author of Why Does He Do That?   In this supportive and straightforward guide, Lundy Bancroft, the author of Why Does He Do That?, and communication specialist JAC Patrissi offer a way for women to practically take stock of their relationsh ips and move forward--with or without their partners.   Women involved in chronically frustrating or unfulfilling relationships will learn to:   - Tell the difference between a healthy-yet-difficult relationship and one that is really not working - Recognize the signs that their partner has a serious problem - Stop waiting to see what happens-and make their own growth the top priority - Prepare for life without their partner-even as they keep trying to make the relationship work ...Show more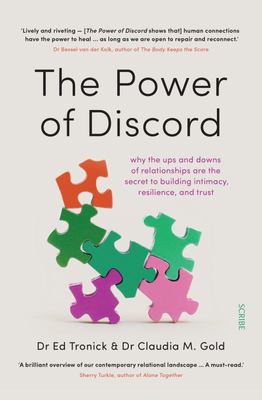 $37.00
NZD
Category: Couples
This "profoundly wise" look at how to foster connections, attachment, and resiliency explains why working through discord is the key to better relationships. (Sue Johnson, bestselling author of Hold Me Tight)You might think that perfect harmony is the defining characteristic of healthy relationships, bu t the truth is that human interactions are messy, complicated, and confusing. And according to renowned psychologist Ed Tronick and pediatrician Claudia Gold, that is not only okay, it is actually crucial to our social and emotional development. In The Power of Discord they show how working through the inevitable dissonance of human connection is the path to better relationships with romantic partners, family, friends, and colleagues.Dr. Tronick was one of the first researchers to show that babies are profoundly affected by their parents' emotions and behavior via "The Still-Face Experiment." His work, which brought about a foundational shift in our understanding of human development, shows that our highly evolved sense of self makes us separate, yet our survival depends on connection. And so we approximate, iteratively learning about one another's desires and intentions, and gaining confidence in the process as we correct the mistakes and misunderstandings that arise.Working through the volley of mismatch and repair in everyday life helps us form deep, lasting, trusting relationships, resilience in times of stress and trauma, and a solid sense of self in the world. Drawing on Dr. Tronick's research and Dr. Gold's clinical experience, The Power of Discord is a refreshing and original look at our ability to relate to others and to ourselves. ...Show more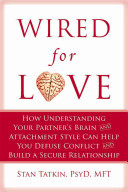 Wired for Love
by Stan Tatkin; Harville Hendrix (Foreword by)
$40.00
NZD
Category: Couples
"What the heck is my partner thinking?" is a common refrain in romantic relationships, and with good reason. Every person is wired for love differently, with different habits, needs, and reactions to conflict. The good news is that most people's minds work in predictable ways and respond well to securit y, attachment, and rituals, making it possible to actually neurologically prime the brain for greater love and fewer conflicts.Wired for Love is an innovative guide to understanding your partner's brain and enjoying a romantic relationship built on love and trust. Synthesizing research findings drawn from neuroscience, attachment theory, and emotion regulation, this book presents ten guiding principles that can improve any relationship. ...Show more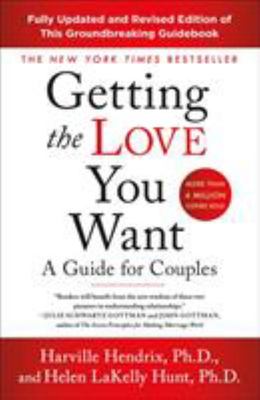 $43.00
NZD
Category: Couples
The New York Times bestselling guide to transforming an intimate relationship into a lasting source of love and companionship, now fully revised with a new forward and a brand new chapter. Getting the Love You Want has helped millions of people experience more satisfying relationships and is recommende d every day by professional therapists and happy couples around the world. Dr. Harville Hendrix and Dr. Helen LaKelly Hunt explain how to revive romance and remove negativity from daily interactions, to help you: - Discover why you chose your mate- Resolve the power struggle that prevents greater intimacy- Learn to listen - really listen - to your partner- Increase fun and laughter in your relationship- Begin healing early childhood experiences by stretching into new behaviors - Become passionate friends with your partner- Achieve a common vision of your dream relationship Become the most connected couple you know with this revolutionary guide, combining behavioral science, depth psychology, social learning theory, Gestalt therapy, and interpersonal neuroscience to help you and your partner recapture joy, enhance closeness, and experience the reward of a deeply fulfilling relationship. ...Show more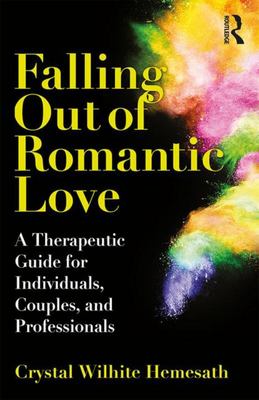 $43.00
NZD
Category: Couples
In this innovative and user-friendly guide, Crystal Wilhite Hemesath identifies the factors that lead to relationship breakdown and suggests key strategies for the prevention and treatment of falling out of romantic love (FORL). Grounded in research and two decades of clinical experience, Falling Out o f Romantic Love outlines strategies for preparing and maintaining healthy, enduring, romantic relationships as well as what to do when FORL becomes a threat. Applicable to daily life, and relevant to a wide range of scenarios, this book contains a plethora of information for individuals just beginning an intimate partner relationship, long-married couples, or for those simply curious about romantic relationships and the problems which may arise. Helpful tips are also provided for individuals trying to decide if they should remain in a relationship and for those experiencing heartbreak on the receiving end of FORL. Rich in real life examples, this book arms professionals with a greater understanding of why people fall out of romantic love. It's an indispensable guide for marriage and family therapists, as well as other mental health professionals or clergy looking to incorporate additional tools and clinical interventions into their work. ...Show more
$31.00
NZD
Category: Couples
Most relationships go through difficult times, and this text is aimed at those who are trying to make a decision about where their relationship is going. Drawing on her years of experience as a counsellor, psychotherapist Mira Kirshenbaum uses a series of straightforward questions that will enable the r eader to diagnose problems. The only commitment the reader has to make is to be honest. ...Show more
$25.00
NZD
Category: Biography & Memoir | Series: Oprah's Book Club
#1 New York Times BestsellerOprah's Book Club 2016 Selection "Riveting...a worthy investment...this book has real wisdom."--New York Times Book Review "A book with so much painful truth packed into its pages that every person who's ever married or plans to marry should really give it a read." -- Chica go Tribune "Provocative... I adore her honesty, her vulnerability, and her no-nonsense wisdom, and I know you will, too." -- Oprah Winfrey "This memoir isn't really about Glennon rebuilding her relationship with her husband; it is about Glennon rebuilding her relationship with herself. Utterly refreshing and... badass."-- Bustle.com A memoir of betrayal and self-discovery by bestselling author Glennon Doyle, Love Warrior is a gorgeous and inspiring account of how we are all born to be warriors: strong, powerful, and brave; able to confront the pain and claim the love that exists for us all. This chronicle of a beautiful, brutal journey speaks to anyone who yearns for deeper, truer relationships and a more abundant, authentic life. ...Show more