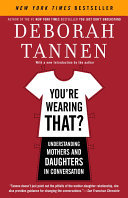 $38.00
NZD
Category: Mother/Daughter
Deborah Tannen's #1 New York Timesbestseller You Just Don't Understand revolutionized communication between women and men. Now, in her most provocative and engaging book to date, she takes on what is potentially the most fraught and passionate connection of women's lives: the mother-daughter relationshi p.It was Tannen who first showed us that men and women speak different languages. Mothers and daughters speak the same language-but still often misunderstand each other, as they struggle to find the right balance between closeness and independence. Both mothers and daughters want to be seen for who they are, but tend to see the other as falling short of who she should be. Each overestimates the other's power and underestimates her own. Why do daughters complain that their mothers always criticize, while mothers feel hurt that their daughters shut them out? Why do mothers and daughters critique each other on the Big Three-hair, clothes, and weight-while longing for approval and understanding? And why do they scrutinize each other for reflections of themselves? Deborah Tannen answers these and many other questions as she explains why a remark that would be harmless coming from anyone else can cause an explosion when it comes from your mother or your daughter. She examines every aspect of this complex dynamic, from the dark side that can shadow a woman throughout her life, to the new technologies like e-mail and instant messaging that are transforming mother-daughter communication. Most important, she helps mothers and daughters understand each other, the key to improving their relationship.With groundbreaking insights, pitch-perfect dialogues, and deeply moving memories of her own mother, Tannen untangles the knots daughters and mothers can get tied up in. Readers will appreciate Tannen's humor as they see themselves on every page and come away with real hope for breaking down barriers and opening new lines of communication. Eye-opening and heartfelt, You're Wearing That? illuminates and enriches one of the most important relationships in our lives.   "Tannen analyzes and decodes scores of conversations between moms and daughters. These exchanges are so real they can make you squirm as you relive the last fraught conversation you had with your own mother or daughter. But Tannen doesn't just point out the pitfalls of the mother-daughter relationship, she also provides guidance for changing the conversations (or the way that we feel about the conversations) before they degenerate into what Tannen calls a mutually aggravating spiral, a "self-perpetuating cycle of escalating responses that become provocations." - The San Francisco Chronicle ...Show more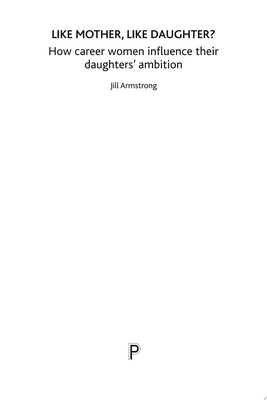 $70.00
NZD
Category: Feminism
Does having a mother with a successful career benefit her daughters? Does it lead them to have higher aspirations for their own careers, and, if so, do those ambitions translate into career success? Like Mother, Like Daughter? looks at these questions and more, using case studies of women who are at the tops of their fields and their daughters. What Jill Armstrong finds is that while many of the daughters end up following the same career path as their mothers, that can't be traced to explicit mentoring, which turns out to be rare. She traces that reluctance to what she terms "quiet ambition" a tendency for women to downplay their aspirations and achievements. ...Show more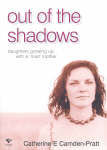 $38.00
NZD
Category: Mother/Daughter
A life of shadows and silences, that's how Catherine Camden Pratt describes the experience of growing up with what she describes as a 'mad' mother. Eleven women tell their stories of growing up with mentally ill mothers. The women's stories are heartfelt and show the pain as well as the triumphs of s pirit. ...Show more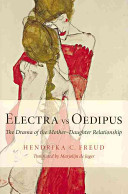 $87.00
NZD
Category: Mother/Daughter
Electra vs Oedipus explores the deeply complex and often turbulent relationship between mothers and daughters. In contrast to Sigmund Freud¿s conviction that the father is the central figure, the book puts forward the notion that women are in fact far more (pre)occupied with their mother. Drawing on th e author¿s extensive clinical experience, the book provides numerous case studies which shed light on women¿s emotional development. Topics include: love and hate between mothers and daughters the history of maternal love childbirth and depression rejected mothers. Electra vs Oedipus will be a valuable resource for psychoanalysts, psychotherapists and all those with an interest in the dynamics of the mother¿daughter relationship. ...Show more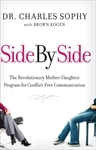 $27.00
NZD
Category: Specifically for Girls
Moms and daughters. They can go from best friends to mortal enemies with breakneck speed. From boyfriends to curfews and from outfits to eating habits, mothers and daughters often end up in conflict about everything. Now with Side by Side¸ mothers finally have a proven program to help navigate their re lationship with their daughters of any age. Dr. Charles Sophy has dedicated his career to the physical and mental health of children and families from all walks of life. Through hundreds of consultations, he found the most promising and most problematic family dynamic is that between mother and daughter. Side by Side introduces the Four Truths of every mother-daughter relationship, and a revolutionary communication approach called the Chair Strategy. This mom-driven strategy is designed to harness her power to resolve even the most volatile situations between a mother and daughter with love, understanding, and respect. ...Show more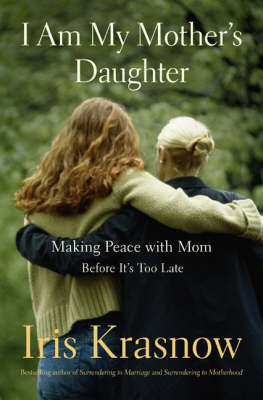 $36.00
NZD
Category: Mother/Daughter
This title offers inspiration and advice for daughters on making peace with Mum while there's still time. Iris Krasnow - mother, daughter and journalist - tackles the toughest relationship in the lives of many women: the mother-daughter bond. With women's life expectancy inching up past eighty, you may be embroiled with your mother well past the times your own hair turns white. The good news: Living longer means more time to make peace - and this book shows you how. Drawing on her own experience with her colourful eighty-four year old mother and the collective wisdom of more than a hundred other adult daughters, Krasnow offers a fresh perspective on how to overcome the anger, guilt and resentment that can destroy a family. The time to repair the bond is now, she reminds us - you can't kiss and make up at the funeral. The key is to let go of to the fantasy mum and embrace the flesh-and-blood woman, with all her flaws. ...Show more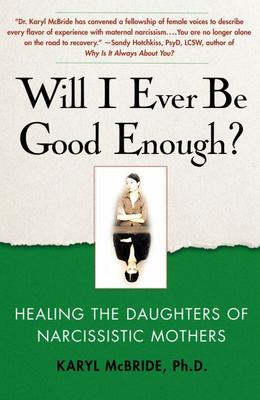 $43.00
NZD
Category: Personality Disorders
The first book specifically for daughters suffering from the emotional abuse of selfish, self-involved mothers, Will I Ever Be Good Enough? provides the expert assistance you need in order to overcome this debilitating history and reclaim your life for yourself. Drawing on over two decades of experience as a therapist specializing in women's psychology and health, psychotherapist Dr. Karyl McBride helps you recognize the widespread effects of this maternal emotional abuse and guides you as you create an individualized program for self-protection, resolution, and complete recovery.Narcissistic mothers teach their daughters that love is not unconditional, that it is given only when they behave in accordance with maternal expectations and whims. As adults, these daughters have difficulty overcoming feelings of inadequacy, disappointment, emotional emptiness, and sadness. They may also have a fear of abandonment that leads them to form unhealthy romantic relationships, as well as a tendency to perfectionism and unrelenting self-criticism or to self-sabotage and frustration. Dr. McBride's step-by-step program will enable you to:-1) Recognize your own experience with maternal narcissism and its effects on all aspects of your life-2) Discover how you have internalized verbal and nonverbal messages from your mother and how these have translated into overachievement or self-sabotage-3) Construct a personalized program to take control of your life and enhance your sense of self, establishing healthy boundaries with your mother and breaking the legacy of abuseWarm and sympathetic, Dr. McBride brings a profound level of authority to Will I Ever Be Good Enough? that encourages and inspires you as it aids your recovery. ...Show more
$30.00
NZD
Category: Travel Narratives
From the New York Times bestselling author of THE SECRET LIFE OF BEES and THE INVENTION OF WINGS and her daughter comes a touching and perceptive memoir about mothers and daughters that will resonate with women of all ages. Sue Monk Kidd and her daughter Ann chronicle their travels together at a time wh en each had reached an important turning point in her life. What emerged was a quest for Ann and Sue to redefine themselves and also rediscover one other. Against the backdrop of the sacred sites of Greece, Turkey and France, Sue grapples with the problem of how to expand her vision of swarming bees into the novel that she feels compelled to write, whilst newly-graduated Ann ponders the classic question of what to do with her life. ...Show more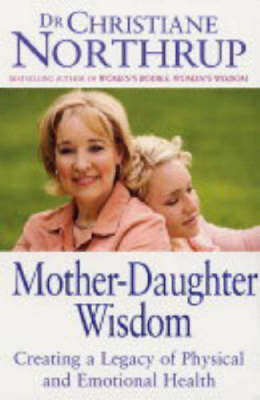 $60.00
NZD
Category: Mother/Daughter
Introduces an entirely new map of female development, including the 'five facets of feminine power' that range from the basics of physical care to the discovery of passion and purpose in life.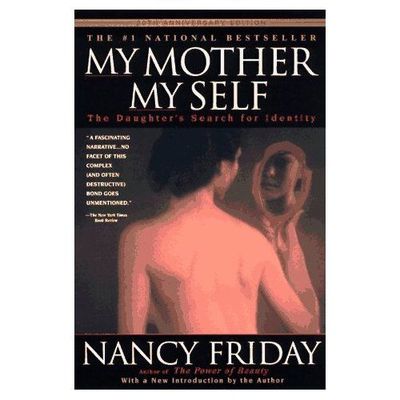 $38.00
NZD
Category: Mother/Daughter
When Nancy Friday began her research for My Mother My Self in the early 1970s no work existed that explored the unique interaction between mother and daughter. Today psychotherapists throughout the world acknowledge that if women are to be able to love without possessing, to find work that fulfills them , and to discover their full sexuality, they must first acknowledge their identity as separate from their mother's. Nancy Friday's book played a major role in that acceptance. The greatest gift a good mother can give remains unquestioning love planted deep in the first year of life, so deep and anassailable that the tiny child grown to womanhood is never held back by the fear of losing that love, no matter what her own choice in love, sexuality, or work may be. Through candid self-disclosure and hundreds of interviews, Friday investigates a generational legacy and reveals the conflicting feelings of anger, hate, and love the daughter's hold for their mothers-and why they so often "become" that mother themselves. ...Show more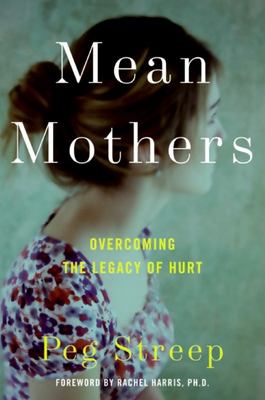 $60.00
NZD
Category: Mother/Daughter
You won't find horror stories of outrageous abuse in "Mean Mothers". But that's one of Peg Steep's clearest messages: that while the most sensational stories get the most attention in the media, little is said about those mothers who, despite their picket fences, relative affluence, and middle-class sta nding in society, are unable or unwilling to love the daughters they have given birth to. "Mean Mothers" demonstrates what happens to a daughter's formulation of self and her relationships when her mother is either emotionally absent or, worse, cruel and unloving. Based in the latest research as well as interviews with experts in many fields, the book draws on the real-life experiences of adult daughters, including those of the author herself, who have tried to come to terms with the emotional and psychological legacies their mothers bequeathed them. With its unflinching look at what can go wrong when a mother doesn't love her child, "Mean Mothers" can help every woman - even those blessed with loving mothers - better understand this most central of female relationships. ...Show more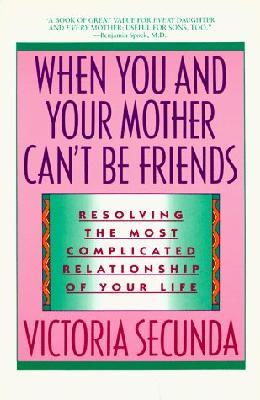 $40.00
NZD
Category: Mother/Daughter
This, the first book ever to say that mother is not always a girl's best friend, is based on a landmark study of the mother-daughter relationships. Secunda offers breakthrough advice on understanding, and improving, what could be a woman's most critical relationship.