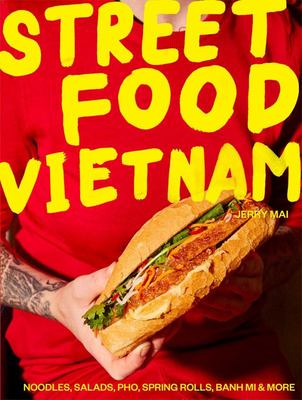 $40.00
NZD
Category: Regional
Any visitor can confirm that Vietnam is a foodies' paradise. Nowhere­­ is that clearer than in the hustle and bustle of its streets. Street Food: Vietnam celebrates the diverse and beloved recipes found along the entire length of the country, through the eyes (and taste buds) of Vietnamese-Australian ch ef/restaurateur Jerry Mai. The culinary journey includes the snackier side of life, with the classic roast pork belly banh mi and crab banh cuon. There's all manner of grilled goods like bun thit nuong and five-spice calamari. Plus pho! Lots and lots of pho, in both Saigon- and Hanoi-style. With stunning food photography of all 70 recipes, and dynamic location images throughout, this is the perfect book for the armchair traveller or for those wishing to commemorate their own magical journey through Vietnam.   ...Show more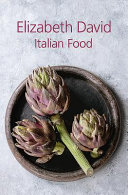 $40.00
NZD
Category: Regional
Jane Grigson wrote of Italian Food 'Basil was no more than the name of bachelor uncles, courgette was printed in italics as an alien word, and few of us knew how to eat spaghetti or pick a globe artichoke to pieces. ... Then came Elizabeth David like sunshine, writing with brief elegance about good food , that is, about food well contrived, well cooked. She made us understand that we could do better with what we had.' Published in 1954 the importance of this book, which required a full year's research in Italy, can only be appreciated when you realise that she was working in a post-rationing England which regarded Italian cuisine as nothing more than variations on pasta and veal. What she discovered was an enormous wealth of regional diversity in ingredients, methods, and even language, where the same pasta shape can be called three or four names in different parts of the country. She understood that all Italian cooking is regional; there is no 'national' cuisine and so there are eight recipes for aubergines, fourteen for artichokes, five for fennel and seven for lentils, all from different regions. But if such descriptions seem to today's reader overly thorough it is because many of her 1950's audience would have never heard of risotto, gorgonzola, prosciutto or even olive oil, let alone been able to purchase them. This is a critical and analytical look at Italian food - her personality and point of view come out on almost every page - organised by type of dish rather than by region and is full of details of kitchens and cooking by painters from the 14th, 15th and 18th centuries. The book is filled with asides and quotes from Italian writers and thinkers and as confirmation that this is more a work of scholarship than a simple book on cookery, there are appendices of bibliographies and notes on wine. If you want to explore the authentic regional roots of the Italian kitchen, Elizabeth David's masterpiece is the place to start. And the joy and relevance of this book today is that recipes that could only be read 60 years ago can now be cooked and savoured. Elizabeth David's acclaimed writings are often cited as an inspiration by many of today's leading chefs, as well as home cooks, and are essential to any serious cookery book collection. AUTHOR: Elizabeth David lived and kept house in France, Italy, Greece, Egypt and India, learning the local dishes and cooking them in her own kitchens. She found not only the practical side but also the literature of cookery of absorbing interest. She died on 22 May 1992. ...Show more
$45.00
NZD
Category: Regional
Vibrant recipes, one family's memories of their homeland and a fascinating insight into Afghanistan's rich heritage. Interwoven with traditional Afghan recipes is one family's story of a region long afflicted by war, but with much more at its heart. Author Durkhanai Ayubi's parents, Zelmai and Farida Ay ubi, fled Afghanistan with their young children in 1985, at the height of the Cold War. When their family-run restaurant Parwana opened its doors in Adelaide in 2009, their vision was to share with the world their family memories through the delights of Afghan cuisine, infused with Afghanistan's rich historical culture and traditions of generosity and hospitality, to offer a more complete picture of the country they had left behind. These fragrant and flavourful recipes have been in the family for generations and include rice dishes, dumplings, curries, meats, Afghan pastas, chutneys and pickles, soups and breads, drinks and desserts. Some are everyday meals, some are celebratory special dishes. Each has a story to tell.   ...Show more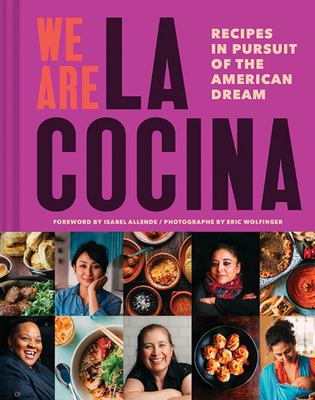 $60.00
NZD
Category: Regional
Powerful stories. Beautifully evocative visuals. More than 100 recipes for all occasions, from many cultures. Here, in La Cocina's first cookbook, more than 50 successful La Cocina entrepreneurs share their inspiring narratives--and their delicious recipes More than 200 photographs from award-winning ph otographer Eric Wolfinger capture the spirit of the people, the mouthwatering food, and the diversity of the immigrant experience. This is the book for cooks who love great global recipes and support organizations that make a big difference. ...Show more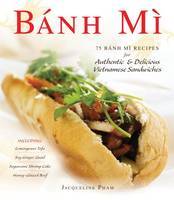 $35.00
NZD
Category: Regional
The quintessential Vietnamese street food--in your own home! Indulge in the intoxicating aroma and exotic taste of a freshly baked baguette topped with savory pork, bright cilantro, and thin strips of pickled carrots and daikon. With "Banh Mi," you can enjoy these flavorful Vietnamese sandwiches without ever having to step out of your home. From vegetarian options to meat-filled sandwiches, this book will provide you with step-by-step instructions for creating 75 delicious banh mi recipes, including: Spicy eggplant tofuVietnamese-style chicken curryChar siu barbecue porkMango grilled shrimp Complete with recipes for classic Vietnamese pickled condiments, flavorful sauces, fresh baked breads, and classic sides, "Banh Mi" brings the essential tastes of true Vietnamese cuisine into your kitchen! ...Show more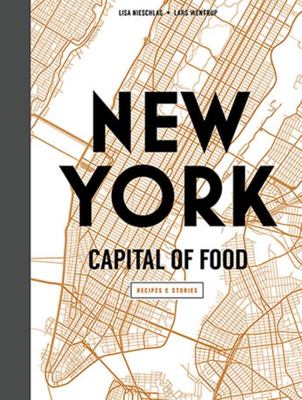 $45.00
NZD
Category: Regional
All about New York's food cultures and signature recipes, against the backdrop of the city that never sleeps.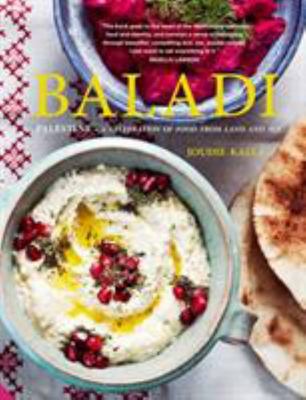 $55.00
NZD
Category: Regional
'An important cuisine and culinary tradition that needs to be understood, celebrated, and enjoyed.' Anthony Bourdain   'This book goes to the heart of the relationship between food and identity, and conveys a sense of belonging through beautiful, compelling and, yes, joyous recipes. I just want to eat everything in it.' Nigella Lawson Joudie Kalla‭, ‬author of the bestselling‭ ‬Palestine on a Plate‭, ‬introduces readers to more of the Middle East's best-kept secret‭ ‬-‭ ‬Palestinian cuisine‭.‬ 'Baladi'‭ ‬means‭ ‬'my home‭, ‬my land‭, ‬my country'‭, ‬and Joudie once again pays homage to her homeland of Palestine by showcasing the wide-ranging‭, ‬vibrant and truly delicious dishes of this country‭.‬ Baladi‭ ‬features recipes that are broadly categorized according to the differing environments they primarily hail from‭, ‬such as the land‭, ‬the sea‭, ‬the forest‭, ‬the orchard‭. ‬Experience the wonderful flavours of Palestine through‭ ‬daoud basha‭ (‬lamb meatballs cooked in a tamarind and tomato sauce served with caramelized onions and vermicelli rice‭), ‬fatayer sabanekh‭ (‬spinach‭, ‬sumac and onion patties‭), ‬samak makli‭ (‬fried fish selection with courgette‭, ‬mint and yoghurt dip‭), ‬atayef‭ (‬soft pancakes filled with cream‭, ‬cheese or nuts in an orange blossom sugar syrup‭), ‬and many more sensational recipes‭.‬ Dishes are designed to complement one another‭, ‬and Joudie explains which work well together as a meal‭, ‬as well as the varied and‭ ‬diverse origins of the recipes‭. ‬At the end of the day she takes an entirely flexible approach‭, ‬using influences from her homeland to create new dishes‭, ‬and bringing her own twist to more traditional recipes‭.‬ ...Show more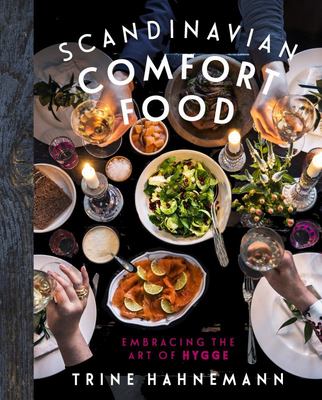 $55.00
NZD
Category: Regional
The Scandinavians excel in comfort - family, friends, a good atmosphere, long meals, relaxation and an emphasis on simple pleasures. They even have a word for this kind of cosiness that comes with spending quality time in hearth and home when the days are short: hygge. Trine Hahnemann is the doyenne of Scandinavian cooking and loves nothing more than spending time in her kitchen cooking up comforting food in good company. This is her collection of recipes that will warm you up and teach you to embrace the art of hygge, no matter where you live. ...Show more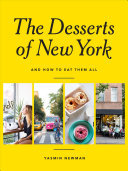 $45.00
NZD
Category: Regional
In this tempting recipe-slash-travel journal, follow Yasmin Newman to the bright lights of New York City as she tracks down and savours the city's best desserts. Yasmin's mission takes her through NYC's vibrant neighbourhoods, where a plethora of colourful characters and quintessential New York moments add flavour to her experience. She jots down notes, steals photographs and creates a hit list of the best addresses - then dreams up  and creates recipes inspired by her favourite New York sweets. Desserts of New York is a fabulous travel guide and recipe book all-in-one with a guide to the neighbourhoods of New York and the desserts that can be found within them, as well as recipes for some of the most exciting and delightful sweet treats.  The 44 recipes that accompany Yasmin's sweet adventure are a mix of inspired takes on signature New York desserts - from Dominique Ansel's cookie shots and Christina Tosi's crack pie to New York cheesecake, babka and doughnuts - as well as tempting new creations, such as Nutella and burnt marshmallow thickshakes, French toast ice cream sandwiches and Pumpkin pie waffles. Yasmin also shares chef recipes from much-loved venues Ample Hills Creamery, Baked, Butter & Scotch, Cosme, Gramercy Tavern and Lafayette Grand Cafe & Bakery. Also included in the five chapters (Doughnuts, Cookies & Bars; Pastries, Buns & Bites; Cakes, Pies & Puddings; Ice cream & Drinks; Plated & Created) are recipes for Giant snickerdoodles, Peanut butter & jelly cannoli, Sticky buns, Brooklyn blackout cake, S'mores bombe Alaska, and more. ...Show more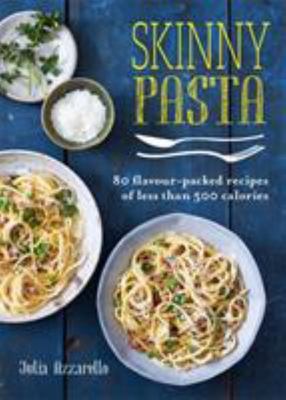 $35.00
NZD
Category: Regional | Series: Skinny Ser.
Low-calorie, big-flavoured and comforting meals are the dream for dieters, and the dishes in Skinny Pasta can tick all those boxes.Although pasta is often on the 'avoid' list of a diet, this needn't be the case as it's the accompanying sauces and topping that pile on the calories, and the pounds. The re cipes in Skinny Pasta prove otherwise - all are small on calories, but big on nourishing nutrients, full of flavour and decent portions.Featuring a mix of timeless classics and contemporary interpretations, the recipes focus on fresh, healthy and nutritious ingredients, plus many are vegan, vegetarian, gluten- and dairy-free. From fresh and flavourful Vermicelli with Cherry Tomatoes, Rocket & Feta, and Mafaldine with Romanesco Sauce, to tasty salads such as Greek Rotini and soups including Butter Bean, Chorizo & Spinach with Pappardelle, as well as many quick and easy mains like Orecchiette with Cime Di Rapa & Chilli as well as the ever popular Spaghetti Carbonara and Mac 'n' Cheese, there's a pasta dish for any occasion. And if you have a little more time on your hands then make your own basic pasta dough, gluten-free gnocchi, fresh pesto or marinara sauce, although all the recipes can be made with shop-bought pasta too. With nutritional info for every recipe, each dish is 500 or less calories per portion. ...Show more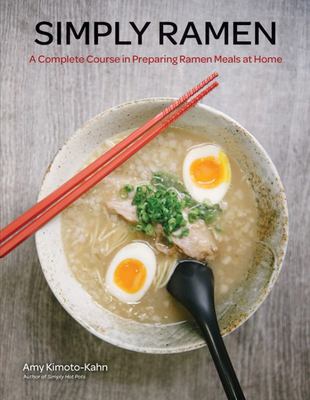 $33.00
NZD
Category: Regional | Series: Simply ... Ser.
Whether you are cooking for one or twelve, Simply Ramen brings homemade ramen to your table with a delicious fusion of seventy recipes, including soup bases, noodles, toppings, and sides. Author Amy Kimoto-Kahn shows you how to put together a bowl of piping hot ramen in a myriad of ways with a choice o f four soup bases, ramen noodles (homemade or store-bought), and traditional and non-traditional ingredients. Enjoy bowls of pork, chicken, and beef ramen. Or branch out with seafood, vegetarian, and spicy soups--and even cold ramen and a breakfast version topped with bacon and a poached egg. Make your soup base in advance and you have a quick, easy, and special midweek family meal. Try your hand at: Indonesian Pork Ramen with Coconut Curry Soup Chicken Meatball Ramen Teriyaki Beef-Wrapped Asparagus Ramen California Ramen with crabmeat, avocado, and cucumber Spicy Tofu Ramen Crispy Greens Ramen with Swiss chard, kale, and Brussels sprouts With simple step-by-step instructions and mouthwatering photos, Simply Ramen will turn your kitchen into a ramen-ya for family and friends. ...Show more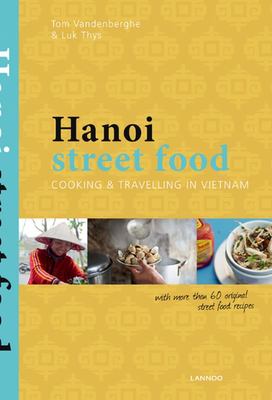 Hanoi Street Food
by Tom Vandenberghe; Luk Thys (Photographer)
$55.00
NZD
Category: Regional | Series: Street Food Ser.
Most people go to Hanoi to enjoy the food. And in Hanoi, street food is not merely a quaint or exotic culinary excursion - it is at the heart of the culinary tradition and helps to define the culture and rhythm of the city. However, while dining on the street may sound tempting and adventurous to visito rs, it can also be intimidating. The aim of this book is to demystify Hanoi's glorious street food culture. Hanoi Street Food does not only provide you with the places to eat but also with recipes for Vietnamese delicacies such as the Pho but also with other noodle dishes that stand out, but which are not as easily found as the Bun Cha or the Bun Rieu. Each section describes a range of dishes within a particular category. Following each description, the authors guide you to some of their favorite spots where you can try these snacks. Also available: Bangkok Street Food ISBN 9789020987836" ...Show more