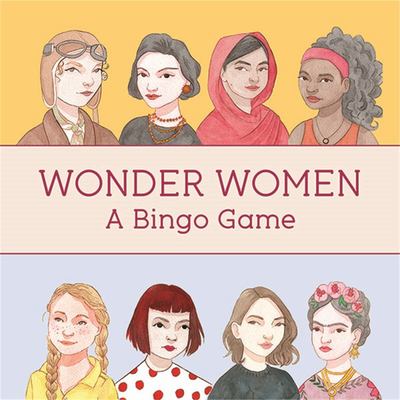 Wonder Women Bingo
by Isobel Thomas; Laura Bernard (Illustrator)
$35.00
NZD
Category: Puzzles & Games | Series: Magma for Laurence King Ser.
In this fun, affordable bingo game you can fill your game card with inspiring women from across the world and across history! Team up Serena Williams, Simone Biles, Amelia Earhart and Greta Thunberg for a line or fill your card with Valentina Tereshkova, Malala Yousafzai, Emmeline Pankhurst and more for BINGO! Contains 48 illustrated chips, game board, eight double-sided bingo cards, counters for you to mark up your card and an illustrated booklet with short bios about each of these Wonder Women. ...Show more
$37.00
NZD
Category: Puzzles & Games | Series: Women in Science Ser.
The Women in Art Puzzle portrays fifteen female artists in Rachel Ignotofsky's inimitable style, from well-known figures like Frida Kahlo and Georgia O'Keeffe to lesser-known names like nineteenth-century African American sculptor Mary Edmonia Lewis and Hopi-Tewa ceramic artist Nampeyo. Like Rachel's hi t Women in Science Puzzle, this jigsaw will delight a wide range of puzzlers and art lovers looking to get offline and into a soothing groove. ...Show more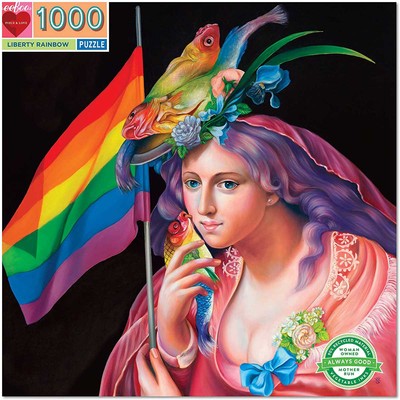 $50.00
NZD
Category: Puzzles & Games
1000 piece jigsaw Why is she snuggling a fish? We don't know, but we love the vibrancy and fun of this image!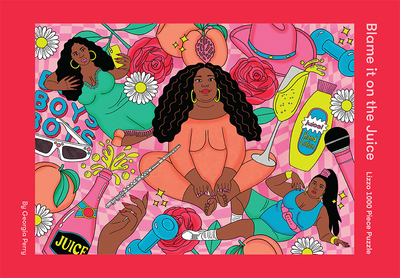 $33.00
NZD
Category: Puzzles & Games | Series: Piece Full Ser.
Blame It On The Juice is a joyful 1000 piece puzzle celebrating the iconic musician Lizzo. Illustrated by Georgia Perry.The finished puzzle is 27 x 19.3 in and will take 3-10 hours to complete.&nbsp&nbsp&nbsp Reduce your screen time and start mindful gaming. Puzzling is meditative, rewarding and satisfying. It is also a great social activity as it's uncompetitive in nature and you can have as many players as you want.&nbsp The Piece Full puzzle series is a collection of illustrated puzzles by artists from all over the world. You are compelled to piece the puzzle together as the images are so beautiful - you will want to frame them! A perfect gift as well as self purchase.&nbsp&nbsp ...Show more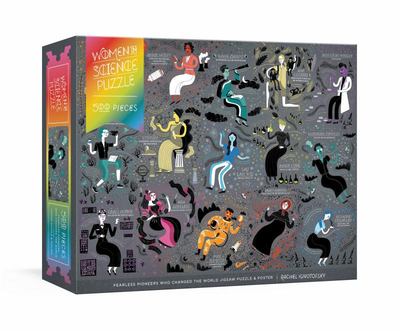 $35.00
NZD
Category: Puzzles & Games | Series: Women in Science Ser.
This colorfully illustrated 500-piece puzzle features 15 trailblazing women of science, technology, engineering, and mathematics and is a perfect gift for budding feminists and science lovers. A unique 18 x 24-inch-inch poster is included for referencing the design while working on the puzzle.   Based on the New York Times bestselling book Women in Science, this brightly colored 500-piece puzzle celebrates 15 groundbreaking female scientists and is perfect for the whole family. ...Show more
$30.00
NZD
Category: Puzzles & Games
Piece together the world of the genius that is Frida Kahlo in this art jigsaw puzzle that tells the story of her life, her art, and her career. Spot a huge cast of contemporary extras--Kahlo's family and famous friends--among a bustling Day of the Dead scene, and find references to her artworks alongsid e her various exotic pets. ...Show more
$50.00
NZD
Category: Puzzles & Games
Puzzle your way through the Tree of Life. 1000+ Piece Jigsaw Puzzles are a great activity for the whole family to enjoy. The Tree of Life is inspired by a medieval tapestry, featuring a rainbow of flora and fauna against a blue background. Illustrated by Jennifer Orkin Lewis.
$35.00
NZD
Category: Puzzles & Games
Have you got what it takes to assemble all 299 cats into a perfect puzzle? In this cunning cluster puzzle, there are no regular jigsaw shapes: each piece takes the outline of the cat itself. And there are 299 of them! Plus a dog. See if you can find it!
$37.00
NZD
Category: Puzzles & Games
From noted Jane Austen artist Jacqui Oakley, this whimsical 1000-piece puzzle brings her beautiful work to life and celebrates Austen's most-beloved novels. Featuring illustrations and information about Austen's most famous novels and characters like Elizabeth Bennet and Mr. Darcy from Pride and Prejudi ce, Emma and Mr. Knightley from Emma, Elinor and Margaret Dashwood from Sense and Sensibilty, and more, this puzzle, with its accompanying frameable poster, is perfect for both longtime fans and Austen newbies. ...Show more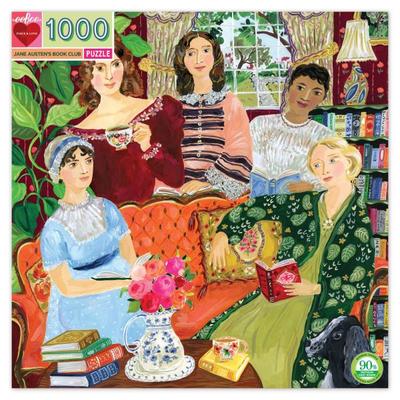 $50.00
NZD
Category: Puzzles & Games
The person, be it gentleman or lady, who has not pleasure in a good novel, must be intolerably stupid. – Jane Austen Who better to discuss a book you're lost in Than Mary Shelley or the wise Jane Austen? Eliot's mind and Hurston's hear Understand what is human, as does their art. Virginia Woolf too , will be helpful indeed… These women inform everything that we read! Puzzle your way through eeBoo's Jane Austen's Book Club 1000 Piece Puzzle, featuring notable novelists responsible for some of the world's greatest stories. Jigsaw puzzles are a great activity for the whole family to enjoy. Featuring art by Jennifer Orkin Lewis (@augustwren). Great for groups Full color insert Puzzle: 23" x 23" Box: 11" x 2" x 11" Featuring Jane Austen, Mary Shelley, George Eliot, Zora Neale Hurston, and Virginia Woolf. ...Show more
$35.00
NZD
Category: Puzzles & Games
1000 piece puzzle featuring Richard Baker's paintings of vintage paperback books.Piece together your own colorful collection of vintage paperback book covers! Classic Paperbacks puzzle features artist Richard Baker's incredible paintings of beloved real books, including works by Emily Dickinson, Richard Wright, Sandra Cisneros, and Susan Sontag, among other literary luminaries. Each "book portrait" captures the signs of wear that all bibliophiles can appreciate from their own most most-loved reads. The perfect gift for book lovers and collectors everywhere.9 x 11 x 2.5 in box25 x 20 in puzzle1000 piecesEnclosure with puzzle image ...Show more
$30.00
NZD
Category: Puzzles & Games
Piece together the world of Shakespeare in this art jigsaw puzzle depicting the London of his day. Spot a huge cast of contemporary extras as A Midsummer Night's Dream is rehearsed at the Globe and fellow actors wander the streets, along with local characters who may well have provided the Bard with ins piration. From lovers ascending ladders and bears being baited to tavern brawls and summer fairs, there is something to delight in every detail. ...Show more