Six Degrees : Our Future On A Hotter Planet (Updated Edition 2008)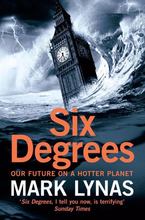 Stock information
: $26

.00

(NZD)

: 9780007209057
: HarperCollins Publishers Australia
: HarperPerennial
:
: February 2008
: United Kingdom
:
:
:
: books
:
:
: Mark Lynas
:
: Paperback
:
:
: English
: 363.73874
:
: 288
:
:
:
:
:
9780007209057
Description
An eye-opening and vital account of the future of our earth, and our civilisation, if current rates of global warming persist, by the highly acclaimed author of 'High Tide'. Picture yourself a few decades from now, in a world in which average temperatures are three degrees higher than they are now. On the edge of Greenland, rivers ten times the size of the Amazon are gushing off the ice sheet into the north Atlantic. Displaced victims of North Africa's drought establish a new colony on Greenland's southern tip, one of the few inhabitable areas not already crowded with environmental refugees. Vast pumping systems keep the water out of most of Holland, but the residents of Bangladesh and the Nile Delta enjoy no such protection. Meanwhile, in New York, a Category 5-plus superstorm pushes through the narrows between Staten Island and Brooklyn, devastating waterside areas from Long Island to Manhattan. Pakistan, crippled by drought brought on by disappearing Himalayan glaciers, sees 27 million farmers flee to refugee camps in neighbouring India.Its desperate government prepares a last-ditch attempt to increase the flow of the Indus river by bombing half-constructed Indian dams in Kashmir. First published 2007; this updated edition 2008.
Awards
Winner of Royal Society Prize for Science Books: General Prize 2008.
Reviews
'Scientists predict that global temperatures will rise by between one and six degrees over the course of this century and Mark Lynas paints a chilling, degree-by-degree picture of the devastation likely to ensue unless we act now!"Six Degrees" is a rousing and vivid plea to choose a different future.' Daily Mail 'The saga of how, in the world as imagined by thousands of computer-modelling studies, global warming kicks in degree by degree. "Six Degrees", I tell you now, is terrifying.' Sunday Times 'Buy this book for everyone you know: if it makes them join the fight to stop the seemingly inexorable six degrees of warming and mass death, it might just save their lives.' New Statesman 'An apocalyptic primer of what to expect as the world heats up!it's sobering stuff and shaming too. Despite its sound scientific background, the book resembles one of those vivid medieval paintings depicting sinners getting their just desserts.' Financial Times 'Gripping ***.' The Scotsman 'Mark Lynas!has time-travelled into our terrifying collective future!Go with him on this breathtaking, beautifully told journey!I promise that you will come back!determined to alter the course of history.' Naomi Klein, author of 'No Logo' 'Clear, lucid and informative.' New Statesman 'A thoroughly engaging and well-researched book.' Times Literary Supplement 'Written with passion and packed with an impressive amount of information.' The Guardian 'In this highly accessible book, Lynas lays out just what we can expect with each progressive temperature rise, before stating exactly what needs to happen regarding decreasing carbon emissions, among other things. This stuff used to be the preserve of scientists and governments. As Lynas makes painfully clear, it is now our problem, too.' Metro
Author description
Mark Lynas is an activist, journalist and traveller. He was editor of the website www.oneworld.net and has made many appearances in the press and TV as a commentator on environmental issues. He also throws custard pies at lunatics who pronounce global warming a fantasy. He is the author of 'High Tide: News from a Warming World'. He lives in Oxford.