Techniques And Guidelines For Social Work Practice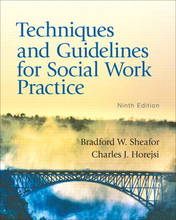 Stock information
: $135

.00

(NZD)

: 9780205838752
: Pearson Education (US)
: Pearson Education (US)
:
: January 2011
: United States
:
:
:
: books
:
:
:
:
:
:
: illustrations
:
: 528
: Bradford W. Sheafor
: 361.32
:
:
: United States ed of 9th revised ed
: Paperback
:
9780205838752
Description
This unique text emphasizes the many different techniques needed for successful social work practice. Parts I and II provide knowlege, values, and competencies for effective social work practice, while Parts III through V contain 144 clear and readable descriptions of practice techniques, presented in a handbook format for convenient accessibility of information. .
Author description
Brad Sheafor is Professor of Social Work at Colorado State University where has taught a wide variety of courses in both the BSW and MSW programs. He has also served in administrative positions including Director of the social work program, Associate Dean for Research and Interim Dean of the umbrella college that includes social work, Associate Director of the Human Factors Research Laboratory, and Co-Director of the Family and Youth Institute. Dr. Sheafor has served as a juvenile probation officer, director of a community planning council, and as president of his local United Way. He has been a member of the Exam Committee for the Association of Social Work Boards (licensing), part of the workgroup creating NASW's Center for Workforce Studies, and a founding member of the Baccalaureate Program Directors Association. With the Council on Social Work Education he has been President, Senior Scholar, and recipient of CSWE's Lifetime Achievement in Social Work Education Award. He has also been a Fulbright Lecturer to New Zealand and a Visiting Fellow in Australia. Dr. Sheafor is co-author of 23 books listed with the Library of Congress. In addition to Techniques for Social Work Practice (8 editions with Charles Horejsi), he has co-authored 12 editions of Social Work: A Profession of Many Faces (with Armando Morales and Malcolm Scott), a history of the development of baccalaureate social work in the United States (with Barbara Shank), a book on field instruction (edited with Lowell Jenkins), and book reporting a comprehensive task analysis of social work practice (with Robert Teare). Charles Horejsi is currently Professor Emeritus at the University of Montana having served that university for a number of years as a faculty member teaching primarily child welfare and social work practice courses, as well as being involved with the School of Social Work's field instruction program. A licensed clinical social worker, Dr. Horejsi had practice experience in marriage and family counseling, child welfare, and juvenile probation. He conducted agency staff training in more than a dozen states and received the Montana NASW's "Social Worker of the Year" award recognizing his many contributions to strengthening the quality of social work in that state. Dr. Horejsi's research has focused on risk assessment in child protection, issues of worker safety on the job, and on methods of assessment and case planning in child welfare agencies. In addition to numerous monographs and more than 30 professional articles, Dr. Horejsi has authored or co-authored 13 books listed with the Library of Congress. These publications include: Family Foster Care: A Handbook for Social Workers, Social Work Practice with Parents of Children in Foster Care: A Handbook (with Anne Vandeberg Bertsche and Frank Clark), three editions of The Social Work Practicum: A Guide and Workbook for Students (with Cynthia Garthwait), and eight editions of Techniques and Guidelines for Social Work Practice (with Bradford Sheafor).
Table of contents
Preface I. SOCIAL WORK AND THE SOCIAL WORKER 1. The Domain of the Social Work Profession The Social Work Domain An Overview of Social Work Practice 2. Merging Person with Profession Selecting Social Work as a Career Establishing Oneself as a Social Worker The Interplay of One's Personal and Professional Lives A Fitness Program for the Social Worker Having Fun in Social Work 3. Merging the Person's Art with the Profession's Science The Social Worker as Artist The Social Worker as Scientist II. THE BUILDING BLOCKS OF SOCIAL WORK PRACTICE 4. The Roles and Functions Performed by Social Workers Identifying Professional Roles 5. Guiding Principles for Social Workers Principles that Focus on the Social Worker Principles that Guide Practice Activities 6. Practice Frameworks for Social Work Requirements of a Practice Framework Guidelines for Selecting a Practice Framework Selected Practice Perspectives Selected Practice Theories and Models 7. Using Evidence to Guide the Change Process Evidence-Based Practice Critical Thinking When Making Practice Decisions Guiding the Planned Change Process The Context of Planned Change Identifying the Actors in Planned change Phases of the Planned Change Process III. TECHNIQUES COMMON TO ALL SOCIAL WORK PRACTICE 8. Basic Communication and Helping Skills Creating an Effective Helping Relationship Verbal Communication Skills Nonverbal Communication Skills Helping Skills Enhancing Client Motivation Understanding Emotions and Feelings Responding to Defensive Communication Elements of Professional Behavior Making Ethical Decisions Applying Cultural Competence to Helping 9. Basic Skills for Agency Practice Written Reports and Correspondence Effective Telephone Communications Using Information Technology Client Records and Documentation Managing Time and Workload IV. TECHNIQUES AND GUIDELINES FOR PHASES OF THE PLANNED CHANGE PROCESS 10. Intake and Engagement Introduction Section A. Techniques and Guidelines for Direct Practice Section B. Techniques and Guidelines for Indirect Practice 11. Data Collection and Assessment Section A. Techniques and Guidelines for Direct Practice Section B. Techniques and Guidelines for Indirect Practice 12. Planning and Contracting. Section A. Techniques and Guidelines for Direct Practice. Section B. Techniques and Guidelines for Indirect Practice. 13. Intervention and Monitoring Section A. Techniques and Guidelines for Direct Practice Section B. Techniques and Guidelines for Indirect Practice 14. Evaluation and Termination Section A. Techniques and Guidelines for Direct Practice Section B. Techniques and Guidelines for Indirect Practice V. SPECIALIZED TECHNIQUES AND GUIDELINES FOR SOCIAL WORK PRACTICE 15. Guidelines for Working With Vulnerable Client Groups The Client Who Is Experiencing Poverty The Client Who Is a Child The Client Who Is an Adolescent The Client Who is a Parent or Grandparent The Client Who Is an Older Person The Client Who Is A Battered Woman The Client Who Is at Risk of Suicide The Client with an Intellectual Disability The Client with Brain Injury The Client with a Serious Physical Disability The Client Who Is Chemically Dependent The Client with a Serious Mental Illness The Client on Psychotropic Medication The Client Who is Gay, Lesbian, Bisexual, or Transgender The Client with an Eating Disorder The Client Experiencing Grief or Loss The client with Concerns Related to Spirituality and Religion The Client Who is Affected by War The Client Who is an Immigrant or Refugee The Client or Community Experiencing an Emergency or Disaster 16. Techniques for Sustaining Social Work Practice Getting a Social Work Job Preparing for Social Work Competency Exams Developing Self-Awareness Avoiding Compassion Fatigue and Stress Management Dealing with Sexual Misconduct Avoiding Malpractice Suits Testifying in Court Giving and Receiving Supervision Building and Maintaining Mentoring Relationships Consuming and Contributing to Professional Knowledge Improving the Social Work Image Becoming a Leader Appendix A: Acronyms Commonly Used in Social Work Appendix B: Retired Techniques and Guidelines from Prior Editions Author Index Subject Index