Rough Justice: The Rex Haig Story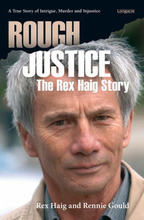 Stock information
: $35

.00

(NZD)

: 9781877460029
: Longacre Press
: Longacre Press
:
: July 2008
: New Zealand
:
: November 2018
:
: books
:
:
: Rex Haig
:
: Paperback
:
:
:
: 345.025230993
:
: 176
: Biography & autobiography: general; Criminal investigation & detection
: illustrations, map
:
:
:
9781877460029
Description
Rex Haig spent 10 years in prison for a crime he didn't commit,for the murder of Mark Roderique, a crew member on Haig's own fishing boat, Antares. The murder conviction was quashed by the Court of Appeal in August 2006, nearly two years after Rex Haig's release on parole. Haig's nephew, David Hogan, who claimed that he saw his uncle kill Mr Roderique, is now regarded by the Court of Appeal as a suspect for the murder, and, by at least one of the three Appeal Court Judges, as an 'utterly unreliable' witness. Rex Haig never gave up fighting against his wrongful conviction. His fight included involvement in a hostage-taking at Paparua Prison, Christchurch in October of 1997. The mediated resolution to that incident led to the government's commitment to his case being reinvestigated by private investigator, Bryan Rowe and Auckland QC, Kevin Ryan. As a direct result of what Bryan Rowe uncovered, though it took another seven years, the matter finally came back before the Court of Appeal, which quashed the conviction and directed that no retrial take place. The effect of that decision was that Rex Haig was acquitted of this crime. This is Rex HaigÃÂÃÂÃÂÃÂÃÂÃÂÃÂÃÂÃÂÃÂÃÂÃÂÃÂÃÂÃÂâÃÂÃÂÃÂÃÂÃÂÃÂÃÂÃÂÃÂÃÂÃÂÃÂÃÂÃÂÃÂÃÂÃÂÃÂÃÂÃÂÃÂÃÂÃÂÃÂÃÂÃÂÃÂÃÂÃÂÃÂÃÂÃÂs story, in his own words, as told to Wellington lawyer Rennie Gould. ItÃÂÃÂÃÂÃÂÃÂÃÂÃÂÃÂÃÂÃÂÃÂÃÂÃÂÃÂÃÂâÃÂÃÂÃÂÃÂÃÂÃÂÃÂÃÂÃÂÃÂÃÂÃÂÃÂÃÂÃÂÃÂÃÂÃÂÃÂÃÂÃÂÃÂÃÂÃÂÃÂÃÂÃÂÃÂÃÂÃÂÃÂÃÂs the story of his time in remand prison, the murder of his chief witness, his trial and subsequent conviction and his struggle in prison to be heard and to be listened to. Fortunately for Rex, while in prison he had the support of his family, his partner Erin, four prominent QCs and several lawyers, all champions who worked on the outside to free him of this dreadful wrong. Rennie Gould was one of the lawyers who saw a grave injustice. This is an alarming but fascinating account of one manÃÂÃÂÃÂÃÂÃÂÃÂÃÂÃÂÃÂÃÂÃÂÃÂÃÂÃÂÃÂâÃÂÃÂÃÂÃÂÃÂÃÂÃÂÃÂÃÂÃÂÃÂÃÂÃÂÃÂÃÂÃÂÃÂÃÂÃÂÃÂÃÂÃÂÃÂÃÂÃÂÃÂÃÂÃÂÃÂÃÂÃÂÃÂs triumph over an unfair and unjust conviction. In compelling terms, Rex Haig tells of his early diving adventures, acquiring the fishing boat Antares, the ill-fated trip, questionable police dealings, unreliable witnesses, extraordinary court proceedings, death after death; ten years in prison ÃÂÃÂÃÂÃÂÃÂÃÂÃÂÃÂÃÂÃÂÃÂÃÂÃÂÃÂÃÂâÃÂÃÂÃÂÃÂÃÂÃÂÃÂÃÂÃÂÃÂÃÂÃÂÃÂÃÂÃÂÃÂÃÂÃÂÃÂÃÂÃÂÃÂÃÂÃÂÃÂÃÂÃÂÃÂÃÂÃÂÃÂàmany spent confined in a small cell, despair and determination, his release and finally ÃÂÃÂÃÂÃÂÃÂÃÂÃÂÃÂÃÂÃÂÃÂÃÂÃÂÃÂÃÂâÃÂÃÂÃÂÃÂÃÂÃÂÃÂÃÂÃÂÃÂÃÂÃÂÃÂÃÂÃÂÃÂÃÂÃÂÃÂÃÂÃÂÃÂÃÂÃÂÃÂÃÂÃÂÃÂÃÂÃÂÃÂàa modicum of justice.
Author description
Rennie has practiced as a criminal defence lawyer for over 24 years. She prefers philosophical arguments on appeal rather than jury trials. She's had stories and articles published in the NZ Listener, School Journal and broadcast on Radio NZ National. Rennie's other interests include science - she recently completed a degree in biology and philosophy and was known for skipping out of the courtroom in downtown Wellington to attend labs and lectures in Kelburn. She's also a passionate advocate for wildlife conservation.