Princess: Secrets To Share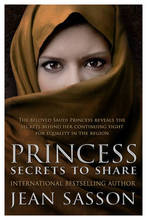 Stock information
: $38

.00

(NZD)

: 9780857523372
: Transworld Publishers Ltd
: Doubleday
:
: August 2015
: United Kingdom
: November 2015
: February 2018
:
: books
:
:
:
:
:
:
:
:
: 320
: Jean Sasson
: 953.805092
: en
:
: 1115
: Paperback
:
9780857523372
Description
In the international bestseller Princess: The True Story of Life Behind the Veil in Saudi Arabia Princess Al-Saud and author Jean Sasson began a compelling series which focused not only on the life of the Princess and the Royal family, but on the treatment of women in Saudi Arabia - many of whom were denied the most basic human rights. After the recent success of the latest in this powerful series, Princess: More Tears to Cry, Jean Sasson and the much-loved Princess collaborate once again to bring readers up to date on the secret work undertaken by the Princess and those who help her to rescue women who are the enslaved victims of brutal physical and psychological abuse. For example, we follow the work of Dr Meena, the young woman who helps abused women to heal and to fight for their rights, the abandoned mother of twin daughters who was rescued by the Princess and who now lives and works in safety and peace with her family; and we hear from other innocent victims - women from Pakistan, Syria and Northern Lebanon - who suffer the terrible consequences of the ongoing war in the region. Princess, Secrets to Share will undoubtedly attract the Princess's and Jean Sasson's many loyal readers. It will also appeal to new audiences who are eager to learn more about not only how the Saudi Royal family live, but how the courageous and determined fight for equal rights for women continues in the Middle East.
Promotion info
Offering fascinating stories of triumphs and heartbreak, this long-awaiting new book by Jean Sasson and Saudi Princess 'Sultana', reveals what it means to be a Saudi woman today.
Author description
Jean Sasson grew up in a small town in America's deep south before moving to the Middle East in 1978 to work at a prestigious royal hospital in Riyadh, Saudi Arabia. In 1985, she met Princess Sultana, who inspired the widely acclaimed Princess Trilogy. Jean later worked as freelance writer in Lebanon and Kuwait, conducting interviews with Kuwaitis who survived the first Gulf war, as well as high ranking Kuwaiti officials before, during and after the War. Her affection for the Middle East has been the motivation for a number of her books and Jean has spent her career sharing the personal stories of many courageous women. Princess More Tears to Cry is Jean's 12th book and the fourth in the Princess series.