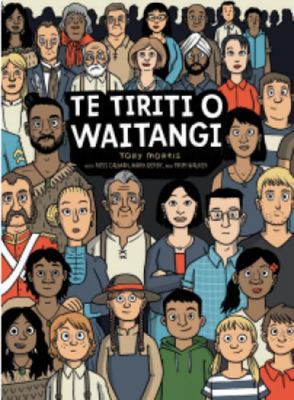 $20.00
NZD
Category: New Zealand
Ground-breaking full-colour graphic novel about Te Tiriti o Waitangi | The Treaty of Waitangi. This reorua (bilingual) graphic-novel-style flip book presents important information in a visually appealing and engaging way. The text (in both English and te reo Māori) and illustrations work together to pro vide readers with a calm, balanced presentation of a complex part of our history. Timelines, Treaty definitions and links to the Treaty in 32 languages provide the young reader with further options to learn and explore. Te Tiriti o Waitangi | The Treaty of Waitangi has been developed with help from the following people: Peter Adds, Hōne Apanui, Ian Cormack, Hinerangi Himiona, Jen Margaret, Dame Claudia Orange, Jock Phillips, Kate Potter, and Piripi Walker. ...Show more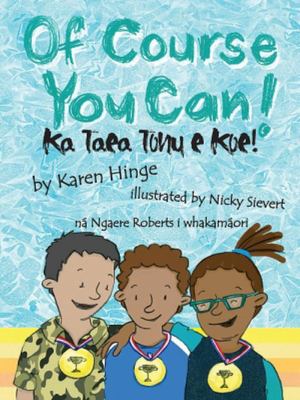 $30.00
NZD
Category: Children's Fiction
Jeremy is starting a new school. He is a bit nervous and a lot worried but the children in this class are welcoming. Every time he thinks he can't take part they say 'Of course you can!' and so he plays soccer, joins in the Kapa Haka and even takes part in the cross country . . . But when it comes to sw imming the children tell him not to do it. ...Show more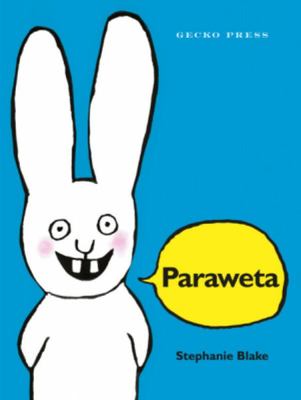 $20.00
NZD
Category: Te Reo Maori
Once there was a little rabbit who could only say one thing… In the morning his mother would say, 'Time to get up, my little rabbit!' He'd reply: 'Poo bum!'At lunchtime his father would say, 'Eat your spinach, my little rabbit!' He'd reply: 'Poo bum!' One day, he meets a hungry wolf. Will the little r abbit learn his lesson once and for all? ...Show more
$23.00
NZD
Category: Te Reo Maori
This story is the te reo Maori edition of The Bomb. In this story about being true to oneself, a boy searches for the secret to doing the perfect bomb into the water. With training from Nan, an expert and former champion, and by listening to his own voice, he finds his unique style and pulls off a wonde rful, acrobatic, truly awe-inspiring bomb. ...Show more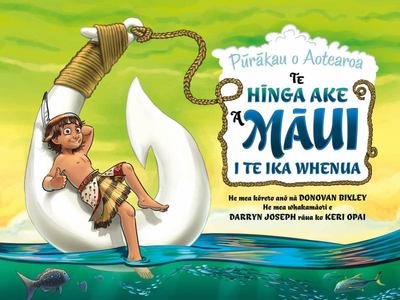 $10.00
NZD
$20.00
(50% off)
Category: Picture Books
Donovan Bixley re-tells the story of Māui fishing up North Island! The traditional tale but with Donovan's unique twist and trademark humour. The pictures will be bright and bring their own level of humour to the book. Darryn Joseph will ensure that the story is accurate and culturally appropriate, and will translate the story for the Te Reo edition. ...Show more
$24.00
NZD
Category: Te Reo Maori
With the same lively, creative illustrations as the original book, the te reo Maori version retains the simplicity and imagination of Maurice Sendak's story, capturing Max's feisty character, the magic of the adventure and 'wild rumpus', and the pleasure of things returning to normal.
$20.00
NZD
Category: Te Reo Maori
Motuhake ana nga ahua rereke o Tere Tui, o Taitu Takahe hoki: tera ka whai ki te titakataka me te koromiomio i te rangi, tera ano ka pai ake ki te ngaeheehe ki te ururua o te ngahere. Tu Meke Tui! he paki hoahoa, he paki matatoa, he paki tuhura tonu kia ahatia a tatou rerenga ketanga i roto i o tatou ma uri motuhake. ...Show more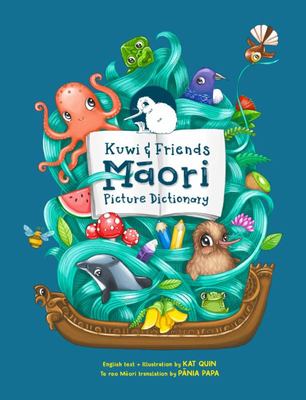 $35.00
NZD
Category: Te Reo Maori
Beginners Māori Language Picture Dictionary, for the Whole Family. From the #1 bestselling and award-winning author and illustrator of the Kuwi the Kiwi series, Kat Quin, comes a large scale, stunningly illustrated visual dictionary. Full of over 1000 basic words in te reo Māori and English, perfect fo r every New Zealander.  A fun, easy-to-use resource for those wanting to discover, learn and use everyday words in te reo Maori. The illustrations are designed to help with comprehension, particularly for younger learners. Visual cues can assist with retention of language, to recall spoken and written words.  68 fully illustrated pages, in a large format (265 x 366mm), in vibrant full colour, with over 1000 te reo Maori words, translated into English. Embedded with gorgeous Kuwi the kiwi (and friends) illustrations.  Designed for everyday use, in the whanau (family), kura (school) and for all New Zealanders. Ages 0-100+. A portion of each sale goes to charity Kiwis for Kiwi. ...Show more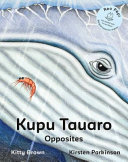 $18.00
NZD
Category: Te Reo Maori | Series: Reo Pepi
Beautiful bilingual board book introducing the concept of opposites in both Te Reo Maori and English.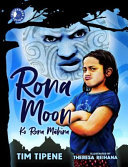 $26.00
NZD
Category: Te Reo Maori
'Everything looks so small from up here,' said Rona. 'I know,' Whaea beamed. 'Even the reasons we felt angry seem so little.' The beloved myth of Rona and the Moon comes to 21st-century Aotearoa in English and Maori in Tim Tipene's sensitive interpretation, strikingly illustrated by Tai Tokerau artist T heresa Reihana. Rona Moon gets angry with everyone, her brother, her nana and papa, and then one night she calls the moon stupid! Taken to meet her ancestor Whaea Rona on the moon, she learns a lesson in how to control her temper. ...Show more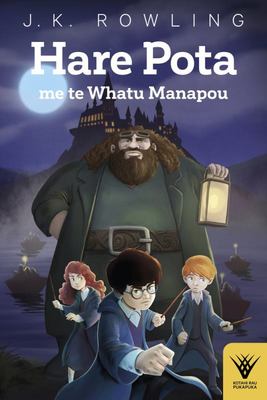 $25.00
NZD
Category: Te Reo Maori | Series: Hare Pota / Harry Potter
No te huringa o te kopaki, i tana ringa e wiri ana, ka kite iho a Hare i tetahi hiri-wakihi waiporoporo e whakaatu ana i tetahi tohu kawai; he raiona, he ikara, he patiha me tetahi nakahi e karapoti ana i tetahi pu 'H' e rahi ana. Kaore ano a Hare Pota i paku rongo korero e pa ana ki Howata i te taenga haeretanga o nga reta ki a Mita H. Pota, i Te Kapata i raro i nga Arapiki, i te 4 o te Ara o Piriweti. He mea tuhi ki te wai kanapanapa i runga i te kirihipi ahua kowhai nei, i tere ra te kohakina e nga matua keke wetiweti o Hare, e nga Tuhiri. Heoi, i te huringa tau tekau ma tahi o Hare, ka papa mai tetahi tangata hitawe ake nei, a Rupehu Hakiri, me etahi korero whakamiharo: he kirimatarau a Hare Pota, a, kua whai turanga ia ki Te Kura Matarau o Howata. I te pukapuka tuatahi o nga tino korero ma nga tamariki a mohoa nei, ka whakamohio a Rana ratou ko Heremaiani, ko Tamaratoa, ko Ahorangi Makonara i a Hare me te kaipanui ki te Kuitiki me Tera-e-Mohiotia-ra, ki te whainga o te matarau me te oha mai i mua. I te whakaawenga o te whakawhitia ki te reo Maori e Leon Blake, ka timata te korero i konei. Turning the envelope over, his hand trembling, Harry saw a purple wax seal bearing a coat of arms; a lion, an eagle, a badger and a snake surrounding a large letter 'H'. Harry Potter had never even heard of Hogwarts when letters started arriving for Mr H. Potter, The Cupboard under the Stairs, 4 Privet Drive. In emerald-green ink on yellowish parchment, they were swiftly confiscated by Harry's grisly aunt and uncle the Dursleys. Then, on Harry's eleventh birthday, a great giant of a man called Rubeus Hagrid burst in with some astonishing news: Harry Potter is a wizard and he has a place at Hogwarts School of Witchcraft and Wizardry. In the first volume of one of the greatest children's stories of all time, Ron and Hermione, Dumbledore and Professor McGonagall introduce Harry and the reader to Quidditch and You-Know-Who, to the promise of magic and the inheritence of the past. Now inspirationally translated into te reo Maori by Leon Blake, the story starts here. ...Show more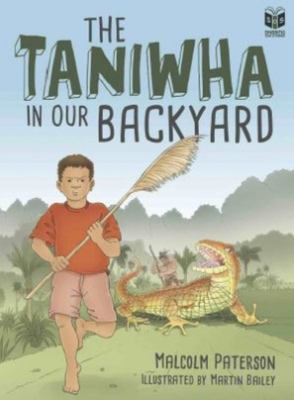 $22.00
NZD
Category: New Zealand | Series: Sharing Our Stories
Tui, his cousin Jennifer and their whanau go to the south Kaipara to visit their Uncle Rua and Auntie Mina. Exploring the area down to Muriwai, they learn about moa, kauri, Maui dolphins, kaitiakitanga (stewardship), geology and more. In the telling of their stories, a previously unknown taniwha (monste r) takes centre stage! Mixing English and Maori (with some Malay words thrown in), established and newer ethnic groups, this new work in the Sharing Our Stories series connects children with the amazing environments and history around them ...Show more