$37.00
NZD
Category: Fiction.
Klara and the Sun is the first novel by Kazuo Ishiguro since he was awarded the Nobel Prize in Literature 2017.From the bestselling and Booker Prize winning author of Never Let Me Go and The Remains of the Day, a stunning new novel - his first since winning the Nobel Prize in Literature - that asks, wha t does it mean to love?This is the story of Klara, an Artificial Friend with outstanding observational qualities, who, from her place in the store, watches carefully the behaviour of those who come in to browse, and of those who pass in the street outside. She remains hopeful a customer will soon choose her, but when the possibility emerges that her circumstances may change for ever, Klara is warned not to invest too much in the promises of humans.A thrilling feat of world-building, a novel of exquisite tenderness and impeccable restraint, Klara and the Sun is a magnificent achievement, and an international literary event. ...Show more
$33.00
NZD
Category: Fiction.
Between life and death there is a library. When Nora Seed finds herself in the Midnight Library, she has a chance to make things right. Up until now, her life has been full of misery and regret. She feels she has let everyone down, including herself. But things are about to change. The books in the Mi dnight Library enable Nora to live as if she had done things differently. With the help of an old friend, she can now undo every one of her regrets as she tries to work out her perfect life. But things aren't always what she imagined they'd be, and soon her choices place the library and herself in extreme danger. Before time runs out, she must answer the ultimate question: what is the best way to live? ...Show more
Piranesi
by Susanna Clarke
$30.00
NZD
Category: Fiction.
Piranesi's house is no ordinary building: its rooms are infinite, its corridors endless, its walls are lined with thousands upon thousands of statues, each one different from all the others. Within the labyrinth of halls an ocean is imprisoned; waves thunder up staircases, rooms are flooded in an instan t. But Piranesi is not afraid; he understands the tides as he understands the pattern of the labyrinth itself. He lives to explore the house. There is one other person in the house-a man called The Other, who visits Piranesi twice a week and asks for help with research into A Great and Secret Knowledge. But as Piranesi explores, evidence emerges of another person, and a terrible truth begins to unravel, revealing a world beyond the one Piranesi has always known. ...Show more
$20.00
NZD
Category: Fiction.
Longlisted for the Bailey's Prize 2015, The New York Times Bestseller 2014, National Book Awards Finalist 2015, PEN/Faulkner Award Finalist. What was lost in the collapse: almost everything, almost everyone, but there is still such beauty. One snowy night in Toronto famous actor Arthur Leander dies on s tage whilst performing the role of a lifetime. That same evening a deadly virus touches down in North America. The world will never be the same again. Twenty years later Kirsten, an actress in the Travelling Symphony, performs Shakespeare in the settlements that have grown up since the collapse. But then her newly hopeful world is threatened. If civilization was lost, what would you preserve? And how far would you go to protect it? 'BEST NOVEL. The big one . . . One of the 2014 books that I did read stands above all the others:Station Eleven, by Emily St. John Mandel . . . beautifully written, and wonderfully elegiac, a book that I will long remember, and return to.' George R.R. Martin, author of Game of Thrones'Emily St. John Mandel's Station Eleven is that rare find that feels familiar and extraordinary at the same time. This is truly something special' Erin Morgenstern, author of The Night Circus ...Show more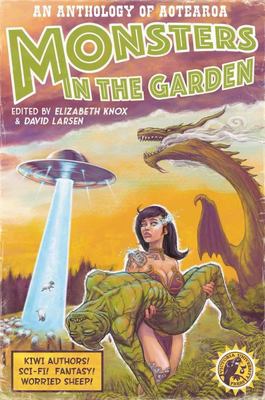 $35.00
NZD
Category: NZ Fiction
Too stuffy inside? All those familiar social realist furnishings, all those comfortable literary tropes. Perhaps a stroll out under the trees, where things are breezier, stranger, more liable to break the rules. You may meet monsters out there, true. But that's the point. Casting its net widely, this a nthology of Aotearoa-New Zealand science fiction and fantasy ranges from the satirical novels of the 19th-century utopians – one of which includes the first description of atmospheric aerobreaking in world literature –to the bleeding edge of now. Spaceships and worried sheep. Dragons and AI. The shopping mall that swallowed the Earth. The deviant, the fishy and the rum, all bioengineered for your reading pleasure. Featuring stories by some of the country's best known writers as well as work from exciting new talent, Monsters in the Garden invites you for a walk on the wild side. We promise you'll get back safely. Unchanged? Well, that's another question. David Larsen is a Wellington-based writer and editor with a long-time love for science fiction, fantasy, and most adjacent genres or genre-like categories. Elizabeth Knox is the author of thirteen novels, three novellas, and a collection of essays. Her latest book is The Absolute Book. ...Show more
$22.00
NZD
Category: Fiction.
An enthralling, epic fantasy about a world on the brink of war with dragons - and the women who must lead the fight to save it. A world divided. A queendom without an heir. An ancient enemy awakens. The House of Berethnet has ruled Inys for a thousand years. Still unwed, Queen Sabran the Ninth must conc eive a daughter to protect her realm from destruction - but assassins are getting closer to her door. Ead Duryan is an outsider at court. Though she has risen to the position of lady-in-waiting, she is loyal to a hidden society of mages. Ead keeps a watchful eye on Sabran, secretly protecting her with forbidden magic. Across the dark sea, Tané has trained to be a dragonrider since she was a child, but is forced to make a choice that could see her life unravel.Meanwhile, the divided East and West refuse to parley, and forces of chaos are rising from their sleep. ...Show more
$35.00
NZD
Category: NZ Fiction
Taryn Cornick believes that the past is behind her – her sister's death by violence, and her own ill-conceived revenge. She has chosen to live a life more professional than personal. She has written a book about the things that threaten libraries – insects, damp, light, fire, carelessness and uncaring. The book is a success, but not all of the attention it brings her is good. There are questions about a fire in the library at Princes Gate, her grandparents' house, and about an ancient scroll box known as the Firestarter. A policeman, Jacob Berger, has questions about a cold case. There are threatening phone calls. And a shadowy young man named Shift appears, bringing his shadows with him. Taryn, Jacob, Shift – three people are driven towards a reckoning felt in more than one world. The Absolute Book is an epic fantasy, intimate in tone. A book where hidden treasures are recovered; where wicked things people think they've shaken from their trails find their scent again. A book about beautiful societies founded on theft and treachery, and one in which dead sisters are a living force. It is a book of journeys and returns, set in London, Norfolk, and the Wye Valley; in Auckland, New Zealand; in the Island of Apples and Summer Road of the Sidhe; at Hell's Gate; in the Tacit with its tombs; and in the hospitals and train stations of Purgatory. Cover: Catherine Nelson, Lost (2014). 'An angelic book, an apocalyptic book, an astounding book.' —Francis Spufford 'The master is present. To read Knox on such a huge canvas – to be immersed in her worlds, wrapped in her intelligence and craft so completely – is an experience not be missed. Lessing, Le Guin, Knox – books where the best hearts meet the best minds meet the best imaginations are few and far between. The Absolute Book is a triumph of fantasy grounded in the reality and challenges of the moment we live in.' —Pip Adam ...Show more
$24.00
NZD
Category: Fiction.
THE SUNDAY TIMES TOP 5 BESTSELLER Are you lost or are you exploring? When Zachary Rawlins stumbles across a strange book hidden in his university library it leads him on a quest unlike any other. Its pages entrance him with their tales of lovelorn prisoners, lost cities and nameless acolytes, but they also contain something impossible: a recollection from his own childhood. Determined to solve the puzzle of the book, Zachary follows the clues he finds on the cover - a bee, a key and a sword. They guide him to a masquerade ball, to a dangerous secret club, and finally through a magical doorway created by the fierce and mysterious Mirabel. This door leads to a subterranean labyrinth filled with stories, hidden far beneath the surface of the earth. When the labyrinth is threatened, Zachary must race with Mirabel, and Dorian, a handsome barefoot man with shifting alliances, through its twisting tunnels and crowded ballrooms, searching for the end of his story. You are invited to join Zachary on the starless sea: the home of storytellers, story-lovers and those who will protect our stories at all costs. ...Show more
$38.00
NZD
Category: Fiction.
The spectacular new novel from the bestselling author of CLOUD ATLAS and THE BONE CLOCKS, 'one of the most brilliantly inventive writers of this, or any country' (Independent). Utopia Avenue are the strangest British band you've never heard of. Emerging from London's psychedelic scene in 1967 and front ed by folksinger Elf Holloway, guitar demigod Jasper de Zoet and blues bassist Dean Moss, Utopia Avenue released only two LPs during its brief and blazing journey from the clubs of Soho and draughty ballrooms to Top of the Pops and the cusp of chart success, to glory in Amsterdam, prison in Rome and a fateful American fortnight in the autumn of 1968. David Mitchell's new novel tells the unexpurgated story of Utopia Avenue; of riots in the streets and revolutions in the head; of drugs, thugs, madness, love, sex, death, art; of the families we choose and the ones we don't; of fame's Faustian pact and stardom's wobbly ladder. Can we change the world in turbulent times, or does the world change us? Utopia means 'nowhere' but could a shinier world be within grasp - if only we had a map? ...Show more
$28.00
NZD
Category: Fiction. | Series: The\MaddAddam Trilogy
Adam One, the kindly leader of the God's Gardeners - a religion devoted to the melding of science and religion, the preservation of all species, the tending of the Earth, and the cultivation of bees and organic crops on flat rooftops - has long predicted the Waterless Flood. Now it has occured, oblitera ting most human life. Two women have avoided it- the young trapeze-dancer, Ren, locked into the high-end sex club, Scales and Tails; and former SecretBurgers meat-slinger turned gardener, Toby, barricaded into the luxurious AnooYoo Spa, where many of the treatments are edible. Have others survived? Ren's bioartist friend Amanda, or the MaddAddam eco-fighters? Ren's one-time teenage lover, Jimmy? Or the murderous Painballers, survivors of the mutual-elimination Painball prison? Not to mention the CorpSeCorps, the shadowy and corrupt policing force of the ruling powers ... Meanwhile, in the natural world, gene-spliced life forms are proliferating- the lion/lamb blends, the Mo'hair sheep with human hair, the pigs with human brain tissue. As Adam One and his intrepid hemp-clad band make their way through a ruined world, singing their devotional hymns and faithful to their creed and to their Saints - Saint Francis Assisi, Saint Rachel Carson and Saint Al Gore among them - what odds for Ren and Toby, and for the human race? By turns dark, tender, violent, thoughtful and uneasily hilarious, The Year of the Flood is Atwood at her most effective. ...Show more
$25.00
NZD
Category: Fiction. | Series: S. F. Masterworks Ser.
A literary masterpiece from one of the great writers of our time: 'Ursula Le Guin is a chemist of the heart' David Mitchell 'Love doesn't just sit there, like a stone, it has to be made, like bread; remade all the time, made new' Two people, until recently strangers, find themselves on a long, tortuou s and dangerous journey across the ice. One is an outcast, forced to leave his beloved homeland; the other is fleeing from a different kind of persecution. What they have in common is curiosity, about others and themselves, and an almost unshakeable belief that the world can be a better place. As they journey for over 800 miles, across the harshest, most inhospitable landscape, they discover the true meaning of friendship, and of love. ...Show more
$28.00
NZD
Category: Fiction. | Series: The Maddaddam Trilogy
The narrator of Margaret Atwood's riveting new novel is Snowman, self-named though not self-created. As the story opens, he's sleeping in a tree, wearing a dirty old bed-sheet, mourning the loss of his beautiful and beloved Oryx and his best friend Crake, and slowly starving to death. Earlier, Snowman's life was one of comparative privilege. How did everything fall apart so quickly? Was he himself in any way responsible? Why is he now left alone with his bizarre memories - alone except for the more-than-perfect green-eyed Children of Crake, who regard him as some kind of monster? The answers to these questions lie in the past - in his double journey into memory and back to Crake's high-tech bubble dome, where the Paradice Project unfolded and the world came to grief. With breathtaking command of her shocking material and with her customary sharp wit and dark humour, Atwood projects us into an all-too-conceivable future of our own world, an outlandish yet wholly believable place left devastated by scientific disaster and populated by a cast of characters who will continue to inhabit your dreams long after the book is closed. ...Show more