The books we'd like to receive for Mother's Day; the books we'd like to give our mothers; the books we just love!
$30.00
NZD
Category: NZ Maori
Ki te kotahi te kakaho ka whati, ki te kapuia, e kore e whatiWhen we stand alone we are vulnerable but together we are unbreakableSee the world differently, through some of the wisest of human eyes.Discover traditional Maori philosophy through 52 whakatauki - simple, powerful life lessons, one for every week. Each one is retold by respected Maori psychiatrist Dr Hinemoa Elder to show how we can live a less stressful daily life, with more contentment and kindness for each other and the planet.Find out how the power of aroha can help you each day, and through its many meanings - fundamental Maori values - make a happier world for everyone.Chapters include: Manaakitanga (love for each other) Kaitiakitanga (respect for our planet) Whanaungatanga (community and connectivity) Tino rangatiratanga (self-determination) ...Show more
$60.00
NZD
Category: Chefs & Restaurants
Flavour-forward, vegetable-based recipes are at the heart of Yotam Ottolenghi's food. In this stunning new cookbook Yotam and co-writer Ixta Belfrage break down the three factors that create flavour and offer innovative vegetable dishes that deliver brand-new ingredient combinations to excite and inspir e. Ottolenghi FLAVOUR combines simple recipes for weeknights, low effort-high impact dishes, and standout meals for the relaxed cook. Packed with signature colourful photography, FLAVOUR not only inspires us with what to cook, but how flavour is dialled up and why it works. The book is broken down into three parts, which reveal how to tap into the potential of ordinary vegetables to create extraordinary food: Process explains cooking methods that elevate veg to great heights; Pairing identifies four basic pairings that are fundamental to great flavour; Produce offers impactful vegetables that do the work for you. With surefire hits, such as Aubergine Dumplings alla Parmigiana, Hasselback Beetroot with Lime Leaf Butter, Miso Butter Onions, Spicy Mushroom Lasagne and Romano Pepper Schnitzel, plus mouthwatering photographs of nearly every one of the more than 100 recipes, Ottolenghi FLAVOUR is the impactful, next-level approach to vegetable cooking that Ottolenghi fans and vegetable lovers everywhere have been craving.     ...Show more
Ariadne
by Jennifer Saint
$35.00
NZD
Category: Fiction
A mesmerising retelling of the ancient Greek myth of Theseus and the Minotaur. Perfect for fans of CIRCE, A SONG OF ACHILLES, and THE SILENCE OF THE GIRLS. As Princesses of Crete and daughters of the fearsome King Minos, Ariadne and her sister Phaedra grow up hearing the hoofbeats and bellows of the Mi notaur echo from the Labyrinth beneath the palace. The Minotaur - Minos's greatest shame and Ariadne's brother - demands blood every year. When Theseus, Prince of Athens, arrives in Crete as a sacrifice to the beast, Ariadne falls in love with him. But helping Theseus kill the monster means betraying her family and country, and Ariadne knows only too well that in a world ruled by mercurial gods - drawing their attention can cost you everything. In a world where women are nothing more than the pawns of powerful men, will Ariadne's decision to betray Crete for Theseus ensure her happy ending? Or will she find herself sacrificed for her lover's ambition? Ariadne gives a voice to the forgotten women of one of the most famous Greek myths, and speaks to their strength in the face of angry, petulant Gods. Beautifully written and completely immersive, this is an exceptional debut novel.   ...Show more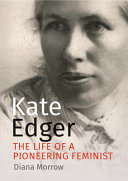 $40.00
NZD
Category: NZ Biographies
In 1877, Kate Edger became the first woman to graduate from a New Zealand university. The New Zealand Herald enthusiastically hailed her achievement as 'the first rays of the rising sun of female intellectual advancement'. Edger went on to become a pioneer of women's education in New Zealand. She also w orked tirelessly to mitigate violence against women and children and to fortify their rights through progressive legislation. She campaigned for women's suffrage and played a prominent role in the Women's Christian Temperance Union and in Wellington's Society for the Protection of Women and Children. Later in life she advocated international diplomacy and co-operation through her work for the League of Nations Union. Diana Morrow tells the story of this remarkable New Zealand woman's life and, in the process, provides valuable insights into the role of women social reformers in our history and Edger's place within a distinctive strand of Christian feminism. ...Show more
$38.00
NZD
Category: History
Built in 1927, New York's Barbizon Hotel was first intended as a home for the 'Modern Woman' seeking a career in the arts. It became the place to stay for ambitious, independent women, who were lured by the promise of fame and good fortune. Sylvia Plath fictionalized her time there in The Bell Jar, and over the years, its 688 tiny pink 'highly feminine boudoirs' also housed Joan Crawford, Grace Kelly (notorious for sneaking in men), Joan Didion, Candice Bergen, Charlie's Angel Jaclyn Smith, Ali McGraw, Cybil Shepherd, Elaine Stritch, Liza Minnelli, Eudora Welty, The Cosby Show's Phylicia Rashad, and writers Mona Simpson and Ann Beattie, among many others. Mademoiselle boarded its summer interns there - perfectly turned-out young women, who would never be spotted hatless - as did Katherine Gibbs Secretarial School its students - in their white-gloves and kitten heels - and the Ford Modelling Agency its young models. Not everyone who passed through the Barbizon's doors was destined for greatness - for some it was a story of dashed hopes and expectations - but from the Jazz Age New Women of the 1920s, to the Liberated Women of the 1960s, until 1981 when the first men checked in, The Barbizon was a place where women could stand up and be counted. The Barbizon is a colourful, glamorous portrait of the lives of these young women, who came to New York looking for something more. It's a story of pushing the boundaries, of women's emancipation and of the generations of brilliant women who passed through its halls. ...Show more
$38.00
NZD
Category: Fiction
From the Pulitzer Prize-winning author of A Thousand Acres, Jane Smiley, The Strays of Paris is a captivating story of three extraordinary animals - and one little boy - whose lives cross paths in Paris. Paras is a spirited young racehorse living in a stable in the French countryside. That is until one afternoon, when she pushes open the gate of her stall and, travelling through the night, arrives quite by chance in the dazzling streets of Paris.She soon meets a German shorthaired pointer named Frida, two irrepressible ducks and an opinionated crow, and life amongst the animals in the city's lush green spaces is enjoyable for a time. But everything changes when Paras meets a human boy, Étienne, and discovers a new, otherworldly part of Paris: the secluded, ivy-walled house where the boy and his nearly-one-hundred-year-old great grandmother live quietly and unto themselves. As the cold weather of Christmas nears, the unlikeliest of friendships bloom among humans and animals alike. But how long can a runaway horse live undiscovered in Paris? And how long can one boy keep her all to himself? Charming and beguiling in equal measure, Jane Smiley's novel celebrates the intrinsic need for friendship, love, and freedom, whomever you may be . . . ...Show more
$35.00
NZD
Category: Fiction
Five women come together at a New Year's Eve's party after decades apart, in this thrilling story of desire, revenge and courage, based on a brave group of Australian and British WWII servicewomen. Burma, 1945. Bea, Plum, Bubbles, Joy and Lucy: five young women in search of adventure, attached to the F ourteenth Army, fighting a forgotten war in the jungle. Assigned to run a mobile canteen, navigating treacherous roads and dodging hostile gunfire, they become embroiled in life-threatening battles of their own. Battles that will haunt the women for the rest of their lives. Oxford, 1976. At the height of an impossibly hot English summer, a woman slips into a museum and steals several rare Japanese netsuke, including the famed fox-girl. Despite the offer of a considerable reward, these tiny, exquisitely detailed carvings are never seen again. London and Galway, 1999. On the eve of the new millennium, Olivia, assistant to an art dealer, meets Beatrix, an elderly widow who wishes to sell her late husband's collection of Japanese art. Concealing her own motives, Olivia travels with Beatrix to a New Year's Eve party, deep in the Irish countryside, where friendships will be tested as secrets kept for more than fifty years are spilled. Inspired by the heroic women who served in the 'forgotten war' in Burma, The Last Reunion is a heartbreaking love story and mystery by the international bestselling author of The Botanist's Daughter and The Silk House. It is also a tribute to the enduring power of female friendship. ...Show more
$35.00
NZD
Category: Fiction
'A real treat. I enjoyed it HUGELY' MARIAN KEYES 'Wonderfully warm and uplifting, full of unforgettable characters and so much heart. I loved it' RICHARD ROPER Have you ever felt as if you're losing your grip? Then you will love Sally Parker... Sally Parker is struggling to find the hero inside herse lf. All she wants to do is lie down. Her husband Frank has lost his business, their home and their savings, in one fell swoop. Their bank cards are being declined. The children have gone feral. And now the bailiffs are at the door. What does an ordinary woman do when the bottom falls out? Sally Parker is about to surprise everybody. Most of all herself. A BIG-HEARTED STORY OF A FAMILY ON THE BRINK, THE BEST THINGS IS A LIFE-AFFIRMING TALE OF FAILING, FALLING... AND FINDING A WAY BACK UP. ...Show more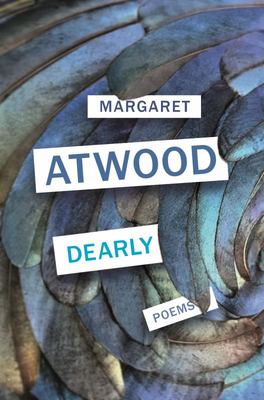 $34.00
NZD
Category: Poetry
The collection of a lifetime from the bestselling novelist and poet. By turns moving, playful and wise, the poems gathered in Dearly are about absences and endings, ageing and retrospection, but also about gifts and renewals. They explore bodies and minds in transition, as well as the everyday objects and rituals that embed us in the present. Werewolves, sirens and dreams make their appearance, as do various forms of animal life and fragments of our damaged environment. Before she became one of the world's most important and loved novelists, Atwood was a poet. Dearly is her first collection in over a decade. It brings together many of her most recognizable and celebrated themes, but distilled - from minutely perfect descriptions of the natural world to startlingly witty encounters with aliens, from pressing political issues to myth and legend. It is a pure Atwood delight, and long-term readers and new fans alike will treasure its insight, empathy and humour. ...Show more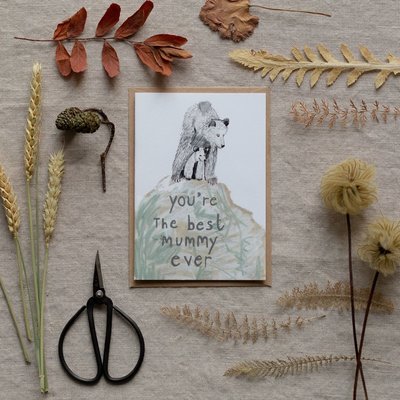 $6.90
NZD
Category: Greeting Cards
For all the wee ones out there who want to buy the ideal Mother's Day , or Birthday card for their amazing Mama!