$40.00
NZD
Category: Acceptance & Mindfulness
THE LIFE-CHANGING BESTSELLER Life can be relentless, frantic and exhausting - but it doesn't have to be this way... Authoritative, beautifully written and much-loved by its readers, Mindfulness: A practical guide to finding peace in a frantic world has become a word-of-mouth bestseller and global phen omenon. It reveals a set of simple yet powerful practices that you can incorporate into daily life to break the cycle of anxiety, stress unhappiness and exhaustion. It promotes the kind of happiness that gets into your bones and allows you to meet the worst that life throws at you with new courage. Mindfulness is based on mindfulness-based cognitive therapy (MBCT). Co-developed by Professor Mark Williams of Oxford University, MBCT is recommended by the UK's National Institute for Health and Care Excellence and is as effective as drugs for preventing depression. But, equally, it works for the rest of us who aren't depressed but who are struggling to keep up with the relentless demands of the modern world. By investing just a few minutes each day, this classic guide to mindfulness will put you back in control of your life once again. ...Show more
$40.00
NZD
Category: Buddhism & Mindfulness
Mindfulness is considered the heart of Buddhist meditation. But its essence is universal and of deep practical benefit to everyone. In Wherever You Go, There You Are, Jon Kabat-Zinn maps out a simple path for cultivating mindfulness in our lives, and awakening us to the unique beauty and possibilities o f each present moment. Since its first publication in 1994 (as Mindfulness Meditation for Beginners), this book has changed lived across the globe. This tenth anniversary edition of the original classic text, featuring a new afterword by the author, brings this wonderful book with an even larger audience. ...Show more
$33.00
NZD
Category: Buddhism & Mindfulness
"Written in words so intimate, calm, kind, and immediate, this extraordinary book feels like a message from our very own heart....Thich Nhat Hanh is one of the most important voices of our time, and we have never needed to listen to him more than now." --Sogyal Rinpoche Fear is destructive, a pervasive problem we all face. Vietnamese Buddhist Zen Master, poet, scholar,  peace activist, and one of the foremost spiritual leaders in the world--a gifted teacher who was once nominated for the Nobel Peace Prize by Martin Luther King Jr.--Thich Nhat Hanh has written a powerful and practical strategic guide to overcoming our debilitating uncertainties and personal terrors. The New York Times said Hanh, "ranks second only to the Dalai Lama" as the Buddhist leader with the most influence in the West. In Fear: Essential Wisdom for Getting through the Storm, Hanh explores the origins of our fears, illuminating a path to finding peace and freedom from anxiety and offering powerful tools to help us eradicate it from our lives ...Show more
$27.00
NZD
Category: Buddhism & Mindfulness
WITH A NEW FOREWORD BY PROFESSOR MARK WILLIAMS, UNIVERSITY OF OXFORDThe Miracle of Mindfulnessis a modern classic. In this life-changing book, Buddhist monk and Nobel Peace Prize nominee Thich Nhat Hanh explains how to practise mindfulness. Once we know how to be mindful, we can slow ourselves down and start living in the moment. Even simple acts such as washing the dishes or drinking a cup of tea can be transformed into acts of meditation. Whatever our beliefs, we can begin to reap the immense benefits that meditation has been scientifically proven to offer.Thich Nhat Hanh's unique calligraphy, especially created for this beautiful new edition, accompanies his words of wisdom. A chronology details the important moments in his life, and rare photographs illustrate key moments.This is a book to treasure and the perfect gift for those you love and care for. ...Show more
$45.00
NZD
Category: Acceptance & Mindfulness
What would it be like to free yourself from limitations and soar beyond your boundaries? What can you do each day to discover inner peace and serenity? The Untethered Soul--now a #1 New York Times bestseller--offers simple yet profound answers to these questions. Whether this is your first exploration of inner space, or you've devoted your life to the inward journey, this book will transform your relationship with yourself and the world around you. You'll discover what you can do to put an end to the habitual thoughts and emotions that limit your consciousness. By tapping into traditions of meditation and mindfulness, author and spiritual teacher Michael A. Singer shows how the development of consciousness can enable us all to dwell in the present moment and let go of painful thoughts and memories that keep us from achieving happiness and self-realization. Copublished with the Institute of Noetic Sciences (IONS) TheUntethered Soul begins by walking you through your relationship with your thoughts and emotions, helping you uncover the source and fluctuations of your inner energy. It then delves into what you can do to free yourself from the habitual thoughts, emotions, and energy patterns that limit your consciousness. Finally, with perfect clarity, this book opens the door to a life lived in the freedom of your innermost being. The Untethered Soul has already touched the lives of countless readers -- the perfect gift for yourself, a loved one, or anyone who wants a keepsake edition of this remarkable book. ...Show more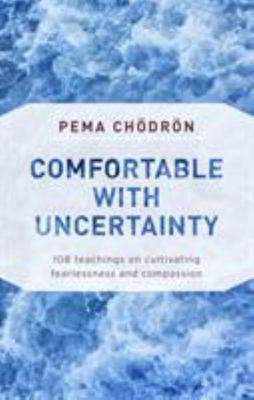 $38.00
NZD
Category: Buddhism & Mindfulness
These are essential teachings for developing compassion and clarity amid the anxieties and hardships of real life. Collecting some of the most powerful passages from Pema's many beloved books, Comfortable with Uncertainty is a compact handbook for spiritual practice that's rich with inspiration and insi ght--and a perfect introduction to Pema's teachings. Here she explores essential concepts, themes, and practices drawn from the Buddhist tradition, showing how anyone (not just Buddhists) can draw from them to become more courageous, aware, and kindhearted. Topics include the benefits of meditation, mindfulness, letting go, and working directly with fear and other painful emotions. Over the course of the book, we learn how we can start to overcome the habitual patterns that so often hinder compassion for ourselves and others--and that hold us back from embracing our lives joyfully and fearlessly. To anyone who ever wanted to experience true freedom, these teachings are a shining light on the path. ...Show more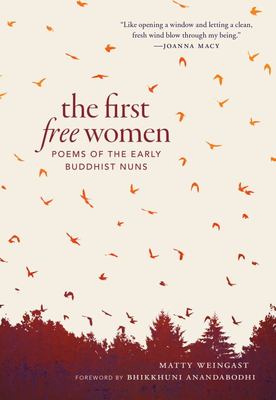 $35.00
NZD
Category: Buddhism & Mindfulness
The Therigatha("Verses of the Elder Nuns") is the oldest collection of known writings from Buddhist women and one of the earliest collections of women's literature in India. Composed during the life of the Buddha, the collection contains verses by early Buddhist nuns detailing everything from their dise nchantment with their prescribed roles in society to their struggles on the path to enlightenment to their spiritual realizations. Among the nuns, a range of voices are represented, including former wives, women who lost children, women who gave up their wealth, and a former prostitute. In The First Free Women, Matty Weingast revives this ancient collection with a contemporary and radical adaptation. In this poetic re-envisioning that remains true to the original essence of each poem, he infuses each verse with vivid language that is not found in other translations. Simple yet profound, the nuance of language highlights the beauty in each poem and resonates with modern readers exploring the struggles, grief, failures, doubts, and ultimately, moments of profound insight of each woman. Weingast breathes fresh life into this ancient collection of poetry, offering readers a rare glimpse of Buddhism through the spiritual literature and poetry of the first female disciples of the Buddha. ...Show more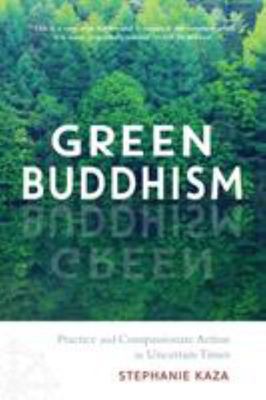 $37.00
NZD
Category: Buddhism & Mindfulness
With species rapidly disappearing and global temperatures and sea levels rising, there is more urgency than ever in the need to understand and act on the ecological and climatic crises. Millions of Westerners are now practicing Buddhism and mindfulness--what perspectives, teachings, and practices can Bu ddhist traditions contribute to the green conversation? Drawing on her decades of experience as an environmental scientist, teacher, Buddhist practitioner, and nature lover, author Stephanie Kaza offers a range of insights into the meaning and possibilities of Green Buddhism. The essays collected in this volume provide a comprehensive guide to the most important topics and developments that have occurred at the intersection of Buddhist practice and environmentalism, as well as helpful guidance for how individuals and communities can use Buddhist worldviews, principles, and practices to live more sustainable and connected lives. ...Show more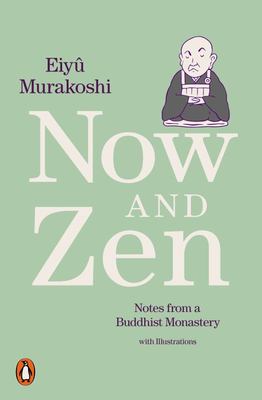 $26.00
NZD
Category: Buddhism & Mindfulness
'In Japan we have an expression, 'Float like Cloud, Flow like Water'. Its meaning is- to live free and unconstrained, like floating cloud or flowing water.' In this short introduction, Eiyu Murakoshi brings a refreshingly light touch to the philosophy and practice of Zen Buddhism.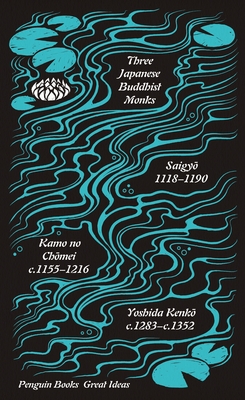 $13.00
NZD
Category: Buddhism & Mindfulness | Series: Penguin Great Ideas Ser.
'I have relinquished all that ties me to the world, but the one thing that still haunts me is the beauty of the sky' These simple, inspiring writings by three medieval Buddhist monks offer peace and wisdom amid the world's uncertainties, and are an invitation to relinquish earthly desires and instead ta ste life in the moment. One of twenty new books in the bestselling Penguin Great Ideas series. This new selection showcases a diverse list of thinkers who have helped shape our world today, from anarchists to stoics, feminists to prophets, satirists to Zen Buddhists. ...Show more
$18.00
NZD
Category: Buddhism & Mindfulness | Series: The\Little Book of Ser.
Happiness lies within you His Holiness the Dalai Lama has captured the attention and admiration of the world through his wisdom. This jewel of a book offers some of his most helpful insights on daily living, compassion and inner peace. A timeless collection of advice and teachings from the world's mos t revered spiritual leader, it will guide you through good and troubled times. Whoever you are, whatever your beliefs, the Dalai Lama's words have the power to calm and inspire. ...Show more
$65.00
NZD
Category: Buddhism & Mindfulness
This authoritative and accessible book provides meditation techniques, a detailed 8-week practice schedule, case histories and latest research findings on how mindfulness meditation is related to physical and mental health.