$16.00
NZD
Category: Board Books | Series: Hairy Maclary Board
Slinky Malinki is asleep in front of the fire but moonlight and the catflap beckon and he goes outside to call up his friends.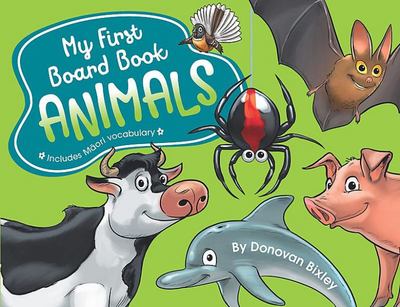 $17.00
NZD
Category: Board Books | Series: My First Board Book
A wonderfully illustrated Donovan Bixley board book for learning animal names in both English and Maori. Featuring cow (kau), horse (hoiho) and sheep (heihei), but also bat (pekapeka), gecko (moko papa) and morepork (ruru). Perfect for Kiwi kids.
$16.00
NZD
Category: Board Books | Series: Hairy Maclary Board
Will Slinky Malinki and Syd the rainbow lorikeet open the door to more trouble than they can handle?
$20.00
NZD
Category: Board Books
A is for Ability, B is for Belief, C is for Class. All people have the right to be treated fairly, no matter who they are, what they look like, or where they come from. An ABC of Equality introduces complicated concepts surrounding social justice to the youngest of children. From A to Z, simple explanat ions accompanied by engaging artwork teach children about the world we live in and how to navigate our way through it. Each right-hand page includes a brightly decorated letter with the word it stands for and an encouraging slogan. On the left, a colorful illustration and bite-size text sum up the concept. Cheerful people from a range of backgrounds, ethnicities, and abilities lead the way through the alphabet. L is for LGBTQIA. Find the words that make you, you. N is for No. No means no. P is for Privilege. Be aware of your advantages. X is for Xenophobia. Ask questions and you'll see there's nothing to be afraid of. Celebrate your Differences, ask more Questions, share your Kindness, and learn to Understand the world. ...Show more
$17.00
NZD
Category: Board Books
Join Gerald the Giraffe and friends for a sparkling celebration of LOVE! From the creators of the bestselling Giraffes Can't Dance comes a brand-new rhyming story filled with joy and love... and all your favourite characters from the bestselling classic! This magical moonlit rhyme is ideal for sharing and reading aloud with loved ones, and as a sturdy board book, it's perfect for even the littlest hands. The perfect gift to say 'I love you' on Valentine's Day, or at any time of the year. Praise for Giraffes Can't Dance: "All toddlers should grow up reading this" Daily Mail "A modern classic" Baby & Me "A joyful read about an outsider who finds acceptance on his own terms . . . there's also a simple moral about tolerance and daring to be different" Junior "A fantastically funny and wonderfully colourful romp" Daily Telegraph ...Show more
$21.00
NZD
Category: Board Books
Peepo! is the much-loved picture book classic by Janet and Allan Ahlberg. Peepo! is a modern classic that continues to delight generations of babies and toddlers and their parents. Look through the holes to spot details from the wonderful illustrations. Peepo! A perfect gift for new babies and parents, no home should be without a copy! Here's a little baby One, two three Standing in his cot What does he see? Peepo! has become a classic for babies and toddlers. It follows a baby through the day in a style full of wit, charm and ingenuity. A series of holes peeping through to the next page leads the child on to the next stage in the day, giving a hint of what is to come. Praise for Peepo! 'The best book ever published for babies' - Books for Your Children 'Surely no one - baby, child or adult - could fail to enjoy Peepo!' - Sunday Telegraph 'A book to last a lifetime . . . this is a perfect book for sharing' - Nursery World Allan Ahlberg has published over 100 children's books and with his late wife Janet, created many award-winning children's picture books. The Baby's Catalogue was inspired by their daughter, Jessica. The Ahlbergs' books are nursery bookshelf standards and have been the recipient of worldwide acclaim and awards, including the Kate Greenaway Medal. Look out for these other classics by Allan Ahlberg-Burglar Bill; Cops and Robbers; The Baby's Catalogue; The One and Only Two Heads; Son of a Gun; The Little Worm Book; Two Wheels Two Heads; Funny Bones; A Pair of Sinners; Happy Families; Peepo!; The Ha Ha Bonk Book; Help Your Child to Read; Ten in a Bed; Please mrs Butler; Daisy Chains; Yum Yum; Playmates; Foldaways; Woof; The Cinderella Show; The Jolly Postman; The Jolly Christmas Postman; The Jolly Pocket Postman; The Clothes Horse and Other Stories; The Mighty Slide; Starting School; Heard it in the Playground; The Bear Nobody Wanted; It was a Dark and Stormy Night; The Giant Baby; Baby Sleeps; Blue Buggy; Doll and Teddy; See the Rabbit; Please Mrs Butler; The Better Brown Stories; The Boyhood of Burglar Bill ...Show more
$18.00
NZD
Category: Board Books
There are red sheep and blue sheep, wind sheep and wave sheep, scared sheep and brave sheep, but where is the green sheep?   The search is on in this cozy, sheep-filled story from acclaimed author Mem Fox and popular Australian cartoonist Judy Horacek. Complete with sleepy rhymes and bright illustration s, this book is sure to delight children of all ages, from the very young to those just beginning to read.     ...Show more
$13.00
NZD
Category: Board Books
Getting ready for sleep is tons of fun in this Sandra Boynton classic.   The sun has set not long ago. Now everybody goes below to take a bath in one big tub with soap all over--SCRUB SCRUB SCRUB   This classic bedtime story is just right for winding down the day as a joyful, silly group of animals scrub scrub scrub in the tub, brush and brush and brush their teeth, and finally rock and rock and rock to sleep. ...Show more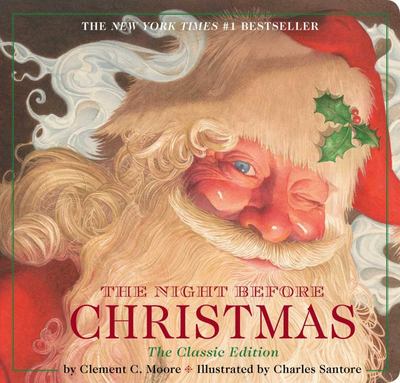 $16.00
NZD
Category: Board Books
The #1 New York Times Bestselling edition of the classic Night Before Christmas poem is now available in a board book format with beautiful, original illustrations by award-winning illustrator Charles Santore. This special format showcases the best-selling features of the original classic edition on boa rd stock that will withstand repeated handling without tearing or fraying. This beautiful board book edition of the #1 New York Times best-selling Night Before Christmas is the ultimate addition to any family home library for Christmas time reading. Full-color, original artwork by award-winning illustrator Charles Santore is faithfully reproduced on sturdy board stock that will withstand rereading and repeated handling without tearing or fraying. Reading this most-loved poem is a classic family tradition and adds a magical component to every child s Christmas! ...Show more
$15.00
NZD
Category: Board Books | Series: Dinosaur Roar
A brand new edition of this best-selling classic picture book, produced from re-scanned original artwork, and now endorsed by the world famous Natural History Museum. The cheerful rhyming text is perfect for reading aloud and the images of the dinosaurs are charming and funny. Also included, a pull-out poster in the back of the book showing the dinosaur characters. Originally published in 1994, Dinosaur Roar! by Henrietta and Paul Stickland is now seen as a modern classic, a book that every preschool child will love. ...Show more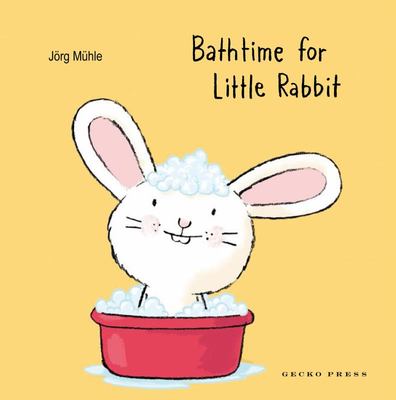 $15.00
NZD
Category: Board Books | Series: Little Rabbit
The author of "Tickle My Ears" presents another lovable board book that invites children to turn on the shower, cover Little Rabbit's eyes, and wipe the water off his nose.